Sweet Potato Pecan Pie Bars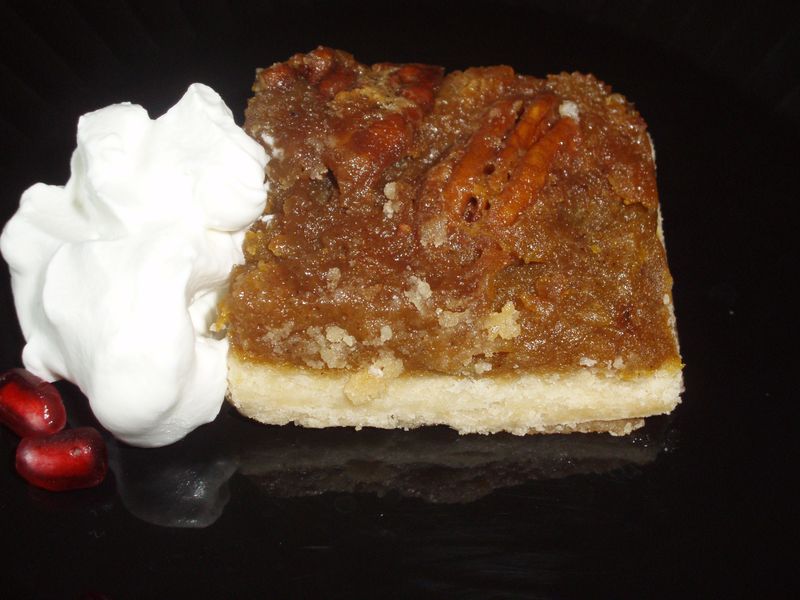 Sweet Potato Pecan Pie Bars
A couple of months back I began a series called the Joy of Baking at the blog. Little did I realize then I was unleashing my inner pastry chef, and that once unleashed, she would be hard to hide away again. I've always loved to bake, and it was my specialty at culinary school, but in the last few years most of my family members-and many of my clients- have to begun to grapple with blood sugar problems. It's just that time of life, I guess. But there's still room for a dessert buffet every once on a while, and really, it's just not a party without great dessert, right? So when I started planning the recent LA Helps LA event, my little pastry girl jumped at the chance to indulge herself.
Because the event was focused on the Gulf Coast region, but held for those of us in Los Angeles, I wanted to create a buffet of sweet treats that captured and capitalized on both my New Orleans and Los Angeles experience. The menu included a Chocolate Truffle Cake (it's become one of my and my family's favorites), Mini Lemon Curd Tarts, a Blackberry Cheesecake (okay- cheesecake- not so big in Louisiana, but blackberries grow wild there, and your LA to LA Chef did spend a good amount of time in New York City) and a Fig Frangipane Tart (figs are abundant in both southern Louisiana and southern California, and in a stroke of synchronicity, Rachael of LaFujimama, one of the participating bloggers, convinced the California Fig Advisory Board to donate a flat of figs for the event). The typically New Orleans desserts, though, were Bread Pudding (the quintessential New Orleans dessert) with Caramel Bourbon Sauce, Pecan Pralines (there'll be a great story coming up about them soon), and Sweet Potato Pecan Pie Squares.
Sweet Potato Pie is a southern classic, as is Pecan Pie. Marrying the spicy, dense sweet potato custard with the gooey, dark sweetness of pecan pie filing- well, that's a stroke of genius. I don't know if Paul Prudhomme was the first to do so, but he's the one who brought my attention to this treat, in his seminal cook book, Chef Paul Prudhomme's Louisiana Kitchen
. Pie can be a bit tricky on a self serve buffet, so I adapted his recipe, making a pie/cookie bar. I urge you to give this recipe a try- soon. After all, it's fall, and the markets are full of wonderful sweet potatoes. Try the Beauregard variety, a Louisiana native with a deep orange flesh, and widely available this time of year.
Sweet Potato Pecan Pie Bars
(Adapted from Chef Paul Prudhomme's Louisianan Kitchen)
Cookie Crust  
8 ounces unsalted butter
1/2 cup sugar
1 egg
1/4 teaspoon salt
3 cups flour
Butter a  14 3/4″ x 10″ x 1″ jelly roll pan.  Turn  the pan upside down and center a piece of foil over the it, shiny side down. Fold down the the sides and corners of the foil to shape it. Remove the foil and turn the pan right side up, then place the foil in the pan and carefully press it into place. Butter the bottom of the foil and place the prepared pan in the refrigerator.The dough will cling better to a cold pan.
Cream the butter and sugar in a mixing bowl. Beat in the egg and salt. Gradually add the flour and mix until the dough is smooth and holds together.
Place the mixture by large spoonfuls in the pan, and press the dough evenly into the pan. Chill the dough in the refrigerator for @10-15 minutes. Prick the chilled dough at even intervals with a fork, then bake for about 20 minutes, until lightly browned around the edges. If the dough puffs up while baking, gently prick it with a fork. Allow the dough to cool for about 15-20 minutes before spreading the other fillings over it.
Sweet Potato Pie Filling 
4-5 sweet potatoes, roasted with skin on (to yield 2 cup cooked and mashed pulp)
1/2 cup, brown sugar, packed
1/4 cup granulated sugar
1 large egg, beaten until frothy
2 tablespoons heavy cream
2 tablespoons unsalted butter, softened
2 tablespoons vanilla
1/2 teaspoon salt
1/2 teaspoon cinnamon
1/2 teaspoon allspice
1/2 teaspoon freshly ground nutmeg
Purée sweet potato flesh in a food processor, then combine it with the additional ingredients in a mixing bowl. Beat on medium speed unitl the mixture is smooth, @ 2-3 minutes.
Pecan Pie Topping 
1 1/2 cups sugar
1 1/2 cups dark corn syrup
2 large eggs
3 tablespoons unsalted butter, melted
1 tablespoon vanilla
Pinch of salt
Pinch of cinnamon
1 1/2 cups pecan pieces
Combine all the ingredients except the pecans in a mixing bowl. Mix on low speed until the mixture is opaque, @ 1 minute. Stir in the pecans.
To assemble:
Spread the sweet potato filling evenly over the cooled cookie crust. Pour the pecan pie topping over sweet potatoes. Bake in a 325 degree oven, @ 1 hour, or until a knife inserted in the center comes out clean. Cool completely before cutting into squares.

GAP9QF9E3W2Z
Save