The Joy of Baking-Part 1 (and Ganache Cookie Recipe)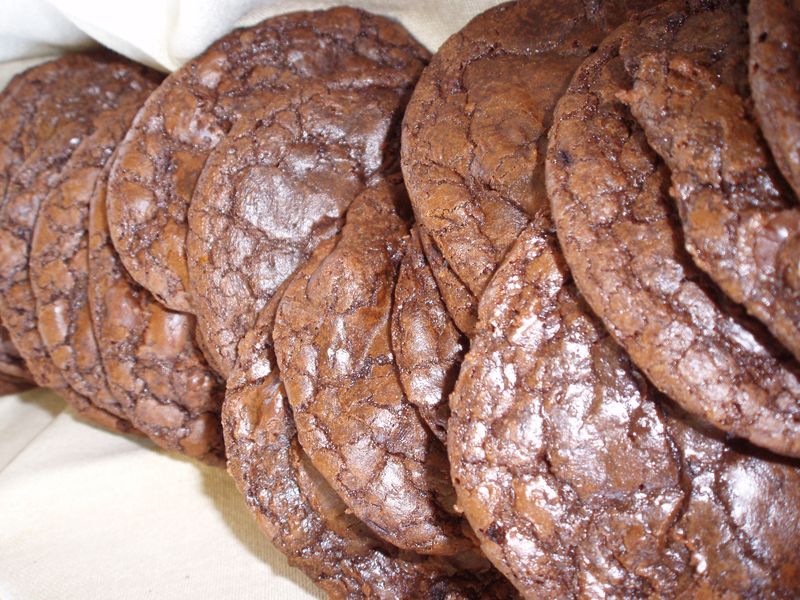 When I went off to culinary school (almost 15 years ago now), I had already worked in the hotel, restaurant and catering industry for many years. Some wondered why I wanted to go back at that point. Well, partly it was because I had always had that desire. I wanted to attend culinary school when I first arrived in New York, but had been discouraged then by (I'm sure well meaning) people in the performing arts area. I should not pursue another career simultaneously, they said. I wouldn't be taken seriously as a performer if I did. Ironically, when I was in culinary academy many years later, I heard the same sentiment re: pursuing a career as a chef, from an (again probably well-meaning) instructor there.
The bottom line is, I did it for myself, because I wanted to pursue something I loved. And because I did it for myself, it's no surprise that I chose to specialize in baking and pastry. Baking is a special joy to me. Not every chef or cook enjoys baking. Baking is much more ordered and precise than some other cooking tasks, and relies much more on specific formulas. You can't just throw in a dash of this or that in an impromptu manner, and expect great results.
But there are specific joys to baking, and life lessons to be learned from it as a practice. Baking is a miracle of the physical world. Throw together some flour, sugar, butter, eggs, various flavorings and maybe some leavening, and there's a wonderful treat at the end of the process. 
Baking teaches patience, and that I must follow a process to achieve a specific result. And while there is an instant gratification component to it, no matter how much I perfect my baking skills, there are still variables which I can't always control. So I learn to roll with the punches ("decorate to hide mistakes" my culinary school cake instructor told me), and sometimes to let go of results.
And as I'm sure we can all agree, everyone loves dessert. It's just not a party without a great cake, tart, pie or pastry to end the event.
So in homage to the baking arts, I am beginning a series of posts sharing some favorite baked goodies. And to kick it off- this much loved cookie recipe.
I first encountered Mocha Cookies in Gourmet Magazine about 20 years ago. Around that time, the caterer in New York I was working with, began baking them for his events. There was discussion amongst those of us in the prep kitchen, of the variations on this recipe we created. One of my fellow prep cooks put raisins in them, creating a Chunky candy feel to them. Building on that, I began to add dried cherries to the recipe. I've seen a well known restaurant with attached bakery here on the west side of L.A. bake them with hazelnuts. "MCC's!" (for Mocha Chocolate Chips) a prep cook who worked with me, exclaimed the first time she saw me bake them. They're a great cookie, although I always felt there was a little flaw in the recipe, which is that the batter (and yes, it is more of a batter than a dough at this point) is so soft it can make a very flat cookie. Imagine my surprise when I saw yet another version of the recipe show up in a paperback trade cookbook I was given at a press event earlier this year. I was even more surprised to see that they had altered the recipe in a way that addressed the flaw I found in them. While the original recipe let the batter sit for 15 minutes to solidify a bit before dropping the spoonfuls onto a baking sheet, this recipe refrigerates the batter overnight, allowing it to harden, then forms them into balls to bake.
This recipe is missing the espresso powder which make mine Mocha cookies. Instead dark cocoa powder is added, along with chile powder (and a bit of orange flavoring)- in yet another variation, hence they've dubbed them Chile Ganache Cookies, saying they are a takeoff on chocolate truffles. Whatever the variations and whatever you call them, they are one great cookie!
 Chile Ganache Cookies
from Arizona's Salsa Trail–A Foodie's Guide to Culinary Tourism in Southeast Arizona
12 ounces high quality bittersweet chocolate

6 tablespoons butter, unsalted

1/2 cup flour

3 tablespoons best quality unsweetened cocoa powder (I use Valrhona or Black Onyx)

1/4 teaspoon salt

1 1/2 teaspoons freshly ground New Mexico chile powder (or cayenne)

1 1/4 cup sugar

3 large eggs

1 tablespoon orange flavored liqueur

1 tablespoon orange zest
1. Melt the butter and chocolate together in a double boiler or a large bowl over a pot of water. Remove from the heat and set aside to cool slightly.
2. Sift together flour, cocoa, salt and chile powder.
3. Beat the eggs and sugar in the bowl of an electric stand mixer until they are pale and thick.
4. Stir in the orange liqueur and chocolate mixture.
5. Add the flour and orange zest, mixing until fully combined.
6. Cover the dough with plastic wrap pressed against the mixture and refrigerate at least 3 hours, or overnight.
7. Form the dough into 1 1/2 inch balls and place on a parchment lined cookie sheet.
8. Bake at 350 degrees for 10 minutes.
9. Take cookies out of the oven, and let them rest for 5 minutes. Then transfer them to a wire rack to cool completely. Yes, they should look soft and crackly.
Yield: @ 3 dozen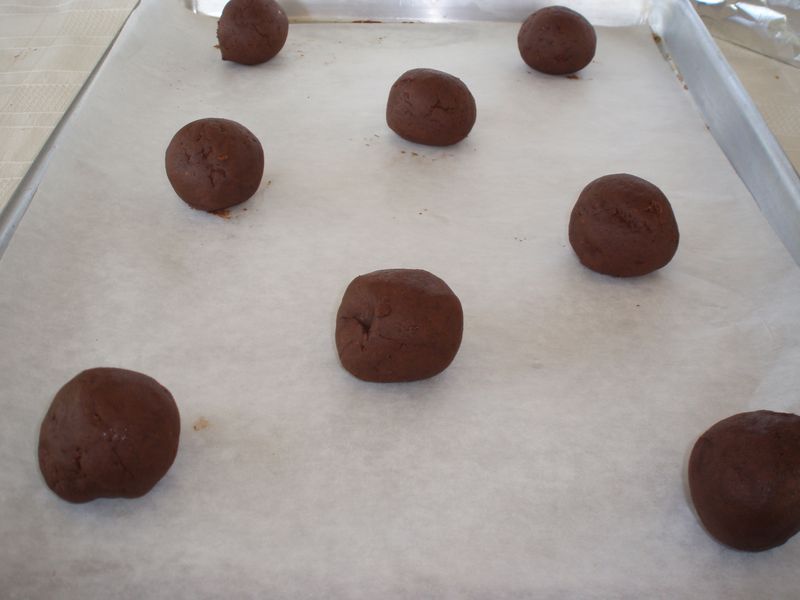 Enjoy!
And for more favorite cookie treats, check out my  Orange Almond Biscotti and Almond Apricot Bars
Bon Appetit!