A Little More Joy of Baking, LA Helps LA and Fig Frangipane Tart
I have been a busy camper!
This past weekend Small Pleasures hosted LA Helps LA, a tasting event to raise funds for the Gulf Restoration Network. As many of you probably know, I was born in that crescent shaped city not too very far north of the Gulf Coast, and what happened to it in the wake of hurricane Katrina gave my life a new focus and passion.

I was joined in this event by the wonderful food blogging community here in So Cal. Several bloggers participated, bringing a signature dish of theirs to tray pass among the guests. We were also joined by some great businesses who participated as sponsors- Hall Wines, California's first LEED Gold Certified Winery, who poured their delicious 2009 Sauvignon Blanc, their 2006 Napa Valley Merlot, and their very special Darwin, a Shiraz/Cabernet blend. Also, Piedmont Distillers sent bottles of their tasty new spirit, Catdaddy Carolina Moonshine, which they mixed with Abita Root Beer, and their Midnight Moon, paired with lemonade, and The Sazerac Company sent the mixings for their great cocktail, a New Orleans original. The event was a wonderful time. I can safely say everyone in attendance had a great time! Well, how could they not with all those great libations.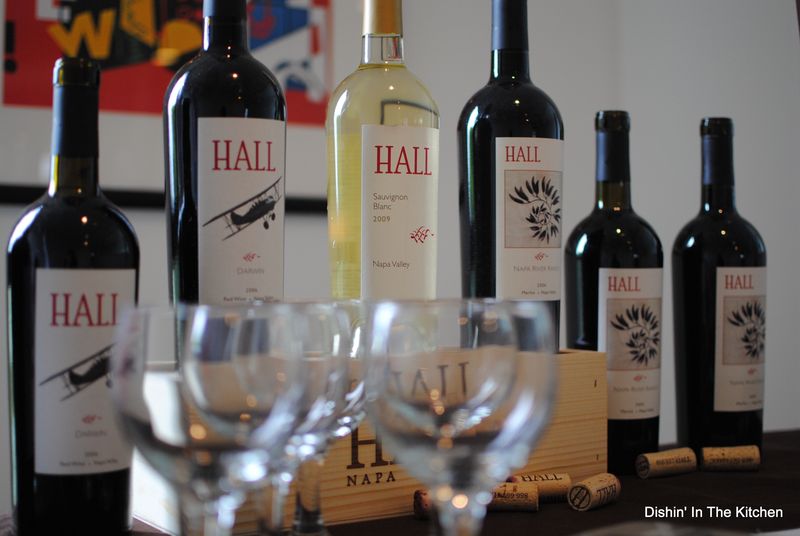 Photo Courtesy of Dishin' in the Kitchen
Over the next few posts, I want to share a few of the great dishes we served, highlighting products sent by our great sponsors. So please come back.
I'm starting off with this great Fig Frangipane Tart featured at Small Pleasures' dessert buffet. Big thanks to the California Fig Advisory Board which sent both picture perfect figs (for the tart) and fig leaves which Rachael of LaFujimama used to adorn her fabulous sushi station.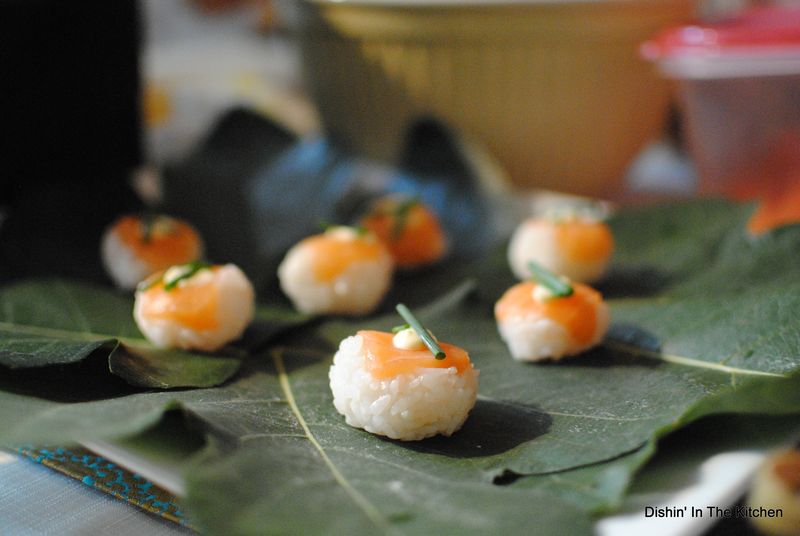 Salmon Sushi "Balls" on Fig Leaves- Photo Courtesy of Dishin' in the Kitchen
I always anxioulsy look forward to the great seasonal fruit I feature in this tart. In spring I make it with Blenheim apricots, a California specialty picked up at the Santa Monica farmer's market. In summer, I jump on the tasty little (and short seasoned) French or Italian prune plums (I made the Plum Frangipane Tart for our blogger competition at Camp Blogaway last weekend and walked away with first prize, thank you very much), also from the farmer's market. And I can relax deep into the fall, knowing that the extended fig season will provide me with fruit for this tart almost until Thanksgiving, if we're lucky. And when those are sadly gone, I make it with lightly poached pears. So you can see it's a wonderfully versatile and special recipe. I hope you'll give it a try. I'm guessing you'll love it as much as I do.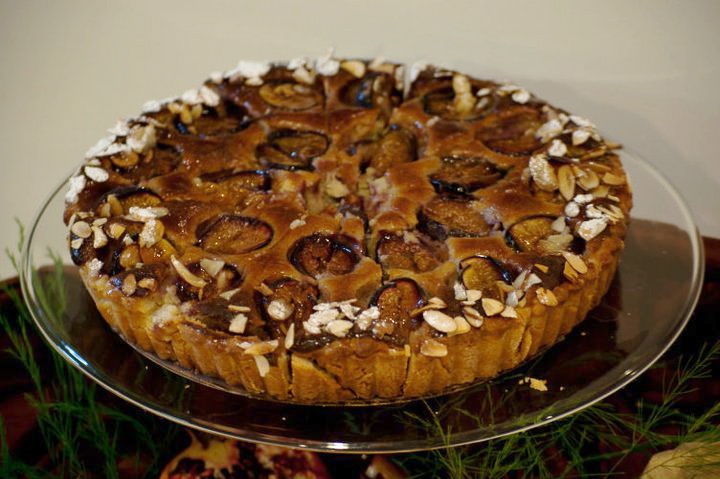 Fig Frangipane Tart- Photo Courtesy of J.A. Smith Photography
Recipe follows: