A Little More Joy of Baking, LA Helps LA and Fig Frangipane Tart
I have been a busy camper!
This past weekend Small Pleasures hosted LA Helps LA, a tasting event to raise funds for the Gulf Restoration Network.  As many of you probably know, I was born in that crescent shaped city not too very far north of the Gulf Coast, and what happened to it in the wake of hurricane Katrina gave my life a new focus and passion.

I was joined in this event by the wonderful food blogging community here in So Cal. Several bloggers participated, bringing a signature dish of theirs to tray pass among the guests. We were also joined by some great businesses who participated as sponsors – Hall Wines, California's first LEED Gold Certified Winery, who poured their delicious 2009 Sauvignon Blanc, their 2006 Napa Valley Merlot, and their very special Darwin, a Shiraz/Cabernet blend. Also, Piedmont Distillers sent bottles of their tasty new spirit, Catdaddy Carolina Moonshine, which they mixed with Abita Root Beer, and their Midnight Moon, paired with lemonade, and The Sazerac Company sent the mixers for their great cocktail, a New Orleans original. The event was a wonderful time. I can safely say everyone in attendance had a great time! Well, how could they not with all those great libations.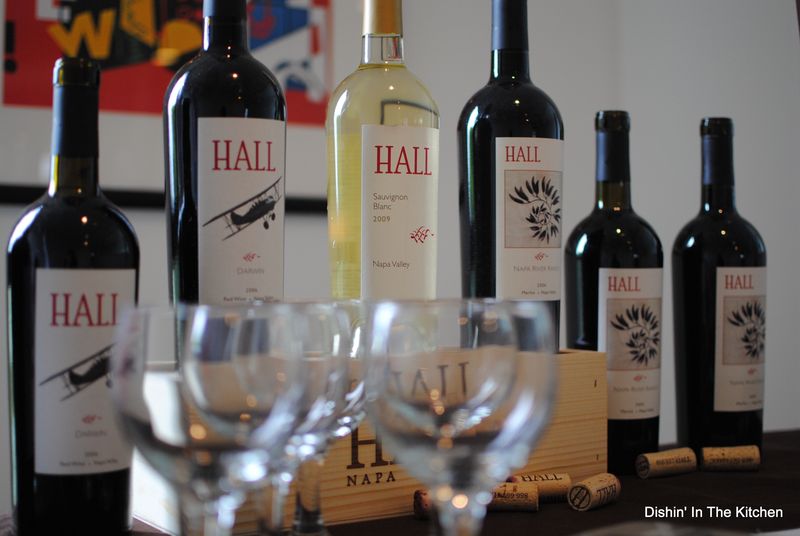 Photo Courtesy of Dishin' in the Kitchen
Over the next few posts, I want to share a few of the great dishes we served, highlighting products sent by our great sponsors. So please come back.
I'm starting off with this great Fig Frangipane Tart featured at Small Pleasures' dessert buffet. Big thanks to the California Fig Advisory Board which sent both picture-perfect figs (for the tart) and fig leaves which Rachael of LaFujimama used to adorn her fabulous sushi station.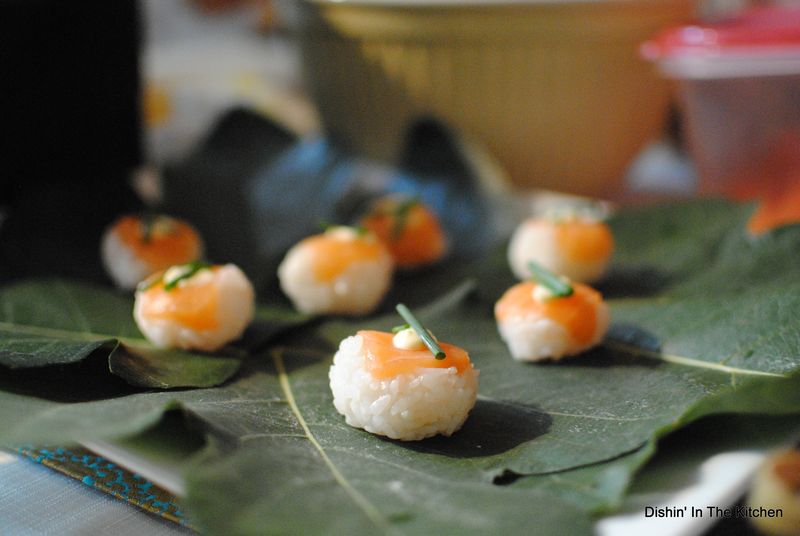 Salmon Sushi "Balls" on Fig Leaves- Photo Courtesy of Dishin' in the Kitchen
I always anxiously look forward to the great seasonal fruit I feature in this tart. In spring I make it with Blenheim apricots, a California specialty picked up at the Santa Monica farmer's market. In summer, I jump on the tasty little (and short seasoned) French or Italian prune plums (I made the Plum Frangipane Tart for our blogger competition at Camp Blogaway last weekend and walked away with first prize, thank you very much), also from the farmer's market. And I can relax deep into the fall, knowing that the extended fig season will provide me with fruit for this tart almost until Thanksgiving, if we're lucky. And when those are sadly gone, I make it with lightly poached pears. So you can see it's a wonderfully versatile and special recipe. I hope you'll give it a try. I'm guessing you'll love it as much as I do.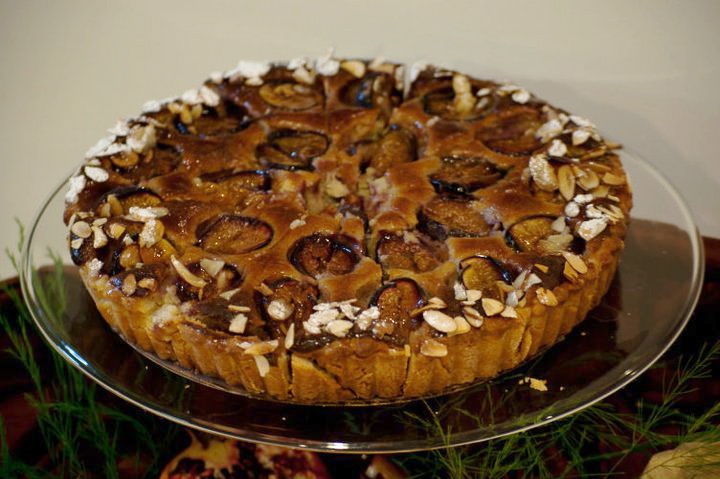 Fig Frangipane Tart- Photo Courtesy of J.A. Smith Photography
Fig Frangipane Tart
You'll need a kitchen digital scale to measure ingredients for the frangipane, but anyone who bakes much should have one anyway.
Pâte Sucrée (or Sweet Tart Dough in English) :
Adapted from Nancy Silverton's  classic cookbook Desserts
1/2 # unsalted butter

1/2 cup granulated sugar

2 3/4 cups all purpose flour

2 egg yolks

1/4 cup heavy cream

1 teaspoon vanilla
1. Cream butter and sugar together.
2. Add the yolks one at a time, then add the vanilla.
3. Add the flour in 3 additions and blend until thoroughly mixed in.
4. Blend in the cream.
5. Dump the dough out on to a large piece of plastic wrap, and wrap it flattening into a round disk. Then refrigerate it for several hours or overnight.
6. To roll out the dough, remove it from the refrigerator and let it come to cool room temperature.
7. Divide the dough into two equal pieces, and roll to  a circle about 2" larger than the diameter of the pan, and between 1/8"-1/4" thickness. Then lift the dough and press it into a removable bottom tart pan. Trim the edges of the dough even with the top of the pan.
8. Refrigerate the dough in the pan again for about an hour before adding filling and baking the tart. This step allows the dough to rest and reduces shrinkage.
This recipe is enough for 2- 9" to 10 " tart shells
Frangipane* Filling:
 1 pound almond paste (available at Surfas and specialty online vendors)

 1.5 ounces granulated sugar

1/2 pound butter butter

4 eggs

1.5 ounces flour
1.Combine the almond paste, sugar and butter in the bowl of a mixer and cream until smooth.
2.Add the eggs one at a time, scraping down the sides of the bowl as needed, and mix until smooth.
3.Add the flour and blend until thoroughly mixed in.
The frangipane maybe made ahead of time, and refrigerated for several days before using.
Frangipane is an Italian almond cream filling
This recipe is enough for 2-9" to 10" tarts
To assemble the tart:
@ 2 tablespoons apricot jam per tart
@ 12-14 figs, per tart, stemmed and cut in half
@1/4 cup Apricot glaze (available from Surfas or specialty online pastry suppliers), or apricot preserves, strained to remove the solid pieces (this is a bit more than you'll need, but I always warm up a little extra.)
@ 1/4 cup sliced almonds, toasted
@ 2 tablespoons powdered sugar
1. Spread the apricot jam on the tart dough, then spread the frangipane on top of it.
2.Place the figs in the frangipane in concentric circles. Bake the tart at 375 degrees for about 40 minutes, or until the frangipane begins to brown.
3. Remove from the oven and let it cool on a wired rack with the sides of the tart pan on for about 10 minutes.
4. After 10 minutes, remove the sides of the pan, and let the tart cool completely. Then remove  the bottom by sliding a long flat knife or spatula under the tart, and slide it onto a flat plate, or cardboard circle.
To glaze and decorate the tart:
1. If you use apricot glaze you'll have to add water, and simmer until it's dissolved and thinned to pourable consistency. If using the strained apricot jam just heat it.
2. Using a wide pastry brush, lightly brush the glaze over the entire tart.
3. Holding a plate over the tart as a template (it's easier if you have a second pair of hands for this), sprinkle the toasted almonds around the edge of the tart, then sift powdered sugar over the almonds.
Bon Appetit!