LA Helps LA -Tasting Event to Benefit Gulf Restoration Network
I am so happy to announce this event to you. It's been on my heart for a long time to hold a benefit for the Gulf Coast region, and I am so happy that my fellow food bloggers in Los Angeles have joined with me to help out.
So, on Sunday, October 3rd, we will be doing our part to restore the Gulf of Mexico, one tasty bite and one yummy drink at a time.
I'm especially excited that so many others have jumped to join us in this endeavor. Uncle Darrow's Cajun Creole Restaurant in Marina Del Rey will be serving their great red beans and rice, a New Orleans staple, along with fried catfish strips and some of the tastiest and most boldly seasoned potato salad around. I've known Norwood Clark, owner of Uncle Darrow's and fellow New Orleans native, for a good while now, and know his heart for the Gulf Coast. He's always willing to jump in and help when it comes to his hometown.
I'll be serving a dessert buffet which will include some of the traditional New Orleans treats I grew up with (like bread pudding and pecan pralines), as well as some of my newer favorites (like chocolate truffle cake and fig frangipane, and lemon curd tarts).
Barrie Lynn- The Cheese Impresario will be offering the products of Wisconsin artisan cheese makers, paired with fruit, breads and honey.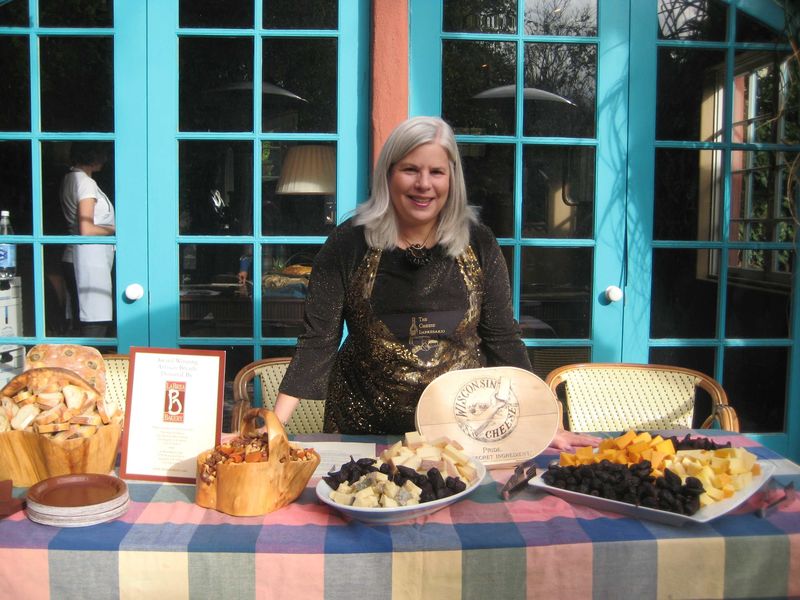 Barrie Lynn-The Cheese Impresario
And to go with those great cheeses, Hall Wines of Napa, California's first LEED Gold Certified Winery, will be pouring their fine, small-lot production wines. For those of you who prefer a cocktail, we are excited to have Catdaddy Carolina Moonshine and the Sazerac Company offering New Orleans style cocktails (after all, the cocktail generally, and the Sazerac, specifically, were born right there in New Orleans on the Gulf Coast).
And last but not least, several members of our great blogging community here in Los Angeles will be serving some of their signature treats- Rachel of La Fujimama wil be serving sushi featuring the finest sustainable seafood of ILoveBlueSea.com, the online source for the finest sustainable and sushi fresh seafood. Erika Kerkes will be serving one of her famed truffle infused bites. Agi Gracyzk, blogger (One More Bite) and personal chef to L.A.'s celebrity crowd – a lovely Tomato Bisque with Parmesan Tuile, and many more. I'll be mentioning them all over the next few posts, so stay tuned.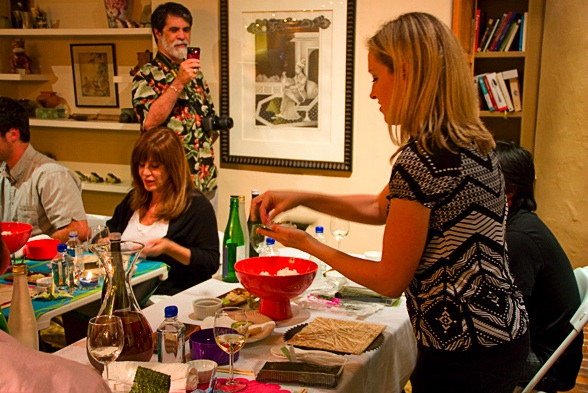 Rachael of LaFujimama.com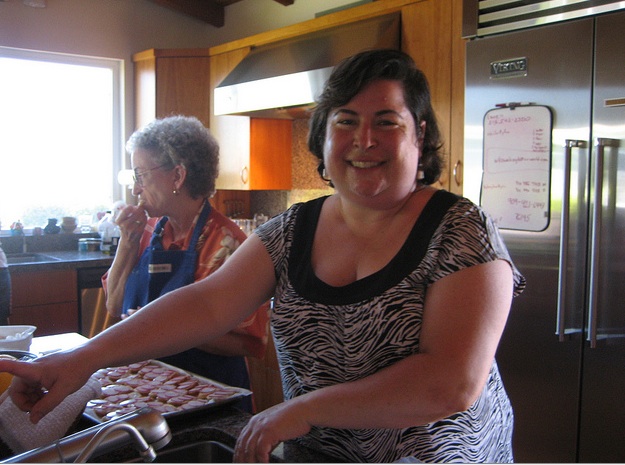 Erika of InErikasKitchen.com
Oh- one more thing- we'll be raffling of lots of great cookbooks, coffee table photo books, gift certificates and other stuff (just yesterday got a great prize donation from Ralph Brennan of the famed Brennan restaurant family of New Orleans, so please, won't you join us?
For ticket info please contact Gisele@smallpleasurescatering.com or call 323-293-3604