Yet a Little More Joy of Baking – Almond Apricot Bars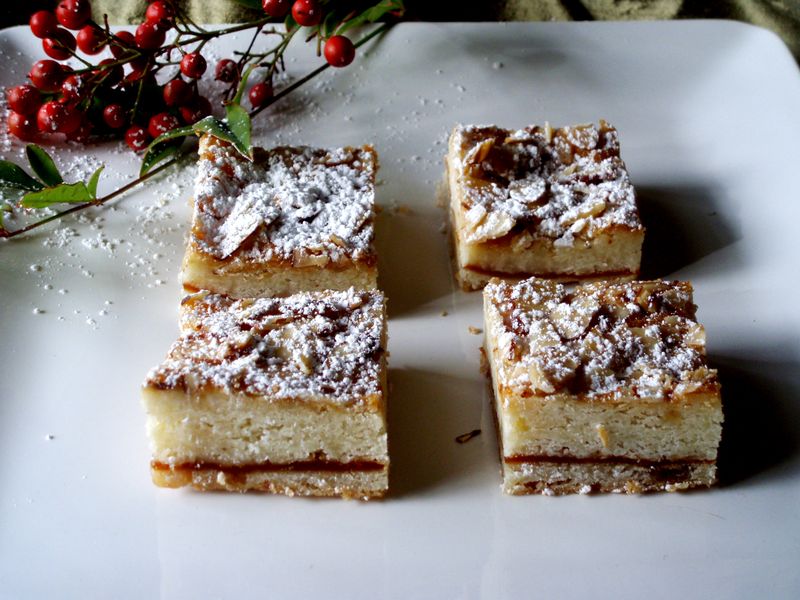 Almond Apricot Bars
When my friend and fellow blogger Adair of Lentil Breakdown saw a picture of these, she asked "more of your signature almond paste? "
I don't quite know when it was that I fell in love with almond paste, but yes, I must now admit that it is a favorite ingredient of mine. This is the third dessert I've shared here in 4 months' time using it. First was the wonderful Almond Pound Cake (and btw, now I am giving you the apricot filling I used to fill that cake). Second was the LA Helps LA favorite recipe, Fig Frangipane Tart. And now these scrumptious Almond Apricot Bars. While I think they are great any time of year (and are great with coffee or tea), I'm sharing them now because they happen to go great with a demi-sec or Crémant sparkling wine, so consider serving them at a New Year's Eve cocktail party or brunch. And just maybe you will fall in love with almond paste, too.
Almond Apricot Bars
1/2 cup almond paste* (or 5 ounces)
3/4 cup sugar
1/2 teaspoon salt
1 cup unsalted butter, softened
1 large egg, separated
1 teaspoon almond extract
1 1/4 cup all purpose flour
1/2 cup sliced almonds
@1 cup apricot purée (Recipe below)
*European Style Almond Paste- 66% Almonds (1 Lb Tub)
1. Turn a 9 inch square baking pan upside down, center a 10-11 inch square of foil over the pan. Fold down the sides and corners of the foil, then remove the foil and trun the pan over. Place the shaped foil into the pan and press it gently into place. Then butter the foil by brushing with melted butter.
2. Pulse the almond paste in a food processor until it's broken into small bits. Add 1/4 cup of the sugar and the salt and continue to pulse until finely ground, about 1 minute.
3. Cream together, at medium speed, the remaining sugar and butter in a large bowl of an electric stand mixer until pale and fluffy, about 3 minutes.
4. Add the almond mixture, almond paste and the egg yolk and beat until well combined.
5. Reduce the speed to low and add the flour, mixing until well combined.
6. Sperad half the batter evenly in the pna with an offset spatula.
7. Spread the apricot purée over the batter, then spread the remaining batter evenly over the apricot purée.
8. Lightly whip the egg whites until just frothy, then brush some of it over the batter and sprinkle the top with the sliced almonds.
9. Place in an oven preheated to 350 degrees. and bake until golden brown, about 35-40 minutes.
10. Cool in the pan completely on a rack. You may either wrap and refrigerate at this point or transfer to a cutting board, then after discarding the foil, cut into squares or whatever shape you prefer.
Apricot Purée
(adpated from Rose Levy Beranbaum's The Cake Bible
)
1. Place the apricots in a small saucepan, cover with the water and allow to stand for 2 hours.
2. Simmer for 20 minutes (or until the apricots are soft), covered.
3. Purée in a blender along with any of the liquid remaining in the sauce pan. The purée may be pressed through a fine strainer for a smoother product.
4. Stir in the sugar and lemon juice.
Cut them in squares, or what ever shape you like.
Yield: @ 3 dozen
Bon Appetit!