The Joy of Baking- Part 2 (a Great Almond Pound Cake Recipe)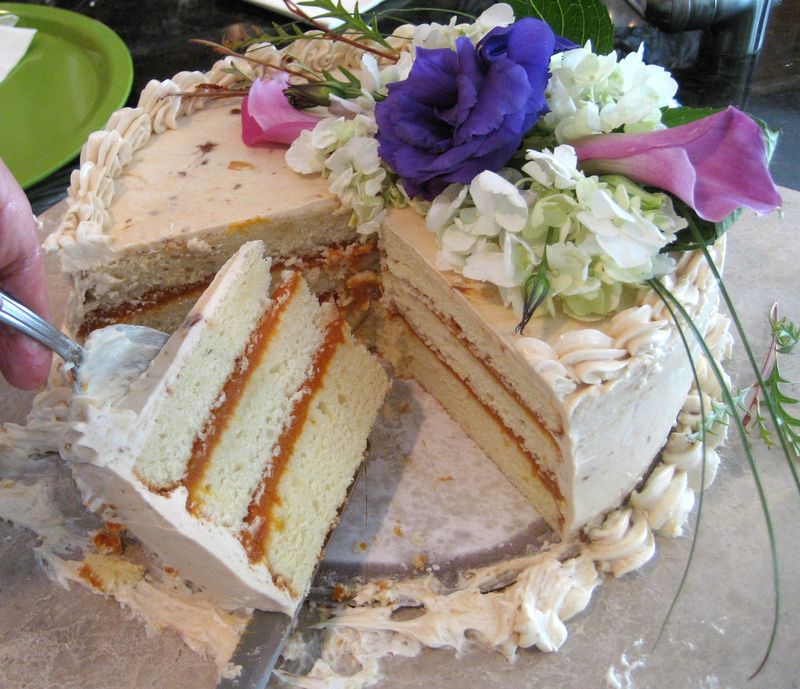 Every baking aficionado has their area of preference. Some bakers love baking bread, others prefer pies, as anyone who tunes into Evan Kleiman's Good Food knows. I happen to love cakes. While bread is the everyday "staff of life", and pies are homey comfort desserts, cakes signal a special occasion – my stock in trade.
A few months back, I was asked to create a birthday cake to end a special birthday celebration. The menu was a Paella and Tapas menu, so I wanted a cake with a Spanish flair. Almonds, often served as tapas, seemed liked a good place to start, and since the client asked for something fruity- and it was June, the height of apricot season, and apricots and almonds seem to be made for each other dessertwise-I decided to fill the cake layers with a Blenheim apricot (considered the king of California apricots) purée. To finish, I decided to carry the almond theme through with a praline buttercream. When I hit upon this combination, I knew I had come up with something special. It's my new favorite cake! I love it so much, I just talked my latest bride into serving it at her wedding party, and her guests all fell in love with it, too.
The cake itself is an almond pound cake- a wonderful, but not often seen variation on the classic. This particular recipe makes 3-10″ layers, with a bit of batter left over to make a mini loaf for yourself, or to fill 2- 5 cup capacity tube cake pans. Don't wory about baking 2 cakes-because it is such a moist cake, it freezes very well. Oh- and you'll need a digital scale to measure, but if you love to bake, you should have one anyway. Scales offer much more precise and consistent measures than measuring cups.
If you choose not to fill and ice the cake, it would be wonderful servd with a fresh mixed berry coulis, and whipped cream.
I hope you'll love this recipe (click on to next page)  as much as I do.
Bon Appetit!