Prosciutto Wrapped, Stuffed, and Grilled Figs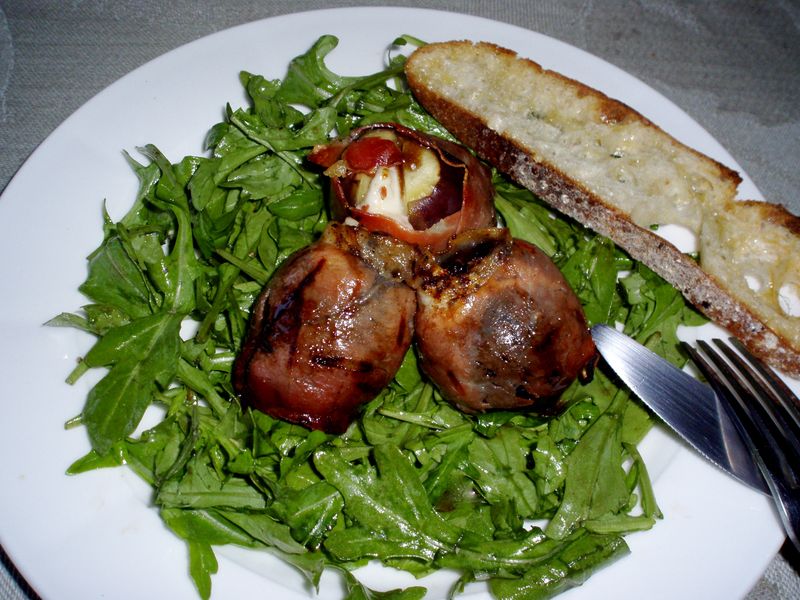 Prosciutto Wrapped, Stuffed and Grilled Figs on Arugula
For several years I hosted an annual summer Rosé party at my home, where I paired a selection of 10 to 12 blush wines from all over the world with the sunny climate foods that go so well with them.
Almost from the beginning these wrapped and grilled figs were one of the most highly anticipated offerings. The dish went through a few "edits" over the years. I first wrapped them with pancetta, which resulted in a truly delicious little bite, but the pancetta doesn't wrap around the fig quite as well as prosciutto, so it's a little messier looking (still worth a try if you don't mind the look). They also started out as a passed hors d'oeuvre- again, a bit messy to pick up. Mozzarella cheese-good, but you guessed it-messy. After the first year with mozzarella, I hit upon the idea of stuffing them with Panela cheese, a fresh Mexican cheese that maintains its shape when heated, hence no squishy, drippy cheese. And in their final permutation, the figs landed on a bed of wild arugula, dressed with a fig balsamic vinaigrette, which in my estimation was just right. There's something about the nutty and slightly bitter arugula which perfectly complements the sweet figs, the salty prosciutto, and the milky cheese.
Sadly, the Rosé party became victim to recessionary times (hopefully to be resurrected someday), but I was so glad to have a few extra figs leftover after making the Fig Frangipane Tart for the LA Helps LA event I recently organized (and a warm day to fire up the grill in this unusually cool year we're having in L.A.), to revisit my Prosciutto Wrapped, Stuffed and Grilled Figs, and enjoy them with the last of the summer Rosés. Here's hoping for just a few more warm and figgy days!
Wrapped, Stuffed and Grilled Figs
12 fresh figs, split in half
8-12 slices thinly sliced prosciutto
12 slices Panela* cheese, about 1 inch square (or to fit figs) and 1/3 inch thick
1/2 pound or so of wild arugula
Fill each fig with a slice of cheese. Wrap the fig completely with a slice of prosciutto. If the slices are wide, you may trim the slices to fit the figs. Grill figs over (not directly over) hot coals, lightly brushing with a bit of Fig Balsamic Vinaigrette, until the cheese is soft, and the figs are browned slightly, about 3-5 minutes.
Toss the arugula with a few tablespoons of the vinaigrette. PLace the arugula on a sald plate, then place 3 figs on the arugula. Drizzle with a bit more vinaigrette, if you like. Alternatively, the figs can be served as part of a buffet rimming a large bowl of arugula.
Fig Balsamic Vinaigrette
1 tablespoon Dijon mustard
1 tablespoon fig balsamic vinegar
1/4 cup balsamic vinegar
1 cup extra virgin olive oil
Sea salt and freshly cracked black pepper to taste.
Combine Dijon mustard, and both balsamic vinegars in a large mixing bowl. Drizzle in the oil slowly while whisking constantly until an emulsion forms. Finish to taste with the salt and pepper.
Panela* is a fresh Mexican cheese available at Mexican markets, and is used in this recipe because it keeps its shape when heated. Mozzarella or Manchego may be used, but will melt on the grill.
Yields 4 individual plate servings, or 4-6 as part of a buffet. 
Thanks to The California Fig Advisory Board for providing the figs!