Visiting New Orleans- Xavier University Chapel and the Height of Tourist Season
A couple of weekends ago I was in New Orleans to attend the dedication of Xavier University's (my mother and father's alma mater) newly built Katharine Drexel Chapel. I was there because my mother gave a substantial donation to the chapel fund before she died, and we, her children, felt we had to honor her, to represent her, by attending.
In the past year, I have become the older generation, the matriarch of my family. I have lost the shield between myself and my mortality.
I am not sure of all it means, I am pretty sure that much of what it means, is that I must make clear choices. I must choose to do things that matter with my time, my money, my talents, my resources.
I stood before my family at the restaurant lifting a glass in a toast of gratitude to my parents. My voice cracked. The tears sprung up. My youngest brother, whom I have had very little to do with of late, touched my hand, lightly, lovingly, encouraging me to continue. I don't remember what I said after that. I hurried to get through my toast, and return to my seat.
I sat across the table from a man who was not a member of my family- a man I'd only met right then, who my cousin had brought to the dinner, although I had been a class mate of his brother's in grammar school.
The room was dark and hushed- well appointed, an expensive restaurant with the sophisticated look that goes along with that. The staff was very gracious, although it was not my first choice of restaurants. It was not even my second or third choice. An irony, since I have made inroads in forging relationships with some of the city's top chefs and restaurateurs. 
I, unfortunately, developed food poisoning that day (believe me- it's truly one of the last things you want to have happen to you when visiting New Orleans), and could not enjoy my food. Everything, even the Nicolas Feuillatte Rosé Champagne which I love, tasted off to me. Everyone else seemed to enjoy the meal, though, and my cousin Paul, who a little over a year earlier had told me he had never had a meal like the one we shared at Restaurant August, said he liked this place, MiLa, even better.
The city was packed- full of Chargers fans, and motorcycle show conventioneers, and thousands of Venezuelans from Florida coming to vote Hugo Chavez out of office. I have never been there when so much was going on- other than at Mardi Gras or Jazz Fest.
"It's the height of tourist season" Cali at Bayona told me.
Our little chapel dedication seemed lost in the shuffle.
The chapel was designed by a world class architect, Cesar Pelli, who attended the ceremony. The tones were natural wood, and soft light filtered through screens over sky lights with a thousand tiny holes.
The shape was octagonal, an ancient spiritual form we were told. A massive carving of Jesus, the Christ, with African features, hovered above it all.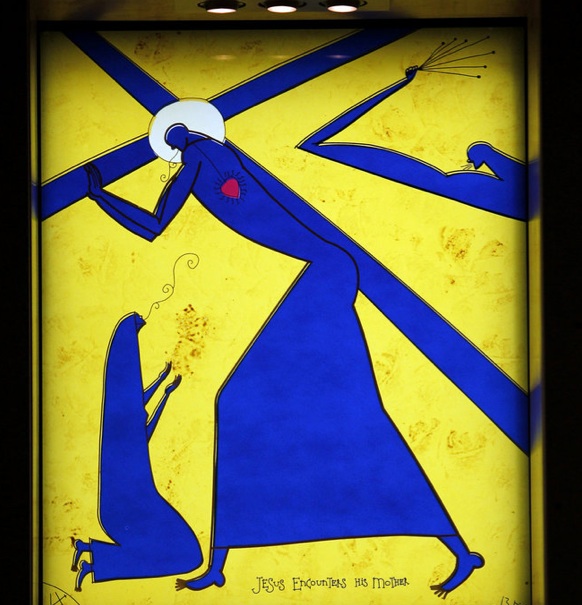 There are modernistic stained glass windows marking the Stations of the Cross, designed by a Cuban artist. Off to the side is a smaller meditation chapel where all the chairs faced the center altar, and each other.
I perused the glass panel in the vestibule with donor names, searching for my parents' name. I saw the names of Arthé and Flournoy Anthony, my parents' lifelong friends, of Sylvia Turead, and her husband Leonard, my aunt's niece, and my parents', and now my friend, and even the name of my first grade teacher.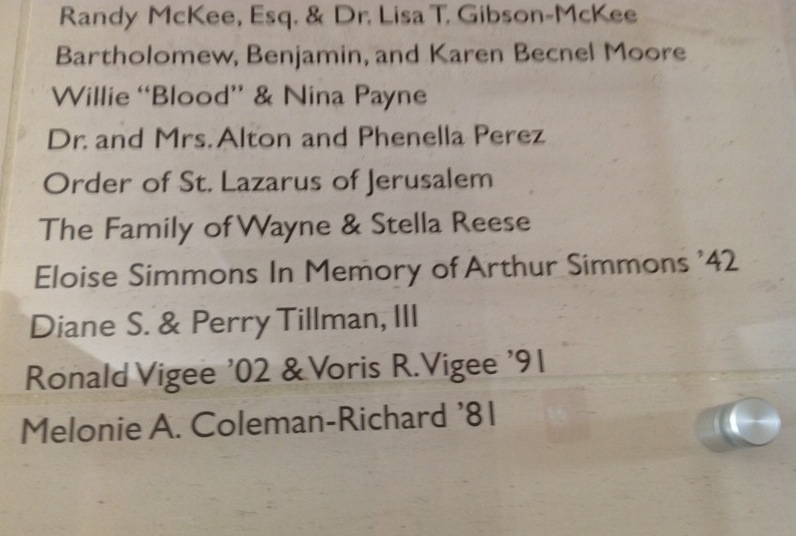 The next day my uncle and I visited Muriel, my mother's 92 year old cousin, I had not seen her in over 25 years. And later that day, we visited 97 year old, Carmen Morial, my mother's mentor and friend at Jones School, where my mother started as a young teacher, and where I began my schooling.
Jones School is boarded up now, a victim of the flood. But vandals have broken through the boards, and the sturdy brick building is being steadily stripped of anything valuable that remains behind and within its walls. 
"Demolition by neglect" Keith Wheldon Medley, had told me over a year ago, when I met him at that little café in a Bywater. 
His mother had also been a teacher there, and he, like almost all of us who were born in the 7th Ward, had been a student at Jones School.
"There's no respect for our history" he said.
What there is, though, is plenty of rowdy sports fans carrying their 12 packs, down Canal Street, under their arms, ready to party.
Well, yes, it's true- there have always been plenty of those.
Save