Meeting John Besh, Eating at Restaurant August and Recipe for Brown Butter Fig Tart
John Besh, Barnaby Dorfman of Foodista, and future foodie (Photo courtesy of Foodista)
Although everyone I mentioned it to, leading up to my interview with John Besh, said he's such a great guy, I still wasn't prepare for how completely impressed I would be with him. He's charismatic, warm and thoughtful, and (icing on the cake) tall with boyish good looks tempered by a tiny bit of gray that's beginning to touch his temples.
Chef Besh spoke to the attendees of the International Food Bloggers Conference after our Saturday night wine pairing dinner at the Monteleone. I had a chance to observe him out in the hallway before he took the stage. Everyone wanted to greet him. Women hugged him, the men shook his hand, he was even kissing babies. When I got the chance to speak with him at his flagship Restaurant August, the Monday after the conference, I said to him, "You should run for mayor. You're such a natural."
"I'll leave that to Mitch," he said, laughing. "He's doing a great job. And Ray. I really liked Ray, too."
And such a diplomat, too.
My cousin Paul, who luckily called me just as I was preparing to go to lunch,  and I decided on the 3 course pre-fixe lunch for only $20.11, an incredibly great deal, but as we looked over the menu perusing our options, our server came to the table, and said, "Order lightly. The chef is going to send out several items for you to taste." We were served an incredible array of amazing food. When we were finished-more like when we just couldn't eat any more- Paul looked at me and said, "I have never had a meal like this!"
We began with two amuses bouches- the first a Fish Mousse (served in a delicate eggshell) with Truffle Sabayon and Bowfin Caviar, the second an Asparagus served (again) with Truffle Sabayon and a (barely) Poached Quail Egg.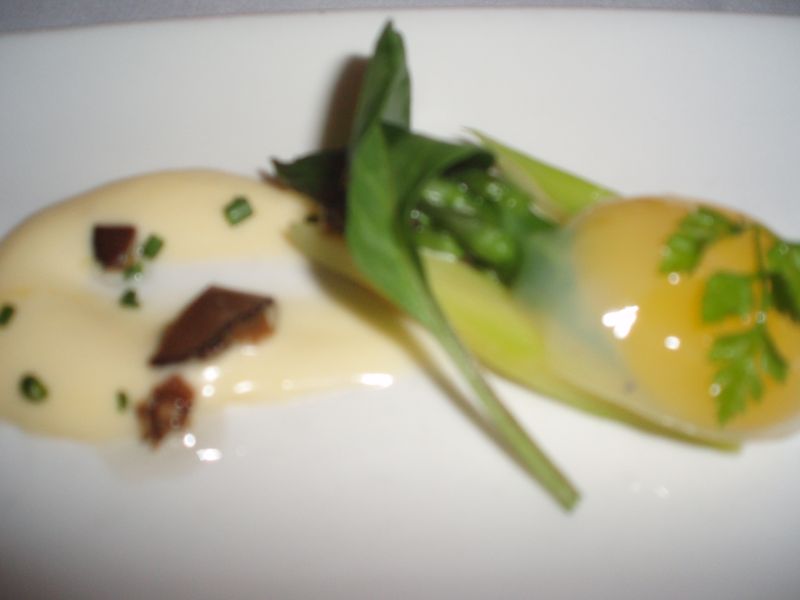 Asparagus with Truffle Sabayon and Poached Quail Egg
Then we were served the first course of our prix fix menu- for Paul, a Salad of Grilled Chilton Peaches, Aceto Balsamico, Basil Pesto, Bacon Crisp and Whipped Ricotta. For me- this luscious Pâté de Campagne of La Provence (Besh's own hog farm) Pork with Pickled Wild Mushrooms and Seasonal Marmalades (I especially liked the peach), served with thick slices of toasted Brioche.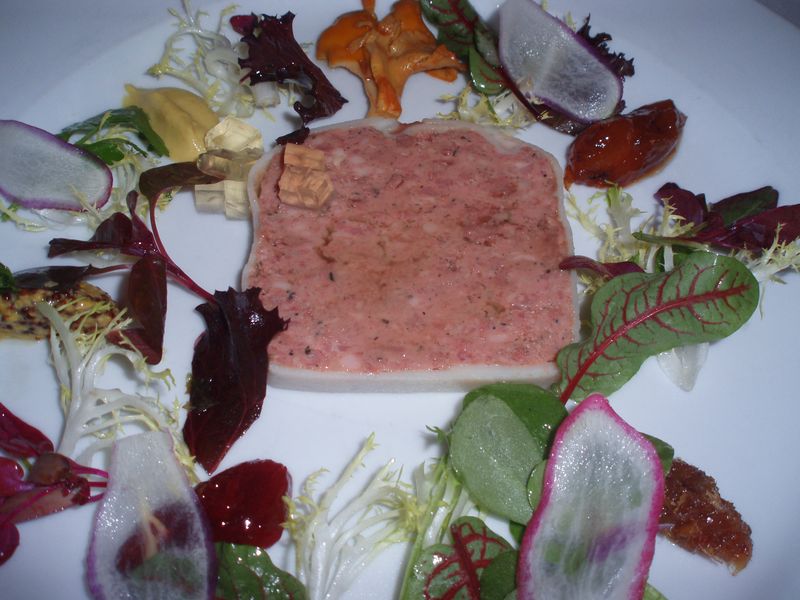 Then 3 hot appetizers- a Green Curry Bisque with Gulf Shrimp, Potstickers and local Heirloom Chile Peppers (Paul pronounced this his favorite dish), a Sweet Corn Agnolotti with Chanterelles, Petit Tomatoes and Field Peas, and a handmade Potato Gnocchi tossed with chunks of Blue Crab and Black Truffle. Truffles- again! I thought of my L.A. food blogging buddy and truffle junkie, Erika Kerekes, knowing she would love eating here.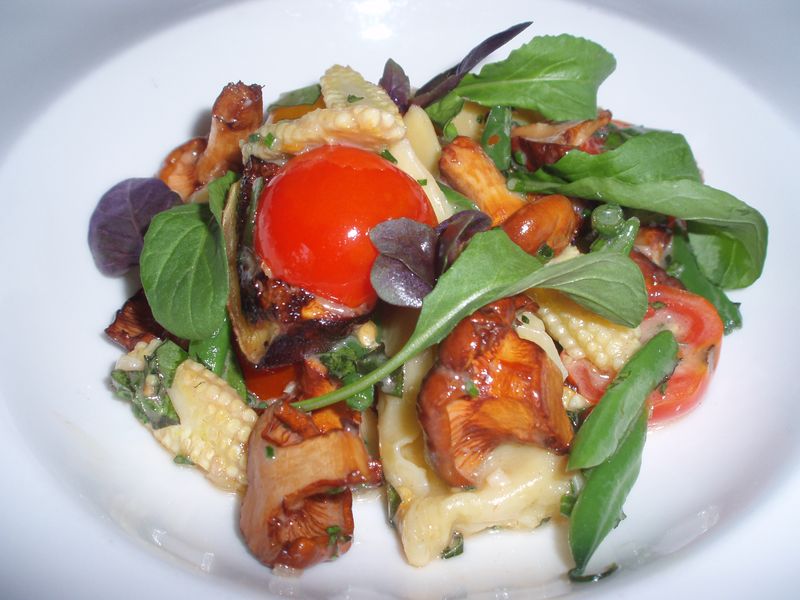 Corn Agnolotti
And now for our entrées: Pan Seared Gulf Sheepshead with Silverqueen Corn Custard, Succotash (that's what the menu called it, but I saw all sorts of yummy and unexpected things like black eyed peas, summer squash and figs in the mix) and Tomato Vinaigrette; Crispy Mangalista Pork Belly with Creole Cream Cheese Malfatti (a kind of gnocchi), Mustard Greens (Paul said -these are not your mother's mustard greens), Tomato Confit and Sauce Blanquette, and Pan Seared Louisiana Blackfish with Tarragon Pistou (which I  found absolutely delicious!), Petit Summer Vegetables and Candied Blood Orange.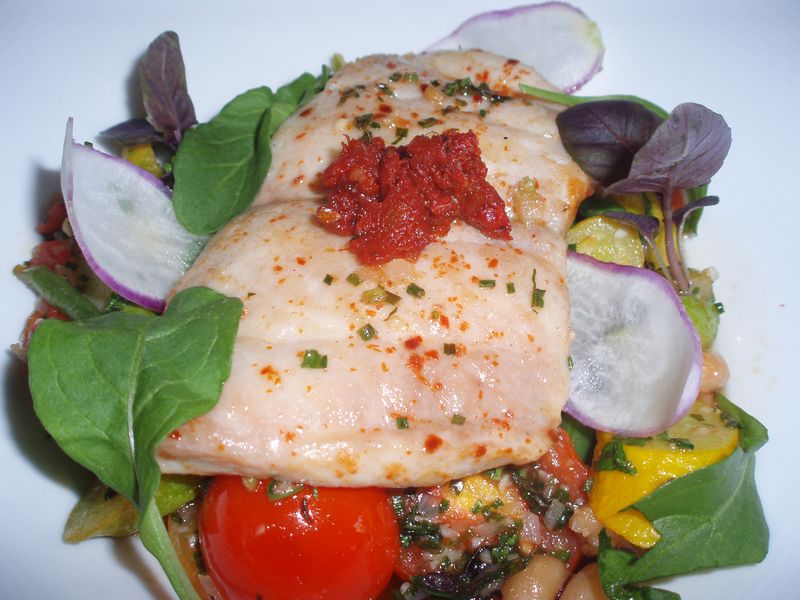 Gulf Sheepshead with Corn Custard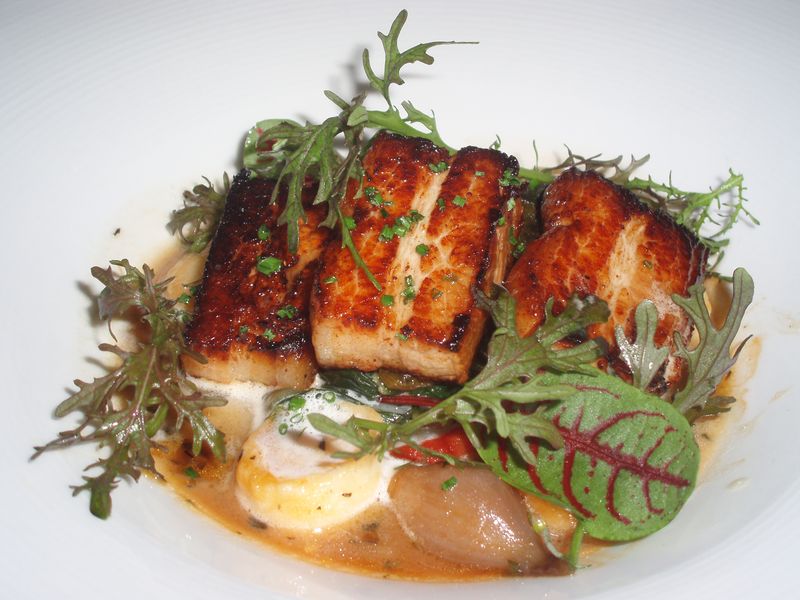 Crispy Pork Belly with Malfatti and Mustard Greens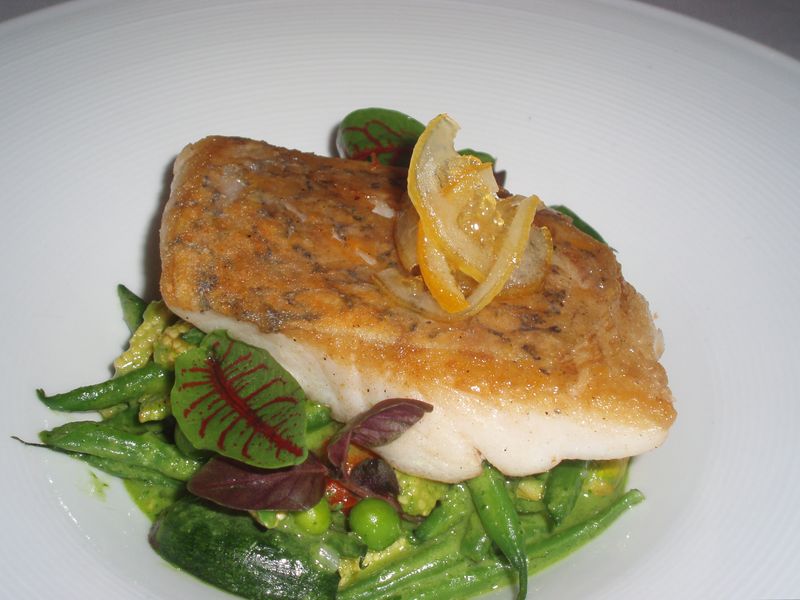 Louisiana Blackfish with Tarragon Pistou and Petit Summer Vegetables
Are you just completely drooling and sated yet? Save room for dessert…
When Robert Kerner, the wonderful captain recommended the Brown Butter Tart of Celeste (a local variety) Fig with Bourbon Ice Cream to us, I declined, saying, I make a fig tart of my own that I love, opting for the Milk Chocolate Peanut Butter Croquant with Salted Caramel and Mc Ewam's Buttered Popcorn Ice Cream ("people ask me what Buttered Popcorn Ice Cream tastes like, Robert said, "I tell them it tastes like being a kid"). But fortunately for me, the kitchen sent out their fig tart anyway, along with the desserts we ordered. So-okay, I guess one can never have too many good fig tart recipes in their repertoire, and I'll be adding this one to mine.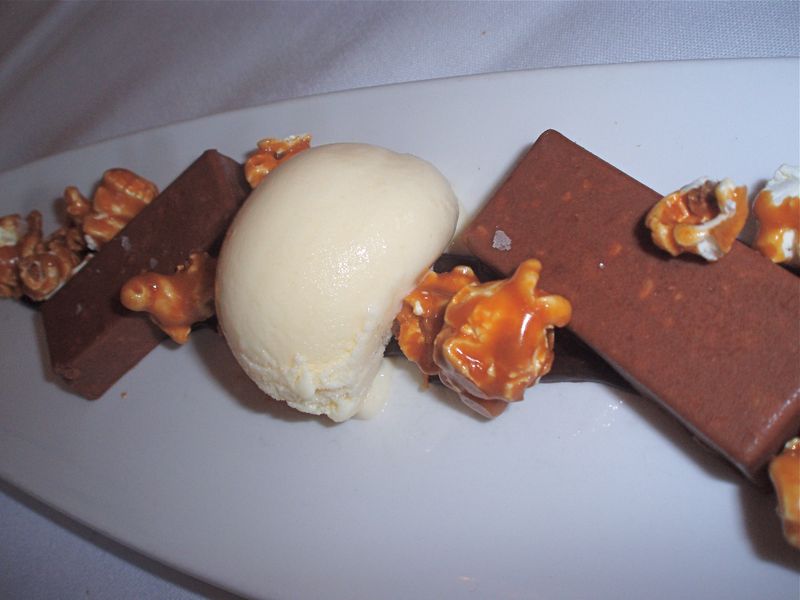 Milk Chocolate Peanut Butter Croquant with Salted Caramel and Buttered Popcorn Ice Cream
I know some of you have been waiting patiently to hear reports back on my trip to New Orleans. Ah-the rest of my life has forcefully raised its head since my return, but there's lots more to come, including a sit down interview with Chef Besh, Susan Spicer, chef/owner of Bayona, and the irrepressible Ti Adelaide Martin of the Brennan family, and general manger of Commander's Palace. So keep checking back. In the meantime, you may want to give the Brown Butter Fig Tart a try.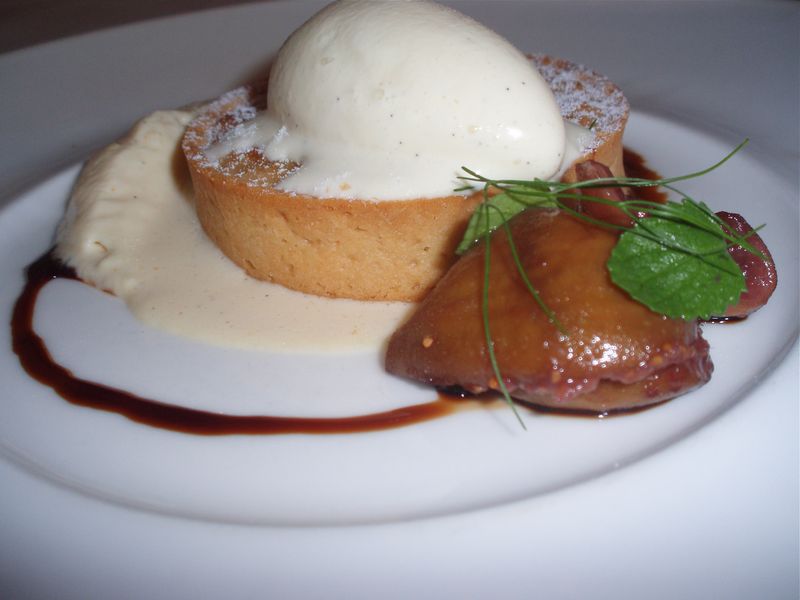 John Besh's Brown Butter Fig Tart
8 tablespoons unsalted butter, plus more for greasing the pan 

1/2 cup flour, plus more for flouring the pan

4 cups fresh figs, halved

3 eggs, beaten

1 cup sugar

1 teaspoon vanilla extract

A pinch of salt
Preheat the oven to 350 degrees. Liberally grease a deep 8-9 inch removable or false bottom tart pan with butter and dust with flour. Roll the pie dough (recipe follows) out on a lightly floured surface to 1/4 inch thickness and fit into the prepared pan.

Arrange the figs in the tart pan in a circular overlapping pattern.

Heat the 8 tablespoons of butter in a small saucepan over medium high heat until it has a nutty aroma and is a deep golden brown. Don't worry- even if you scorch it slightly and there are a few brown specks, just leave them in. Remove from the heat.

Put the eggs and sugar into a mixing bowl and beat with an electric mixer on medium high heat until they are light and fluffy, about 5 minutes. Fold the orange zest, 1/2 cup flour, vanilla and salt into the eggs/sugar mixture.

Slowly add the browned butter to the batter, stirring constantly. Pour the mixture over the figs, smoothing the batter with a spatula.

Bake until the crust is golden brown, about 30-4-minutes. Allow the tart to cool on a wire rack before removing from the pan.
Serves 6-8
Bon Appetit!