Appetizers to Pair with an Artisan American Whiskey and Pulled Pork on Sweet Potato Biscuits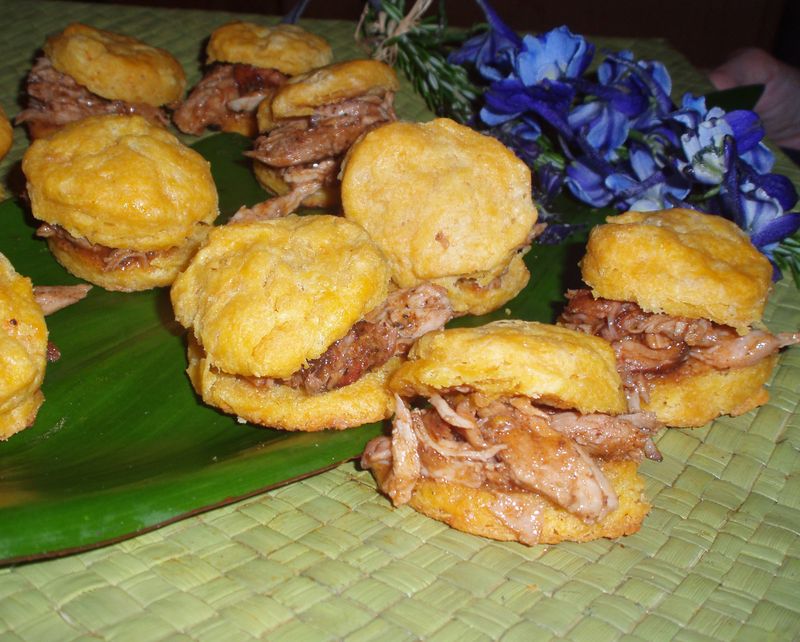 Mini Sweet Potato Biscuits with Pulled Pork in Barbecue Sauce
I was hired recently to cater the VIP reception of the HP Lovecraft Film Festival. The bar was to be provided by Bowen Spirits, artisan creator of a new American whiskey. My client asked if we could create hors d'oeuvre that would pair well with the whiskey. Well, I don't really drink whiskey, but a creative challenge always makes my job more interesting. And besides, I am a Southerner at heart, so…
My thoughts pretty quickly went to corn, sweet potatoes, pork, barbecue- you know, things like that. We ended up adding three passed hors d'oeuvre to the fruit, cheese and bruschetta display- a Jerk Chicken served with Tamarind Chutney, small plates of Grilled Corn Salad with Goat Cheese and Avocados, and Mini Sweet Potato Biscuits with Pulled Pork in Barbecue Sauce. Fortunately for me, I had just received a sample of KC Masterpiece's Southern Style Barbecue Sauce. I mixed it half and half with KC Masterpiece's Original Barbecue Sauce, to suit my taste-a combination of sweet and hot. And I used the tried and true All-South Barbecue Spice Rub to season the pork shoulder, which I slow cooked on a big barrel grill. The representatives from Bowen's loved the menu, and I can safely say, it was a hit, greatly enjoyed by all.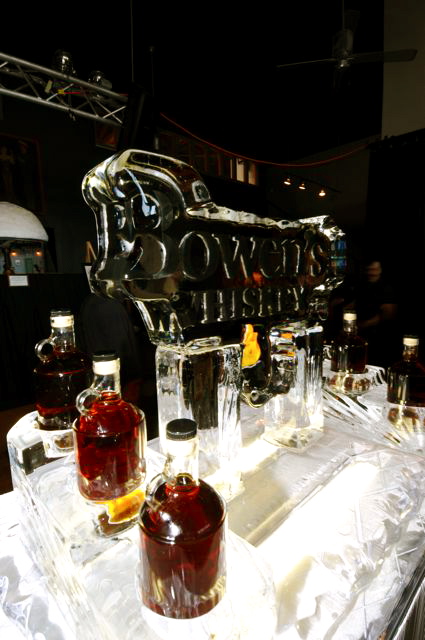 Mini Sweet Potato Biscuits with Pulled Pork in Barbecue Sauce
Pulled Barbecued Pork
4.5-5 pound pork shoulder (I could only find bone in, but if you can find a boneless you only need about a 3 pound roast )

@ 1/2 cup All South Spice Rub
Rub the pork shoulder all over with the All South Spice Rub

Prepare the coals. When they are ready, pour them into one side of the barrel grill. Place the pork shoulder on the other side, i.e. out of the direct line of the smoke, and let it sit for 3-4 hours, adding more coals to keep the fire going. The temperature should remain low, however. Cook until the pork reaches an internal temperature of 160 degrees.

When the pork is cool, pull the meat off the bone, then cut and shred into small pieces.

Sweet Potato Biscuits
3 1/2 cups all purpose flour

2 teaspoon salt

1 tablespoon and 1 teaspoons double acting baking powder

1 tablespoon dark brown sugar

1 teaspoon baking soda

1 cup sweet potato, roasted and mashed

10 ounces unsalted butter

1 1/4 to 1 1/2 cups buttermilk
Whisk together first 5 ingredients in a mixing bowl.

Toss butter cubes into flour mixture, and refrigerate for at least an hour, or overnight.




Place flour butter mixture into the bowl of a stand mixture. Mix at low speed until the butter is cut in and the dough is crumbly, resembling coarse wet sand.

Mix and sweet potato and buttermilk together, then mix slowly into the flour mixture, adding a bit more buttermilk, if needed.

Dump the dough out on to a floured board and knead lightly until the dough comes together smoothly.

Roll out the dough into a large rectangle then fold the rectangle into thirds. Give the dough a 90 degree turn and roll out into a large triangle again and fold into thirds. Repeat turning and folding one more time. (This step gives the biscuits a flaky layered quality.)

Roll the dough to a 1/2- 3/4 inch thickness. Cut the biscuits with a 2 inch round cutter. Place on a parchment lined baking sheet, and refrigerate for @ 20 minutes.


Brush the tops of the biscuits with heavy cream. Bake in a 425 degree oven for about 10- 12 minutes until tops begin to brown slightly.
Yield: @ 50-2 inch biscuits