Break Out the Grill-Barbecue Chicken with All South Spice Rub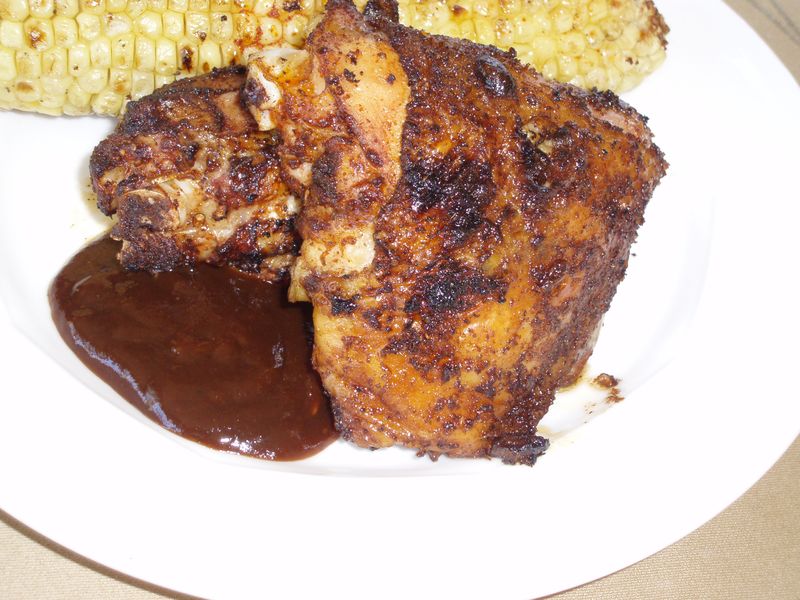 The Labor Day weekend is just beginning, and here in L.A., the sun is just breaking through the clouds to brighten up the day. It won't be long before the grills start rolling out here, where outdoor cooking is a way of life.
All good 'cuers, of course, have their own special marinades and rubs. I, for several years, have sworn by a dry rub recipe from John Willoughby and Chris Schlesinger's cookbook The Thrill of the Grill. Dry rubs allows for a crispy crust on the meat-which I love-and doesn't necessarily require long marinating, although you can leave it on for several hours before cooking if desired. But even rubbed on for just an hour beforehand will do wonders for your grilled chicken or meat (yep- it can be used on poultry, steaks, brisket, ribs, pork butt-just about anything you want to barbecue). And a dry rub won't leave your meat with the spongy texture that sometimes occurs with long wet marinading. Of course, you can always customize your dry rub, adding more sugar, garlic powder, cumin, or whatever to suit your taste. Beware, though, the sugar tends to burn quickly, so cook your meat over indirect heat, as is proper with barbecuing, anyway.
Ah- and one last thing, I always use a metal chimney, available at most any grocery or drug store this time of year, stuffed with newspapers to start my fire. They're very inexpensive, last forever, and are so much easier on the environment than lighter fluid. 
Barbecued Chicken with All South Barbecue Rub
adapted from John Willoughby and Chris Schlesinger's The Thrill of the Grill
1/4 cup kosher salt

1/4 cup paprika

2 tablespoons white sugar

2 tablespoons brown sugar

2 tablespoons freshly ground cumin*

2 tablespoons chili powder

2 tablespoons freshly ground black pepper

1 tablespoon cayenne pepper

2 pounds of chicken legs and thighs (I prefer the legs and thighs for grilling as they retain their juiciness so much better than the white meat).
* toast cumin seeds on a shallow dry pan until that toasted heavenly fragrance wafts up, then ground in a spice grinder or with a mortar and pestle
1. Mix all the spices together well.
2. Spread the dry rub evenly over chicken pieces, both on and under the skin, being careful not to tear the skin. Let the chicken sit in plastic ziplocks bags for an hour ( or longer) in the refrigerator. When you're ready to grill, pull the chicken out of the fridge and let it come to room temperature, while you start the fire.
3. Fill the bottom of the chimney with newspaper, and the tops with charcoal. Light the newspapers, and watch how quickly the coals start glowing gets going- it takes about 15 to 20 minutes- then pour the coals into the bottom of the grill. Place the wire or iron grill over the coals and position the chicken on the grill, being careful to move the pieces around if one spot gets to hot or the flames rise up. Grill to a nice brown toastiness, then serve with your favorite barbecue sauce- ah, now that's a whole other subject.