Alison and Aaron Wedding Party and Asian Barbecue Sauce Recipe
A few of weekends back I had the opportunity and privilege to cater a wedding party for Alison, the daughter of a very long time friend.
My friend is Hawaiian, so the menu reflected the Pan-Asian style of cooking of the islands, a style I love, and that's very much at home here in California, too.
Alison, the lovely new bride, and her new husband, Aaron had married in June in Minneapolis, so even though many of us had known Alison since she was born, we, the long time family friends, had not attended the wedding. Because Alison had already had a wedding, and was as she said "tired of thinking about wedding stuff", her father and I were free to plan a fun, not quite so traditional wedding menu, suited for a more casual backyard party. Friends and family were free to come in and out of the kitchen to chat, or lend a hand.
I created a great garden salad with an Asian flavor and flair, adding sliced almonds and fried rice noodles to garnish, and also because we are in the height of summer, took advantage of heirloom tomato season, always a good thing.
In keeping with Alison's sentiments about "wedding stuff", we didn't feel compelled to present another tiered wedding cake, but to hint at it, three 10″ round cakes were displayed on large tiered marble tiles. By the way, also because she had already had a "wedding cake", Alison readily agreed to allow me to make my new favorite layer cake, Almond Pound Cake with Apricot Purée Filling and Praline Buttercream, which you can check out in my last post.
I am happy to say that a great time was had by all.
Here's the menu we served, along with a recipe for the Asian Barbecue Sauce that graced the grilled veggies:
Beef Satay with Peanut Dipping Sauce
Mixed Baby Greens
with Shredded Napa and Red Cabbage, Julienned Vegetables and Corn
garnished with Crispy Rice Noodles and Toasted Sliced Almonds
served with Ginger Vinaigrette
Heirloom Tomatoes with Buffala Mozzarella and Basil Pesto
served with Balsamic Vinegar and Extra Virgin Olive Oil and Crostini
Kalua Pork
Grilled Rock Cod
with Thai Red Curry Sauce
Sichuan Barbecue Chicken
Keith Mom's Noodles
Steamed Rice
Platters of Grilled Vegetables with Asian Barbecue Sauce
 For Dessert:
Almond Pound Cake with Apricot Purée
and Praline Buttercream
Iced Tea Punch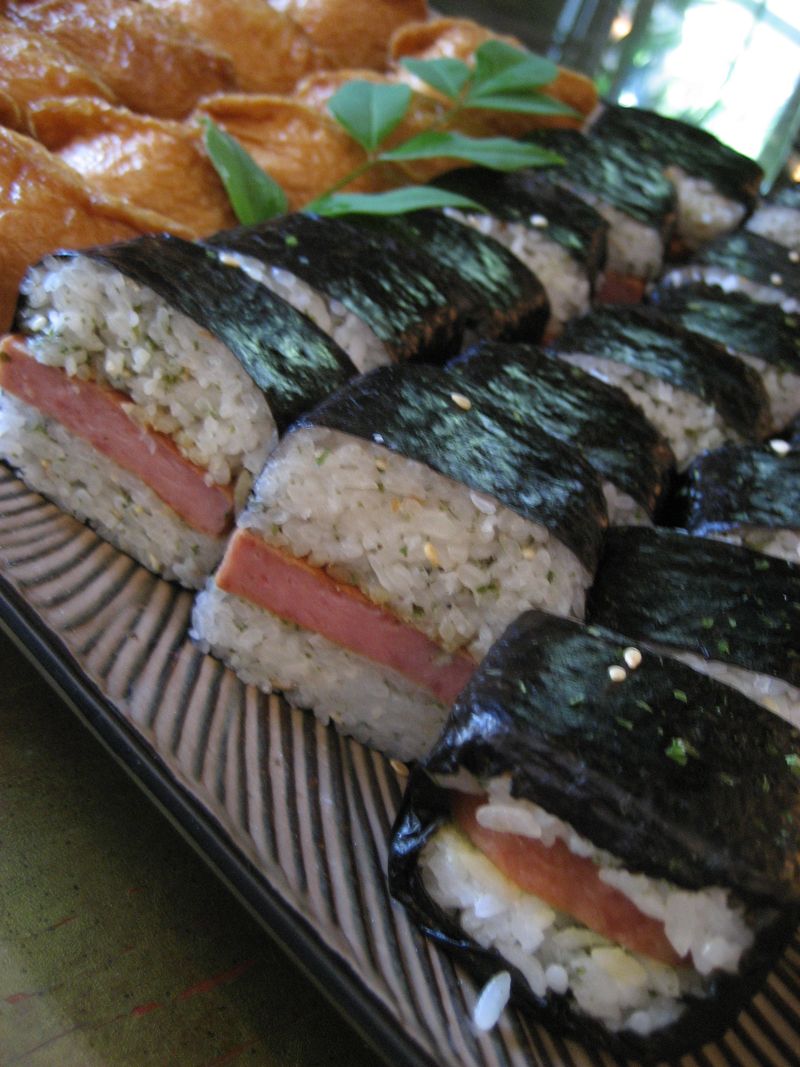 A family friend brought Spam Musabi – traditional Hawaiian Pupu- Photo Courtesy of Keith Criss of tradigitalworks.com
More pics and the recipe- so keep reading…