Tapas and Paella for a Milestone Birthday Party
A couple of weeks ago, I was privileged to cater a milestone birthday party (always an important occasion) for a lovely lady. The birthday girl had spent a good deal of time in a certain region of Spain, and requested a menu of tapas and paella for her party. She was also concerned that the food be very authentic, and somewhat specific to that region.
I'm often asked how I work with clients to come up with the menu for their celebration. Each client is different. Some come with no idea of what they want served, some come with very specific ideas, and sometimes, I get to elegantly dance (to borrow a term from sales mentor Eric Lofholm) with the client in designing a menu. It's always a welcome challenge for me when a client offers specific menu ideas for their party. In this case, I had to research the tapas of the region, and while I was familiar with (and loved) some of items, a couple were new to me.
Tapas are a great way for your guests to mix and mingle, trying several different tastes- a way I personally love to dine. They can stand alone as a party menu- in which case I would offer 8-10 different tapas- or can be offered at a cocktail and appetizer time before the main event, which is what we did for this party. We ended up serving the following wonderfully fun menu (with pics and a recipe for you), and I can safely say, a good time was had by all.
Tapas
Grilled Asparagus with Truffle Mayonnaise
Bacalao Fritters with Saffron Aioli
Grilled Fresh Sardines Marinated with Lemon, Olive Oil and Herbs
Roasted Manchego Stuffed Dates Wrapped with Pancetta
Thinly Sliced Serrano Ham
Dinner 
Salad of Mixed Baby Greens, Chives and Toasted Walnuts
with Sherry Vinaigrette 
Chicken, Sausage and Seafood Paella
Birthday Cake of Almond  Pound Cake
Layered with Apricot Puree and Iced with Praline Buttercream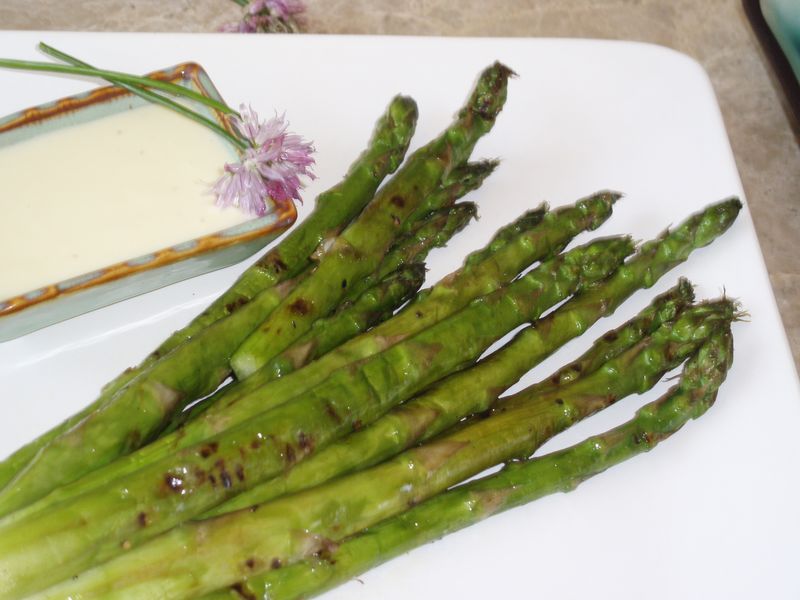 Grilled Asparagus with Truffle Mayonnaise
More pics and the recipe for Grilled Asparagus with Truffle Mayonnaise follows: