Hacienda Petac Part 2- The Food
As promised in my first  Hacienda Petac post, I want to share some of the food from my recent Yucatán trip.
We started each morning with wonderful hearty breakfasts on a lovely shaded patio area. I'd have to say my favorite breakfast were the delicious chilaquiles. While one of my fellow diners thought it was too weird to eat chicken for breakfast, I certainly don't think it's any weirder than eating pork, which Americans do all the time in the form of ham, bacon and sausage, right?
During some of the daily food demos, we turned our hands to making tortillas and tamales (in banana leaves, of course, rather than corn, as this was the Yucatán).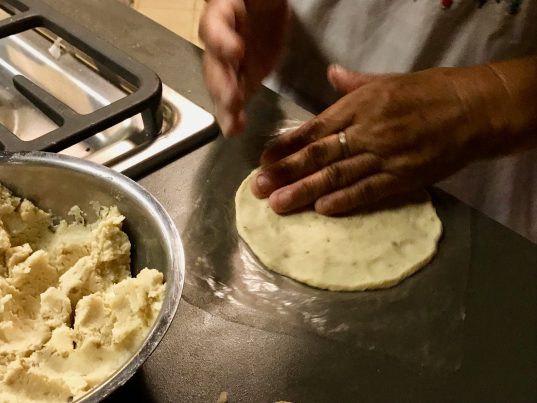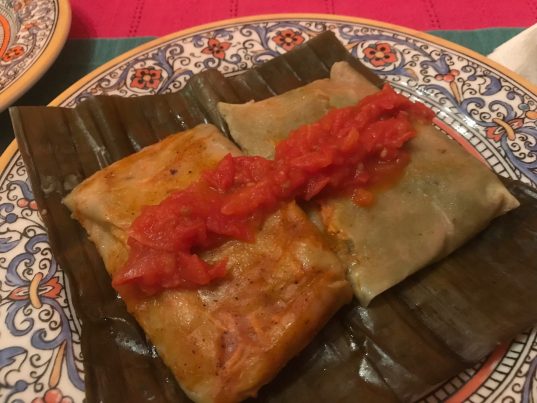 There was a trip to the large, crowded Mérida market one day, where one could shop for almost anything – shoes, pet birds, dog food, freshly killed poultry, but here are a couple of things I took particular note of – the selection of achiote pastes and the huge sticks of Mexican canela: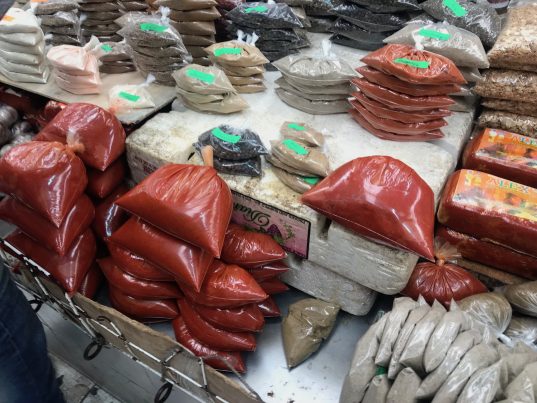 Colleen insisted we try the tasty pork belly and crispy chiccarones:
I picked up a bottle of local honey, a product for which the Yucatán is known, then it was off to the Museo de la Gastronomia. I was amused to realize there, that Hacienda Petac repurposed traditional mortar and grinding stones into lovely decorative bath accessory items back at the hacienda:

I also found this lovely arrangement of hair bows delightful. Colleen told me that is the traditional adornment.
And finally, our last night at the hacienda we were served this delicious traditional Yucatecan dish, tikin xic,  fish seasoned with achiote paste, the ubiquitous naranjas agrias and cooked in banana leaves
All in all, a very tasty stay.