Visiting Hacienda Petac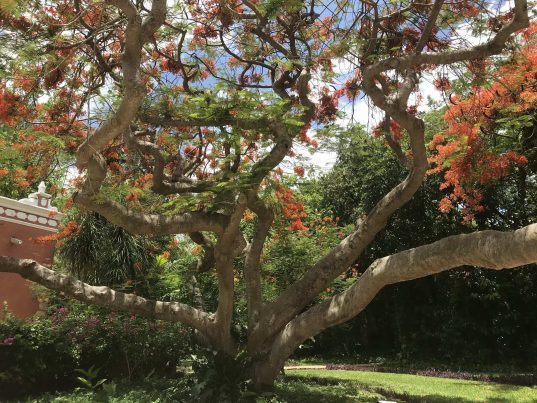 "You can't always get what you want – but if you try sometime, you just might find – you get what you need."
Or something like that. Last year I went on a culinary vacation to Tlaxcala, Mexico and the surrounding areas. When I booked my trip at Epitourean, my sales advisor said to me, I wish you could go to the other place in Mexico we have. Well, maybe I will sometime, I said.
That time came soon. Last week I headed off to Hacienda Petac, tucked away and surrounded by a humble little town outside of Merida in the Yucatan, for my second Mexican culinary adventure. But as it turned out, the culinary part of this trip took a back seat. The stay at Hacienda Petac was much more than I had imagined for myself: a luxurious cornucopia for the senses – the sights and sounds – myriad birds, tweeting and calling back and forth, and butterflies, tumbling fountains, and lush vegetation everywhere I looked.
The level of service was impeccable, with every need anticipated (iced towels packed to put around our necks after field trips to Uxmal, a Mayan ruin, and the hot, crowded Merida market, anyone?).
I enter the room which will be my home for the week. There are beautiful patterns, made with leaves, fronds and petals from the estate, atop the bed linens and carpets.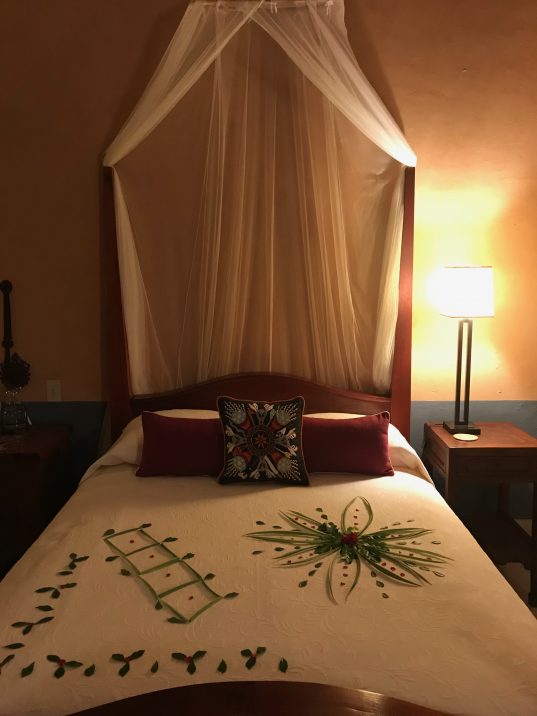 I am welcomed with a drink (I opt for jamaica, the Mexican hibiscus iced tea, at the moment) and botanas – guacamole, Yucatan style, with a pinch of chicken bouillon and a tad of Worcestershire sauce (I know, odd, but undetectably giving a tiny flavor boost to the finished product), and pico de gallo and chips. All of the salsas in the Yucatan are flavored with the ubiquitous naranja agrias – bitter orange.
Opting for jamaica soon graduates to freely flowing Margaritas throughout the week, though at points I have to return to jamaica or mineral water for my own equilibrium, as I can barely sit anywhere without a member of the staff rushing over to offer another drink.
This place is such gift. Colleen, the lovely American manager, tells us (there are two other couples besides me sharing the space for the week) that a high profile person – no hints as to who – recently rented the entire space for herself. Colleen has a wishlist of guest- the Obamas, she tells us, and a day or two later, when I mention Paul Simon in passing, she quickly pipes in – "He's one of the people I'd love to come here, too."
I am so grateful to have traveled to this gorgeous place. I was still discovering hidden spaces on my last day, and found by the end of my stay, that I had not given enough time to exploring all the shady groves.
Oh yes, we did eat some wonderful food, and tried out hand-making tortillas and tamales along the way. I'll post some pics of food next time.