Braised Oxtails
"If you don't like the weather, wait 10 minutes".
It's a saying I heard frequently when I lived in New York. It's even more true here in New Orleans. At this time of year (and sometimes well into the winter) the temperatures can hover in the low 50's to upper 40's one day, and be 80 degrees  (with humidity) the next. It makes it hard to plan on braising a cool weather dish. I may get a hankering for meat slow-cooked in red wine one day, and by the time I reach the grocery store, it's too much to even contemplate.
But last week, everything lined up – temps stayed cool for a few days, and I just happened to be at the grocery store when I spied oxtails in the meat case.
Braised oxtails is one of those French peasant dishes my mother used to make occasionally when I was a child, but that I rarely see nowadays. They are certainly worth the time and effort of seeking them out.
Yes, they are exactly what they sound like – the tail of the cow, but please don't let that put you off. Oxtails are an extremely gelatin rich meat, which ensures a rich, melting texture once the slow-cooking causes the release of the collagen into the stew.  And your house will fill with the pure  aroma of savory meatiness as they cook and give themselves up to the thickened broth.
There are many starchy sides to serve them over – rice, noodles, polenta, even butter beans in Caribbean cultures, but I like to serve them with garlic mashed potatoes to soak up the juices. Picking them up with your fingers is the way to go when eating. There will be bones to contend with as you make your way through the oxtails, sucking bits of the flavorful meat out – and sticky fingers, but it will all be worth it.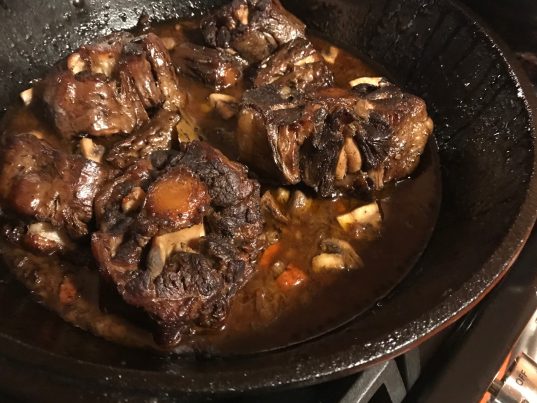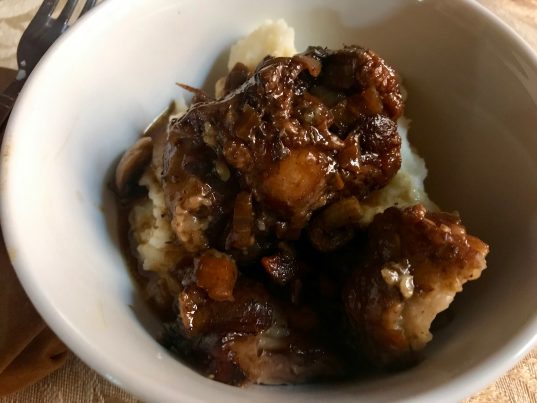 Braised Oxtails
Yield 3-4 servings
Ingredients:
1 1/2 – 2 pound oxtails
1 tablespoon olive oil
1 teaspoon bacon fat
1/3 cup carrots, medium dice
1/3 cup celery, thinly sliced
2/3 cups onion, diced
1 teaspoon Amore Tomato Paste – 4.5 oz (2 Pack)
1 cup rich red wine
2 – 2 1/2 cups broth, I mixed veal and beef
1 large bay leaf
1/2 teaspoon dried thyme
Coarse salt and Pepper to taste
To Finish:
4-5 medium button mushrooms, cut in quarters
6-8 pearl onions, peeled
Olive oil

Beurre Manié
Instructions:
Heat the olive oil and bacon fat over medium high heat in a large Dutch oven. Liberally sprinkle the oxtails with salt and pepper, then add them to the Dutch oven when the fat is hot. Brown them very well, in two batches if necessary. Do not crowd the pan. Remove the browned oxtails to a plate.
Reduce the heat to medium, then add the carrots, onions and celery. Sauté them until lightly browned, about 5 minutes. Then add the tomato paste, bay leaf and thyme, stirring until the tomato paste is completely incorporated. Add the wine, and heat until it comes to a boil, then add the stock.
Add the oxtails back into the pan along with any accumulated juices. Cover the pan and place into a 350 degree oven. Then sit back and let it cook until they are tender and the meat comes off the bone when lightly prodded. For me this took a little less than 2 hours, but I have truly learned that this depends on the how effectively your pan conducts heat. A good quality cast iron Dutch oven is highly recommended.
About 10-15 minutes before taking the oxtails out of the oven, sauté the mushroom quarters and pearl onions. Add them to the oxtails and cook for about 10 more minutes.
After removing the oxtails from the oven, thicken the sauce with about a tablespoon or so of

beurre manié

(an equal amount of flour and butter mashed together).