My Mexican Adventure – Part 2- Valle de Guadalupe
Anna had sent an article on the Valle de Guadalupe which suggested that "you might want to skip Napa and visit Mexico's wine country instead".
I doubt that Napa is in danger of a huge amount of competition anytime soon – a tour of Baja's wine country is for people seeking a different experience. While the few wines we tasted were excellent, getting around and finding the wineries is still a rugged experience. Many of the roads are unpaved, and there are few signs marking them. As for GPS, mine didn't work in Baja, and Anna's was dicey.
Once we made it to the valley, our day started with a turn down one of those unpaved red dirt roads to Dona Esthela's for a hearty Mexican breakfast – there was a sign pointing to her place. Anna said on weekends there's usually a long line of people – as many as 75 sometimes – waiting to get in.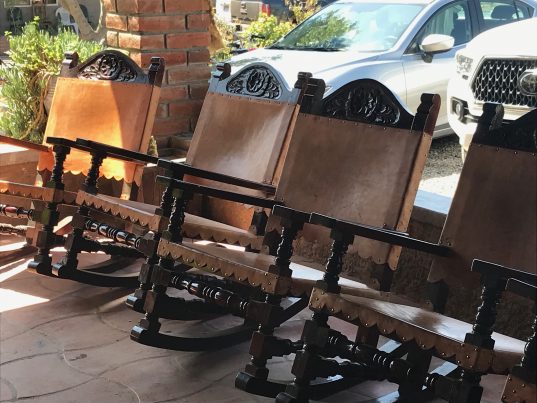 She tells me that Esthela started out selling meals with just hanging a sign outside her home. The business – and the home – kept expanding. Fortunately, she's added a porch with comfy looking rocking chairs to sit out those weekend waits. Since it was a weekday, and after the departure of the Labor Day weekend crowds, we had a lot of the place to ourselves. There was a large Mexican family near our table, however, celebrating Abuela's birthday. Dona Esthela, of course, stopped by to offer personal birthday wishes.
The breakfast (I had machaca y verduras con huevos – a favorite of mine since my  L. A. childhood) was so abundant and filling that we didn't quite finish it all.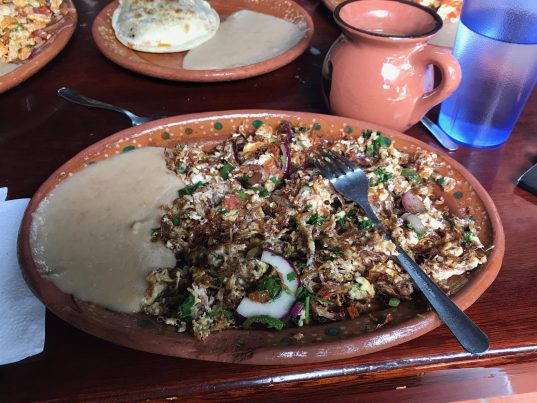 Our next stop was a visit to a tiny local farmer's market where Anna picked up impeccably fresh salad greens, beets and tomatoes charmingly displayed in baskets. I couldn't pass up the fresh tortillas on sale there, flavored with tomato, rosemary, herbs, nopales and pepitos.
Then it was off to find the wineries.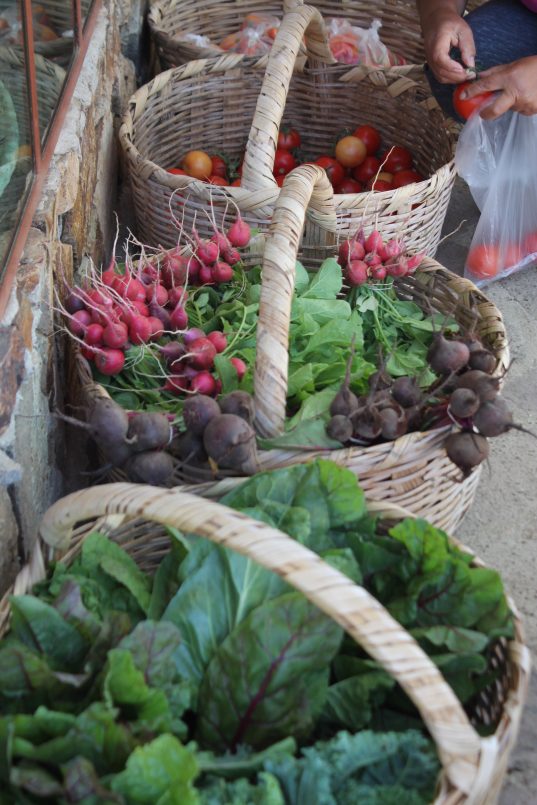 We drove around in circles looking for a particular winery Anna wanted to visit. We did see one sign at the beginning of the quest, but that was it. We never did find the winery in question. But we did stop at a couple others, including Corona del Valle where we encountered an empty tasting room, and a lovely garden/micro-farm area. We indulged in a flight there, which featured an excellent Tempranillo/Nebbiolo (two of my favorite varietals) blend.
There are a few highly acclaimed restaurants in the area. We were still so full from our breakfast, though, that even after 2 PM, we were really not ready for lunch, but Anna suggested we stop in at Fauna, a beautifully architecturally designed place, for, at least, small plates and especially for the desserts, she advised – "if we can get in," she added.
"It's after 2" I said, "We should be able to get in."
"2 is only the beginning of the lunch hour here," she informed me.
Fortunately, we were able to be seated at the long communal table in the gorgeous restaurant. And so it was true what Anna said – people began more seriously trickling in after we were served.
I'm so glad we stopped in, as it was at Fauna that I tasted one of the top two dishes of my whole Mexican month – Duck Sopes. And yes, while I often skip desserts at restaurants, these were definitely a treat. Anna had a Chocolate y Helado de Plantano, while I had (what I think was the winner), a Semi-freddo de Miel, Maiz y Leche Broncha – a semi-freddo with honey, corn and while I'm not quite sure what Leche Broncha is – but the dessert was garnished with delightfully caramelly, crunchy bites.
Feast your eyes on a few tastes from Fauna below: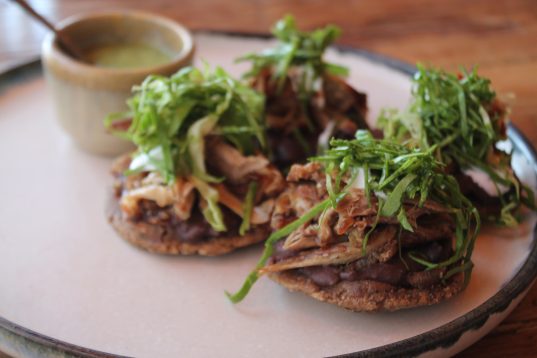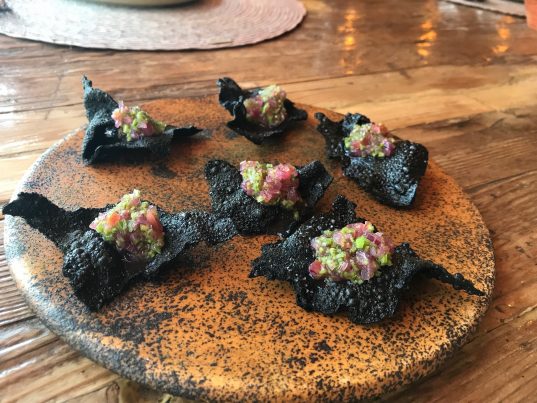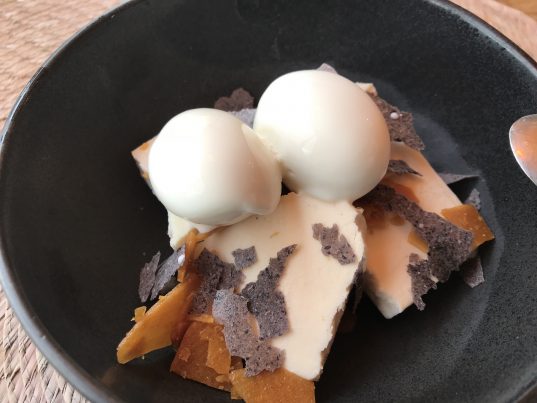 And the beautiful communal table made of recycled wood: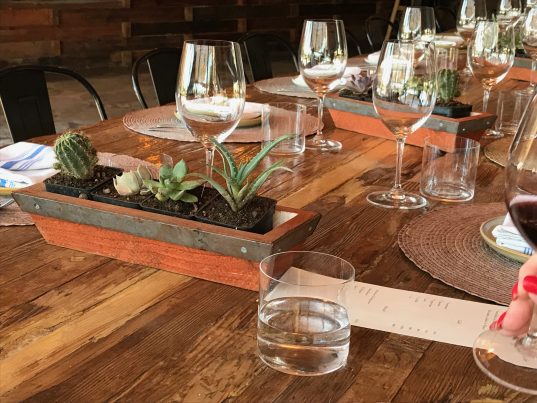 And btw, when I got back to L.A. I made some very tasty Shiitake and Corn quesadillas with those delicious tortillas.
Shiitake and Corn Quesadillas
For the Shiitake Corn Filling:
3 ounces shiitake mushrooms
1/2 cup onions, chopped
1/4 finely diced jalapeno pepper, (or to taste)
@ 1/3 – 1/2 cup corn kernels
1/2 small plum tomato, seeded and diced
1 tablespoons cilantro, chopped
1/4 teaspoon ground cumin
Salt and freshly ground pepper to taste
Butter @ 2 tablespoons, or more
Add the butter to the pan and heat until bubbling
Add the  onions,  jalapenos, corn and mushrooms to the pan, sauteing until the mushrooms are soft
Turn off the heat, then stir in the diced tomatoes,  cilantro and cumin. Add salt and pepper to taste.
For the Quesadilla:
@1.5 – 2 ounces of cheese per quesadilla (depending on the size of your tortilla) – I particularly like a combination of Colby Jack and Chevre
Spoon the mushroom corn mixture onto the tortilla. Ad the cheese on top of mixture. Fold the tortilla gently.
@. Place onto a lightly oiled heated griddle. Heat until the cheese begins to melt, than flip the tortilla over to cook the other side.
Garnish with Guacamole, Sour Cream and Pico de Gallo
The filling is good for about 2-3 quesadillas.