Maida Heatter's Budapest Coffee Cake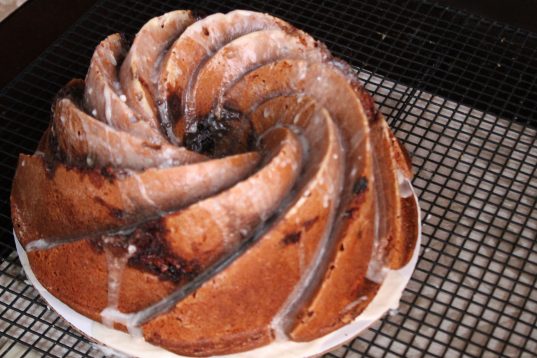 A few months back, I got to wondering about Maida Heatter and what had become of her. I mean, she's  authored many dessert cookbooks – ones I consider crucial reading (not just for following a recipe) and 4 of which sit on my shelves, even including one that's a the New York Times best-seller and James Beard Award winner. She even used to be the baker that NPR's Thanksgiving day show turned to yearly, for the dessert segment, and yet I hadn't heard her name in good while. I was aware that she was a "middle-aged" woman, at least, as she wrote those many cookbooks, but I had never heard anything of her passing.
So I Googled her. Turns out Ms. Heatter is alive and well, at 100 years of age, and still receiving guests, like Nick Malgieri, renown pastry chef and instructor, in Miami Beach. I ran across an article at MarthaStewart.com which states she should be better known (I agree) – and another at Food52.com that rhapsodized about her Budapest Coffee Cake. Hmmm…. I love a good coffee cake, so I searched through the books of hers on my shelf to see if I had it. Sure enough, there it was, in Maida Heatter's Book of Great Desserts
– the James Beard Award winning one.
So I couldn't let the opportunity go by, when I week or so later, I hosted a couple of guests for a Lundi Gras brunch. Never mind that the rest of New Orleans was getting in their last bites of King Cake. We were going to have a real cake, and I had just the pan for the cake, too.
Shortly before I left Los Angeles, a very special bundt cake pan caught my attention, and just wouldn't let go. Now, I knew I really didn't need another cake pan, nor another thing to pack. And I knew I would be baking a whole lot less in my new life and home, but I just had to have this beautifully, dramatic pan. You can see why in the above pic.
Budapest Coffee Cake – new bundt pan, neither disappointed. My guest from New York kept exclaiming throughout the week, "and you baked cake!"
I just know you'll love this cake, too, and hopefully, you'll develop an appreciation for Ms. Heatter, if you don't already have one.
Oh, btw, the pan – the Nordic Ware Platinum Collection Heritage Bundt Pan
Maida Heatter's Budapest Coffee Cake
Ingredients
For the Nut Filling:

3/4 cup dark brown sugar, firmly packed
1 tablespoon cinnamon
1 tablespoon unsweetened cocoa powder
2-3 tablespoons currants or raisins, coarsely chopped
3 1/2 ounces (1 cup) walnuts, finely chopped

For the Cake Batter:

3 cups all purpose flour
1 1/2 teaspoons double acting baking powder
1 1/2 teaspoons baking soda
1/2 teaspoon salt
6 ounces unsalted butter, at cool room temp
2 teaspoons vanilla extract
1 1/2 cups sugar
3 eggs
2 cups sour cream

For the Glaze:

2 cups powdered sugar
1 teaspoon vanilla extract
2-3 tablespoons hot milk
Instructions
For the Filling:

In a small bowl, stir the brown sugar, cinnamon and cocoa to mix thoroughly. Stir in the currants or raisins, then the walnuts, and set aside.

For the Cake Batter:

Adjust the rack one-third up from the bottom of the oven. Preheat the oven to 375 degrees. Butter the pan well - Ms. Heatter points out that even if the pan is Teflon coated, it must be buttered.
Whisk together the flour, baking powder, baking soda, and salt, Set the mixture aside.
In the large bowl of an electric mixer, cream the butter. Add the sugar, and vanilla, beating at medium speed for a minute of two, until light.
Add the eggs, one at a time, beating until thoroughly incorporated after each. Scrape down the bowl, and beat briefly at high speed for a minute or tow until the mixture is very smooth.
Alternately add the dry ingredients in three additions and the sour cream, in two additions, on low speed, beating until only smooth after each addition.
Spread a thin layer of batter in the bottom of the pan. Sprinkle generously with one-third of the nut filling. Continue with the layering of nut filling and batter, dropping small spoonfuls of batter over the filling, then spreading with the back of a spoon.- three or four layers. Ms. Heatter advises that it takes bit of patience to spread the batter thinly. The top layer should be batter.
Bake for about an hour, until a toothpick or cake tester, comes out dry, and the top feels firm and springy. As always, the cake may take a bit longer or shorter depending on your pan and oven. Be sure it is done.
Remove it from the oven when it's done. Leave the cake in the pan for 5 minutes, no longer. The cake should still be hot when the glaze is applied.

For the glaze:

In a small bowl, mix with a rubber spatula or lightly whisk together the powdered sugar, vanilla and about 2 tablespoons of the hot milk. Very gradually add more milk, using only enough to make a slightly fluid mixture, about as thick as a thick cream sauce.
Cover a cake rack with a large piece of wax paper, and invert the cake in the pan onto the rack. Alternately, you can invert the cake onto a cardboard cake circle, then set the cake round onto the rack. Remove the pan. Immediately pour the glaze onto the cake, without spreading it, just letting it run down the sides.
When the glaze has set, use a large spatula or two to transfer the cake to a plate. The cake is excellent either still warm or the next day.
http://www.painperdublog.com/2017/05/heatters-budapest-coffee.html
Save
Save
Save
Save
Save
Save
Save
Save
Save
Save
Save
Save
Save
Save
Save
Save