Black Forest Cheesecake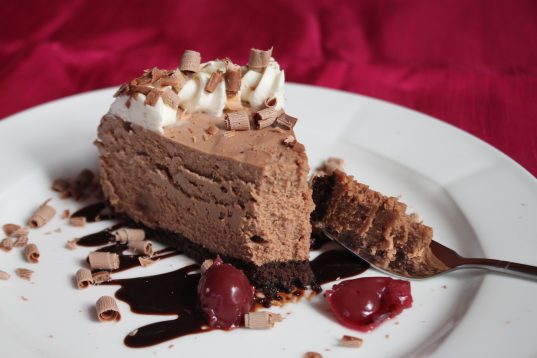 I've been holding on to this recipe for Black Forest Cheesecake – first acquired in my culinary school days – for over 20 years without ever making it. It stuck in my memory, though, so I finally pulled it out to make and serve at my New Year's brunch this year.
Nancy Silverton writes in her classic cookbook, Desserts
, that she hates desserts that are too much of one thing – too rich, too bland, too sweet – specifically directing her statement towards cheesecake. So it stood out to me when one of my New Year's guests complimented this dessert, saying he loved the bitter hints of the chocolate. It reminded me of a friend in my past telling me he always liked that my desserts were not too sweet, like so many other desserts. I've always suspected that the desserts I make have probably just as much sugar as others, but are balanced by the other tastes – bitter, sour, etc. – as in this cheesecake, which has not only the bitterness of the chocolate, but the sour acidity of dark cherries – which also offer juicy bursts of textural contrast, btw – to play against the sugar.
Since it's a wonderful chocolate dessert, I thought I'd share it with you in time for Valentine's Day. Of course, since it's filled with luscious dark cherries, it seems perfect for a little later February holiday, too.
P.S. The original recipe states it yields 2- 8 inch cheesecakes. I made 1- 10 inch cheesecake, which left enough batter to make a couple of individual cheesecakes baked in Ateco 3.5 by 2.1-Inch Stainless Steel Ring Mold, again double wrapped in heavy duty foil.
Ingredients
For the Crust:

16 ounces chocolate cookie crumbs
8-10 ounces melted butter
4 ounces sugar

For the filling:

2 1/2 pounds cream cheese, at room temperature
8 ounces sugar
1 1/2 ounces flour
5 eggs
8 ounces sour cream
5 ounces semi or bittersweet chocolate, melted
9 ounces canned dark sour cherries, very well drained

For garnishing the cake:

1/2 cup whipped cream
1/2 tablespoon powdered sugar
1/2 teaspoon vanilla or cherry flavored liquer
Milk chocolate for chocolate curls
Instructions
For the Crust:

Mix together cookie crumbs and sugar.
Mix in melted butter gradually, tossing and turning the crumbs, until a handful of the crumbs holds together when pressed in your fist. If they do not hold together, a tiny bit of egg white may be added.

For the Filling:

Mix the cream cheese on low speed in the bowl of a stand mixer until it's smooth. whisk the sugar and flour together and add it to the cream cheese.
Add the eggs one at a time, incorporating them into the batter. Then add the sour cream.
Mix in the chocolate, Then stir in the cherries.
Pour the batter into removable bottom springform pans, wrapped with a double wrapping of heavy duty foil, to make it waterproof. Place the wrapped pan(s) in a larger pan, place it in the oven, then pour hot water into the larger pan, filling to about 1/2 - 2/3's up the sides of the wrapped pan. Bake at 375 degrees for 20 minutes, then turn the temperature down to 325 degrees and bake for another 30-40 minutes, until the custard is set. Carefully remove the pan from hot water and transfer it to a rack to cool.
After about 20 minutes, unwrap the pan, then cool the cake completely on a rack. This can take several hours. When it's completely cool, cover the cheesecake well with plastic wrap and place in the refrigerator to chill completely. To remove the cheesecake from the pan, run a towel dampened with hot water around the sides on the pan. Carefully run a thin knife between the edges of the pan and the cake loosening it, then release the latch to remove the cake from the pan sides. Then run a with a long wide cake spatula (or two, if you have them) under the cake, carefully lifting it onto a cardboard round or cake plate.

For garnishing the cake:

Add the powdered sugar and vanilla or liquer to the cream, and whip until soft peaks form. Place the whipped cream into a pastry bag fit with a medium to large star tip, to pipe rosettes around the cake.
With a sturdy vegetable peeler, scrape curls from a chunk or bar of milk chocolate. If the chocolate is too hard to make a curl, rub your hands across it a few times to warm it.
http://www.painperdublog.com/2017/02/black-forest-cheesecake.html
Save
Save
Save
Save
Save
Save
Save
Save
Save
Save
Save
Save
Save
Save
Save
Save
Save
Save