Quiche Lorraine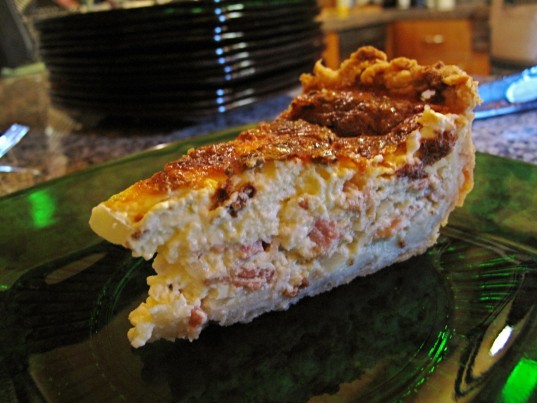 Photo courtesy of Patti Londre at WorthTheWhisk
Ah, Quiche- where do I begin?
One of the several consumables (like fondue and cappucino) that captured the imagination of this young 60's era American girl, and made me – along with quite a few others – feel so sophisticated.
I was first introduced to quiche in my adolescent years, via my mother's paperback pocket French cookbook called something like Introduction to French Cooking (maybe your mother had one, too, if you're of a certain age). Quiche Lorraine was listed in the appetizer chapter, a fact that caused me to scoff a few years ago when I read a young food blogger who referred to it as breakfast quiche. My early years in hotel banquet service in New York City during my 20's, where quiche was regularly served at cocktail receptions, clearly supported my disdainful attitude.
Then came the 80's when we learned that "real men" didn't eat it, and it began to become an out of favor joke – not to mention a cheap and truly awful frozen mini-appetizer sold at big box stores.
Poor quiche- so put upon.
My last couple of years in Los Angeles saw a resurgence in very noteworthy quiches, perhaps helped along by famed chef, Thomas Keller, who highlighted quiche in his short-lived column in the Los Angeles Times, as well as in his restaurants. There were periods in my last few years of catering where I sometimes baked several quiches per week. And a very good slice could be had at a couple of newly sprouted neighborhood bakeries.
But here in New Orleans… sigh – I haven't found a bakery serving an excellent quiche – not yet, at least. And I've been longing. So finally, I broke out the mixing bowl and rolling pin to put together my own quiche.
Dining on quiche now requires a special occasion with an invitation to others (so a New Year's luncheon seemed the perfect affair) because somewhere in the last decade or so, I adopted Keller's stance that quiche must be made in a 2-inch deep tart pan. Because, after all, it's the rich, cheesy custard studded with cubes of ham and bacon with buttery sautéed onions that makes quiche so irresistible. So one should have a lot of that custardy filling in proportion to the short pastry crust, and polishing off a 2-inch deep tart requires help. I also began picking up just a hint of savory herbs, to go along with the traditional couple of gratings of a fresh nutmeg, in the excellent quiche served at the now sadly departed Short Cake bakery at L.A.'s Original Farmer's Market. Again, this seemed like a fine idea to me, so like the 2-inch deep filling, a hint of herb has become a part of my quiche, now, too.
One of my guests at the New Year's lunch began questioning me about how to make the quiche, so it's just time to share the recipe here. Now it's time for you to invite some folks over to  share your lovely Quiche Lorraine.
For the Tart Shell:
3  cup all purpose flour
2 teaspoons salt
1/2 pound cold butter, cut into small cubes (a portion of the butter maybe replaced with chilled vegetable shortening)
@ 1/3 cup ice cold water (I throw in a couple of ice cubes into the water and let it chill in the fridge.)
Stir the salt into the flour in a large mixing bowl. Work the butter and shortening into flour with your fingertips until it resembles wet course sand.
Sprinkle in the cold water a tablespoon at a time until the dough forms a ball when its gathered together in your fist. Dump the dough on to a large piece of plastic wrap, then flatten it into a disk and wrap it completely. Refrigerate dough for several hours or overnight. Take the dough out of the refrigerator and let it come to a temperature where it can be easily rolled.
Sprinkle enough flour lightly over the dough and board to keep it from sticking while rolling out. Transfer the rolled out dough into a Paderno World Cuisine 9.5 Inch "Deep" Fluted Non-Stick Tart Mold with Removable Bottom.
Place the dough lined pan on a heated baking sheet, and bake in the oven for  10 minutes covered with foil and either R & M 2723 More Than One Pound of Pie Weights or the old tried and true dried beans to hold down the foil. Then uncover and bake @ 10 minutes more, uncovered. Brush the bottom of the crust with a beaten egg white the last 2-3 minutes of uncovered baking. Let the crust cool completely before filling. Note- I make extra dough to fill in cracks or to patch spots where the crust has shrunk down the sides after  the par-baking and cooling.
For the custard:
1 scant cup sautéed (in butter, of course) diced onions
1 cup bacon (I use  thick cut applewood smoked), medium to large dice
1 cup ham, medium to large dice
1 cup, pressed down,  best quality Gruyere cheese, grated
4 egg
2 cups half and half
1 cup heavy cream
2 small fresh sage leaves, julienned
The leaves of 1 sprig of fresh thyme
A few gratings of fresh nutmeg
Freshly ground salt and white pepper
Mix together the eggs, half and half and cream. Stir in the thyme leaves and julienned sage. Season with the nutmeg, salt and pepper. Let the mixture sit in the refrigerator overnight.
Cover the bottom of the par-baked and cooled tart shell with the bacon, ham, onions and cheese.
Pour the custard mixture over it all, and bake the quiche at 425 degrees for 15 minutes, then lower heat to 300 degrees for additional 50-55 minutes until custard is set around the edges (it can still be slightly jiggly in the center) and brown on top.
Yield: 10-12 servings
Save
Save
Save
Save
Save
Save
Save
Save
Save
Save
Save
Save
Save
Save
Save
Save
Save
Save
Save
Save
Save
Save
Save
Save
Save