Individual Quick Breads Part 2- Chocolate Loaf Cake with Berries and Whipped Mascarpone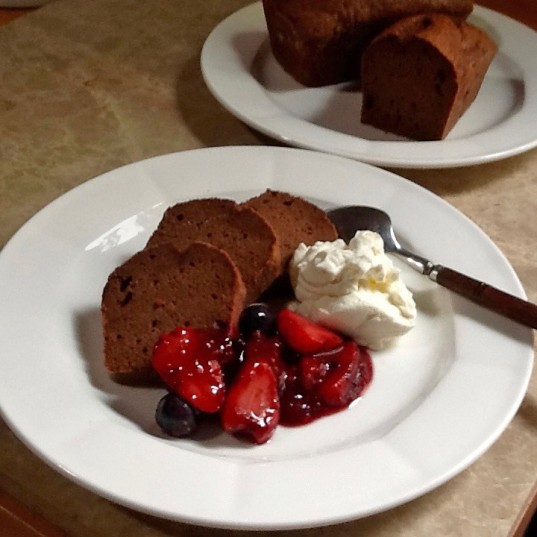 Here's another quick bread I like to keep on hand in the freezer. The recipe comes from Maida Heatter's Book of Great Chocolate Desserts
. Ms. Heatter may not be a big name among today's younger generation of "foodies" and food bloggers, and that's a real shame. I once was at a gathering of young food bloggers who said they don't even bother reading cookbooks without photos –  a bit of a foolish stance in my opinion. Ms. Heatter's many dessert and baking books have not a single photo in them (along with another great baking cookbook Nancy Silverton's  Desserts
), but I've learned so much about baking and pastry making by reading through the detailed instructions in Ms. Heatter's (and Ms. Silverton's) books.
This Old Fashioned Chocolate Loaf Cake is one of many winners from Ms. Heatter. It's good on its own (as a variation, try adding dried dark cherries or diced candied ginger to the batter). It's even better as a simple dessert served with a fresh berry compote. While I used to serve it with whipped cream alongside, I've since converted to whipped Mascarpone, a truly rich and delicious accompaniment.
Old Fashioned Chocolate Loaf Cake
2 cups all purpose flour
1/2 teaspoon double acting baking powder
1/2 teaspoon salt
2 ounces unsweetened chocolate
4 ounces semisweet or bittersweet chocolate
1/2 pound unsalted butter
2 teaspoons vanilla extract
1 1/4 cup sugar
5 large eggs, separated
Preheat oven to 300 degrees.
Butter and dust with flour the Wilton Mini Loaf Pans. Shake out excess flour.
In a large bowl, whisk together the flour, baking powder and salt.
Place both chocolates in a large bowl. Then place the bowl over a large pot of simmering water over moderate heat. Stir occasionally until the chocolates are melted.  Stir until smooth and set aside to cool slightly.
In the large bowl of an electric mixer cream the butter and vanilla, then add 1 cup of the sugar, beating to mix thoroughly. Add the yolks all at once and beat well, scraping the bowl with a rubber spatula. Add the chocolate and beat until well blended. On low speed, gradually add the dry ingredients and beat, scraping the bowl, until they are smoothly incorporated. Scrape this mixture into a large bowl.
Wash the mixer bowl very well, then pour in the egg whites. Beat them on moderate speed until they just begin to hold a soft shape. Gradually add the remaining 1/4 cup of sugar until the whites hold a firm shape.
Gently fold the whites into the chocolate mixture in three additions using a large whisk for the first two foldings. Fold in the last third of the whites with a  medium to large rubber spatula.
Spoon the mixture into the loaf pans – I use a half cup measure, and gently smooth the top. Bake until a toothpick inserted in the center comes out clean, about 30 – 35 minutes. Let the loaves cool on a baking rack for 10-15 minutes, then gently remove them from the pans placing them on the racks to cool completely.
Yield:  5 – 6 small loaves
Mixed Berries
2 cups mixed berries
1-2 tablespoons sugar, to taste
A squeeze of fresh lemon juice, to taste
Reserve 1 2/3 cups of berries. Puree the remaining 1/3 cup in the bowl of a food processor or blender with the sugar and lemon juice. Fold the puree into the whole berries.
Whipped Mascarpone
1/2 cup Mascarpone
1/4 cup heavy whipping cream
1-2 teaspoon powdered sugar, to taste
1 teaspoon best quality vanilla extract
Serve a couple of spoonfuls of the berry compote along side thin slices of the chocolate loaf cake and garnish with the whipped Mascarpone.
Save
Save
Save
Save
Save
Save
Save
Save
Save
Save
Save
Save
Save
Save