Crawfish Boil at the Home of John Besh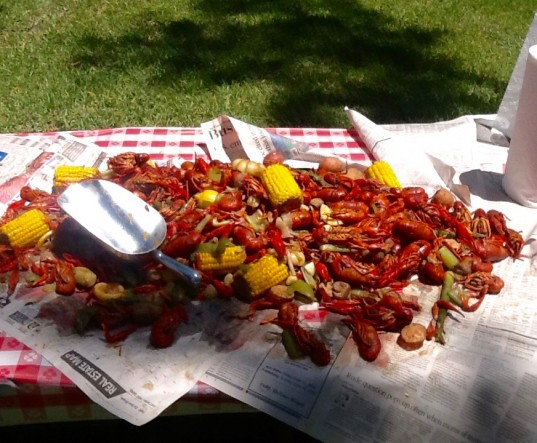 A couple of weekends back, I was invited to a crawfish  boil at the home of New Orleans top chef,  John Besh. A crawfish boil is one of those events ("a real event" in Chef Besh's words), that residents of southern Louisiana eagerly look forward to each spring when crawfish are at the height of their season. It's quite a production, one that requires time,  and a big group of friends invited over to help you enjoy it.
The purpose of the event at Chef Besh's home was to bring attention to, and raise funds for his foundation which has two mandates, one of which is to offer micro-loans to farmers and then pair them with business graduate students to help them obtain the necessary skills to grow their brands.  Chef Besh elaborated on the second even at the first time I interviewed him, when he talked about how New Orleans' thriving  tourism and hospitality industry had "completely dropped the ball" in terms of preparing the city's inner city youth for jobs in that industry. It endeared him to me immediately.
Under ancient oak and willow trees dripping with moss, Chef Besh spoke at the event, reiterating that when he looked around at the city's restaurant workers, "they all looked like me – male and white". It's a situation that's concerned me and other culinarians I'm acquainted with, and often been a topic of discussion.  New Orleans' commercial kitchens had historically been staffed and run primarily  by the city's (a city that throughout so much of its history has been America's most African) African-descended community.  It's my strong belief that it's primarily African-descended people who created the Creole cuisine so closely associated with New Orleans, and so beloved by America now. Unfortunately, as the cuisine became well known throughout the country, it brought young culinary grads from all over who wanted to work in the city's restaurant kitchens. That created a situation where local workers were pushed out of those positions, and its origins undermined.
So, the second mandate of his non-profit is Chef's Move!,  a program which provides scholarships for young people from  New Orleans' minority communities to attend culinary schools, and also pairs them with renown chef mentors. At that first sit down with Besh, he could barely contain his excitement as he rushed to retrieve Syrena Johnson, the first graduate of the program, from his kitchen,  so that he could show her off to me. Syrena was doing a stagiare position at Restaurant August just before she went off the the French Culinary Institute in New York City, where she would also, btw, be mentored by Food Network star chefs, Aaron Sanchez and Marcus Samuelsson, while living there. And since then, the Chef's Move project has given scholarships to 14 more young people.
I've run into Syrena once or twice in the past year or so. Since those days she has put in time at some of the city's best known restaurants. I'm really hoping that she'll agree to come back and talk with us here at Pain Perdu Blog very soon.
In the meantime, I hope you will take a  look at the John Besh Foundation's website, and consider making a donation to this worthy cause. And maybe even you'll even hold a crawfish boil.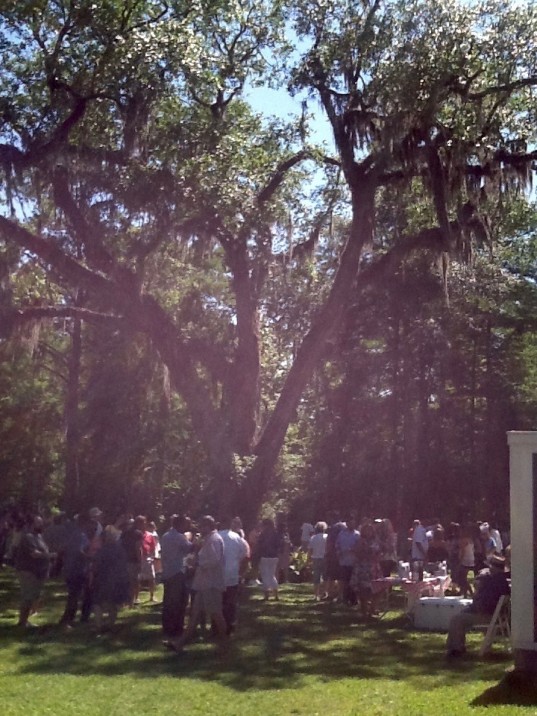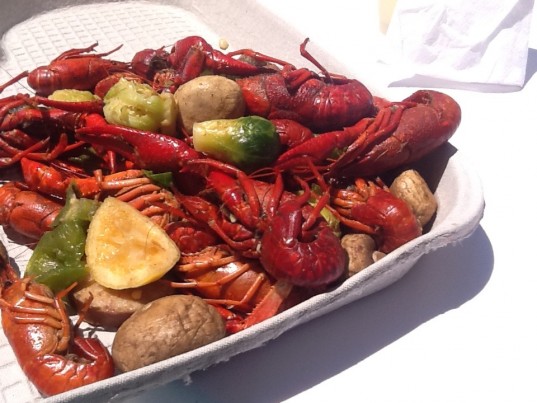 Crawfish Boil
Crawfish Boil - Adapted from
My New Orleans: The Cookbook
Ingredients
2 cups kosher salt
1 package of ZATARAIN'S Crawfish, Crab and Shrimp Boil, Dry, 3-Ounce (Pack of 12)
5 lemons , halved
3 tablespoons Cayenne pepper
5 whole heads of garlic, halved crosswise
5 small onions, halved
3 stalks celery, cut into 2 inch pieces
3 green bell peppers, seeded and diced
1/4 cup canola oil
3 pounds smoked sausage, sliced
20 small Red Bliss potatoes
6 ears of corn, shucked and cut into @3 inch pieces
artichokes
3/4 pound of asparagus
3/4 pound of Brussels sprouts
3/4 pound of button mushrooms
20 pounds crawfish, rinsed
Instructions
Fill a large pot with 10 gallons of water. Make sure to leave plenty of room for the additional ingredients. Bring the water to a boil with the kosher salt, boiling spices, lemons, Cayenne, garlic, onions, celery bell peppers and oil. Reduce the heat and allow to simmer for 10 minutes.
Add the smoked sausage, potatoes, corn and artichokes and continue to simmer for 15 minutes.
Add the crawfish and mushrooms, allowing the pot to simmer for another 10 minutes. Turn off the heat and let everything sit for 15-20 minutes, to allow the flavors to soak in. Then strain everything, using a large colander, from the boiling liquid.
http://www.painperdublog.com/2016/05/crawfish-boil-at-the-home-of-john-besh.html
Besh recommends turning everything out onto the Times Picayune, but any newspaper will do. Then it's time for guests to dig in to "suck the heads and bite the tails". Besh also recommends enjoying the feast with Abita Amber beer. I found white wine to accompany it quite well.
Yield: 8 servings
More pics below: