Cuba Revisited: The New Paladares- and a Recipe for Plantain Chips
Friday afternoon – 304 O' Reilly was completely booked, but we were able to get a roof top table at their sister restaurant, El Del Frente, right across the street. Justin made a reservation before we left, so that we can return for dinner at 304 tomorrow evening.
Sitting in the rooftop dining area at El Del Frente, we sip colorful tropically flavored cocktails, and dine on grilled fish and lobster accompanied by all sorts of interesting fruits and vegetables that are given the grill treatment, too – pineapples, okra, acorn squash, radishes, medallions of corn, ripe plantains and jalapenos.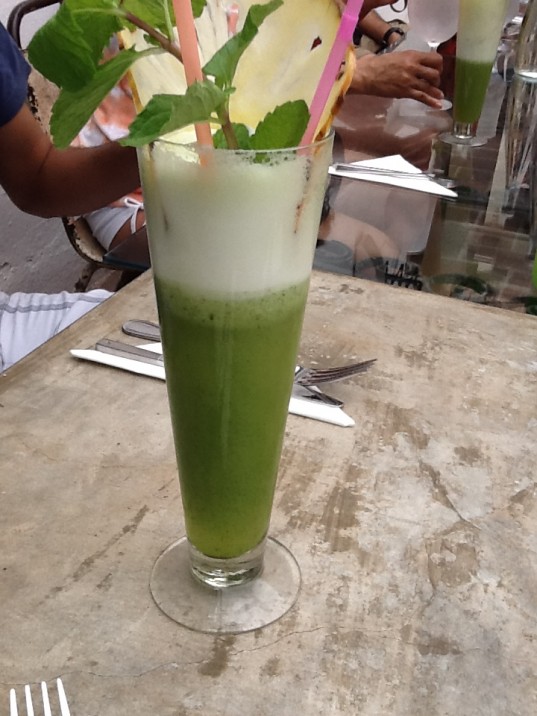 I went back for lunch at 304, solo, on Saturday, as the cousins went off to the beach. While the place is filled with mostly tourists, the two men sitting next to me are locals, and apparently regulars. They've come for a quick beer and a snack of empanaditas. When they leave, two more local regulars take their place. It appears they've come mostly to sit and chat with the bartender.
At the bar, I have a ringside seat to the great mixology show taking place. Curated cocktails are alive and well here. The handsome young bartender, is cranking out one beautiful specialty drink after another. He's wearing a Jimi Hendrix T-shirt, and there's also a cocktail – gin based with rose petals floating in it, and the priciest one on the menu at $13 – named for the 60's era icon. BTW, the lovely young hostess is wearing a T-shirt that says "Moi Aussi" – "Me, too" . When I ask her about it, she points to the bartender, "he's my boyfriend", she says.
I order a fresh watermelon Mojito which is so tasty,  I order another the next night when we return for dinner. There are small vases of fresh herbs and chiles lined up on the bar, for use in the drinks. Alongside those are Roland sea salt (I noticed Kirkland sea salt on the tables at El Del Frente yesterday), whole grain mustard and hoisin sauce. Just who are these young entrepreneurs in this still Communist country,  I wonder.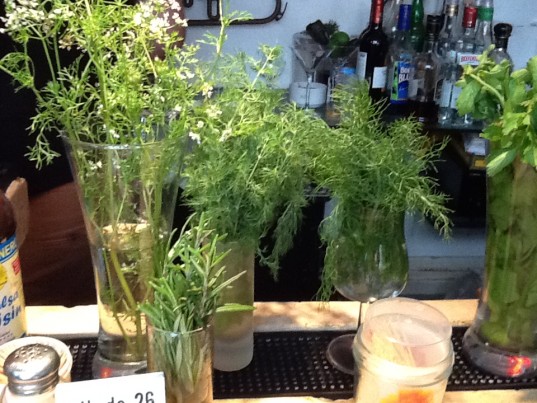 Paladares is a term derived from the Spanish paladar meaning literally "palatal", but in Cuba it refers exclusively to the nascent breed of restaurants run by self-employers. Most of them are family-run, often in homes. In fact, in one where my tour group and I ate at when I was in Havana less than two years ago, I had to pass right by "abuelo" who was  sitting and watching TV when I walked to use the restroom. At that time, I felt the food served in the paladares suffered, mainly because of a lack of quality available product. So I Google the spot and a bit of research turns up this pertinent bit of info: 304  is owned and operated by two brothers – one who manages the day to day operations of the place, the other who travels throughout Cuba to source the best product. Makes sense.
I order the grilled Dijon chicken, and as soon as the server places it in front of me, the bartender places a jar of that whole grain mustard in front of me.
Yes, things are changing rapidly in Cuba, and it's my hope those changes will continue to come. Keep scrolling down for a Plantain Chip Recipe.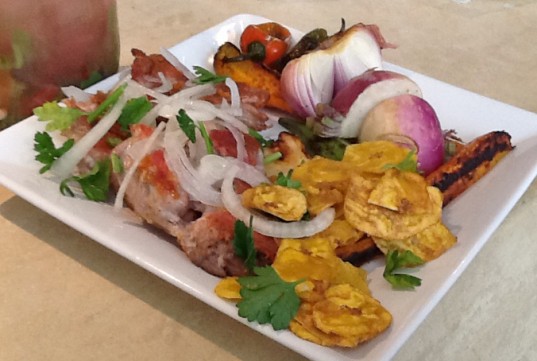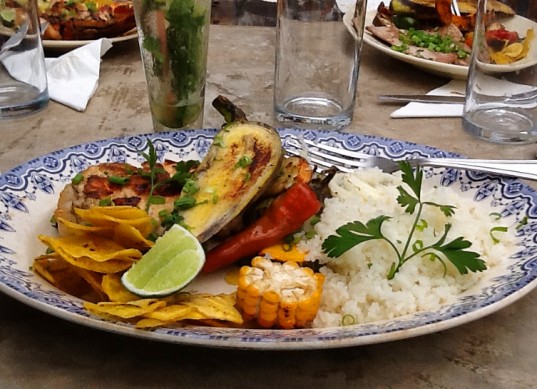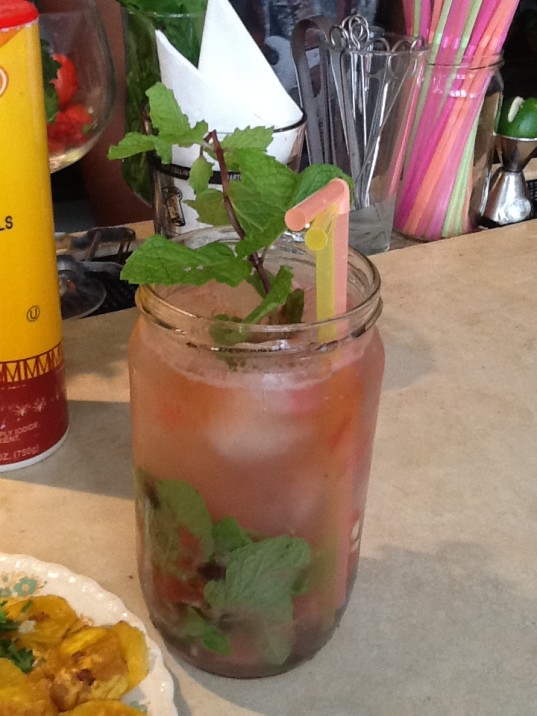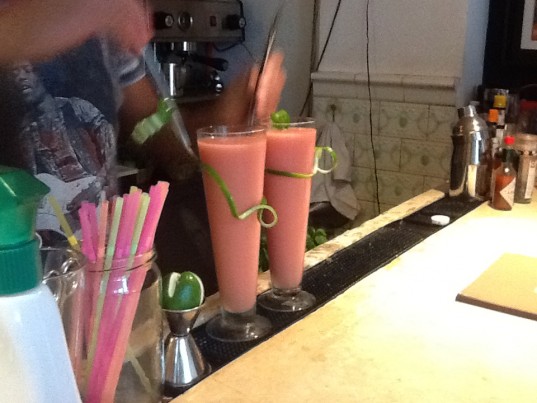 Plantain Chips
Although I love pan-fried ripe plantains, I never really cared for green plantain chips. However, these chips served with an aromatic mix of garlic, parsley and finely minced onion in olive oil, were much more appealing. They are served at the bar to munch on while sipping cocktails.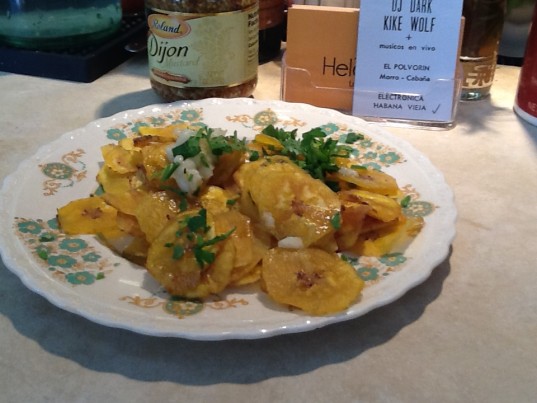 Cuba Revisited: The New Paladares- and a Recipe for Plantain Chips
Ingredients
1 large green plantain
@ 2 cups of vegetable oil for frying
Sea salt, to taste
1/4 cup olive oil
1 small clove minced garlic, smashed to a paste with coarse salt
1 teaspoon finely minced onion
2-3 teaspoons minced parsley
Instructions
Heat the oil in a frying pan until a test slice of plantain dropped into the oil sizzles. If the oil is hot enough, drop the slices in a few at a time and fry until crisp and golden. Place them on a baking sheet lined paper towels until all the chips are fried. Sprinkle lightly with sea slat while still warm.
Stir the garlic paste and minced onion into the oil. Spoon a bit of the oil over the chips, then sprinkle the parsley over them.
Yield: @ 2-3 servings as a snack with drinks.
http://www.painperdublog.com/2016/04/cuba-revisited-new-paladares-a-recipe-for-plantain-chips.html