Braised Cabbage with Sausage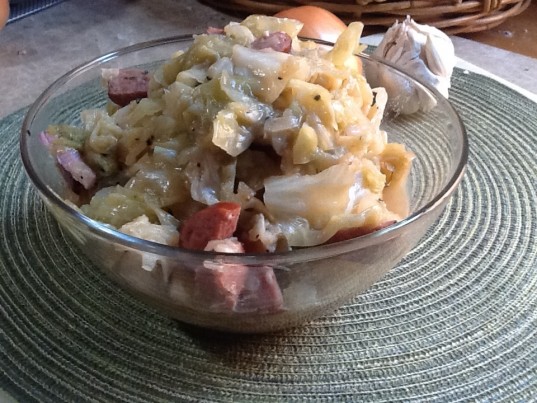 When I was a young child, braised cabbage was often served at dinner in my home – on rice as all good Creole families ate it – but as we became more Californian, the dish slowly disappeared from the table.
In recent years, food trends have favored other members of the cabbage family:
Cauliflower – yes, we ate it then, but only in a gratin covered with loads of cheese.
Brussels sprouts – nobody liked those.
Arugula – it wasn't even on our radar.
Kale – only a garnish to most people, unless you happened to live in a Portuguese household.
Since then my, along with our nation's as a whole, vegetable repertoire has grown – thankfully, but being back in New Orleans, the old veggie staple, cabbage, has newly caught my attention.
I first noticed it (a meatless version) offered as a side at Zea Rotisserie and Grill, a quite respectable local chain restaurant where I lunch frequently. It's become my favorite side (along with the roasted corn grits, another dish I had abandoned). Then cabbage showed up at a neighborhood church potluck this past fall, this time studded with pork and sausage and cooked down to a deep brown.
"She's tried bringing other dishes to the potluck" one of the other diners told me, "but everyone always asks her to bring this one".  And no wonder – the dish was deeply satisfying, to both the  palate and the soul.
The lowly cabbage takes on a silkiness, and even a sweet quality, with long, slow cooking, and as with other braised dishes, deliciously absorbs whatever it's mingled with in the pot.
I've noticed with this recipe that after 20 years of cooking California cuisine (albeit often with a New Orleans accent), I've definitely veered into Southern cuisine. I used bacon fat, pickled pork meat –  a local specialty, but ham hocks, salt pork can be substituted – and a mixed pork, beef and turkey smoked sausage. To lighten things up, any vegetable oil may be substituted for the bacon fat, smoked turkey for the pork meat, and any good sausage, including an all smoked turkey sausage, will be fine.
Here's to good, soul-satisfying eating.
Braised Cabbage with Sausage

Ingredients
1-2 tablespoons bacon fat, vegetable oil, or combination of the two
1 1/2 -2 ounces pickled pork meat
1 small to medium onion, chopped
1 large clove of garlic, chopped
3-4 ounces smoked sausage, sliced
1 medium head of cabbage, coarsely cut
1 1/2 cups of chicken broth
4-5 sprigs of fresh thyme
1 teaspoon (or more to taste) of coarsely and freshly ground black pepper
Salt to taste, if desired
Instructions
Heat the fat in a large sauce pan. Add half the onions and sauté until lightly browned, then add the second half of the onions, and the garlic and sauté.
Add the sausage to the onions and sauté lightly.
Add the cabbage and sauté stirring to mix thoroughly with the onion mixture. Add the chicken stock and thyme sprigs, along with the pepper. Cover and cook over low heat for about 45 minutes to an hour.
http://www.painperdublog.com/2016/01/braised-cabbage-with-sausage.html

Yield: 4 -5 servings