Quick Preserved Lemons and Preserved Lemon Aioli
After over a month of enjoying  the cooler temps of the Bay Area, happy hour in my friends' Oakland garden, meeting with So Cal friends at the beautiful Baleen's in Redondo Beach, and revisiting some of my favorite lunch spots in Culver City (like Tender Greens, P.S. 310 and Lukshon), the pooch and I headed back across the southwestern U.S. back to New Orleans. Somehow, however, the return portion of a road trip, and re-entry to your daily existence, doesn't hold quite the appeal or excited anticipation of the trip's first portion.
Fortunately, I had a jar of preserved lemons in my fridge, which I had put up before I left, and with which I made Preserved Lemon Aioli to help shuttle me through the last couple weeks of southern summer heat and ease the transition back into my life.
Preserved lemons are definitely an item I had to grow into appreciating. Maybe it's because I'd only had store bought ones when I was first introduced many years ago. It probably also helps that I was reintroduced to them via Preserved Lemon Aioli (I love all kinds of aiolis), one of the components of a brilliantly conceived Tuna Niçoise Sandwich, complete with black olive Tapenade, haricots vertes and sliced hard boiled eggs, at P.S. 310, and that I found a quick version of preserving lemons so I don't have to wait the two weeks or so until completion of the traditional recipe. Sadly, the sandwich is no longer on the menu at P.S. 310 (I'll have to recreate it one of these days), but I do make the Preserved Lemon Aioli often.
Besides adding the chopped lemon peel to dishes, I've found the intensely acidic, salty hit of their residual "glop" (thanks to fellow food blogger, Amy Sherman, for the idea- and the word) to be extremely useful in kicking up the flavor of all sorts of dressings, sauces and marinades. For example, I now routinely add a bit to Caesar Salad dressing.
I relished the aioli atop the decidedly Cal-Med dish of pan fried salmon topped with sautéed cherry tomatoes with basil pesto. And before I knew it, fall – and cooler temps – had arrived.
Preserved Lemon Aioli
1 egg at room temperature
2-3 tablespoons juice from Preserved Lemons (recipe below)
1 large garlic clove, mince and mashed to a paste
1/2 teaspoon Dijon mustard
1 cup vegetable oil
2-3 tablespoons minced preserved lemon peel, or to taste
Kosher salt and freshly ground white pepper, to taste
Add egg to the bowl of a food processor, and pour lemon juice over it. Allow it to sit for about 5 minutes, then add the minced garlic and mustard.
With food processor running, add the oil in a steady slow stream until an emulsion forms. Stir in the  minced preserved lemon, and the salt and pepper. Add more preserved lemon juice to thin the aioli, if desired, and refrigerate. The aioli will taste better after a day or so.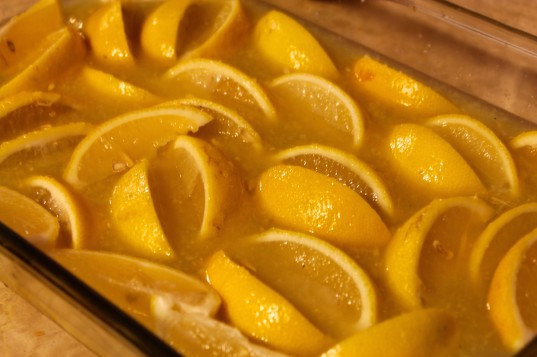 Quick Preserved Lemons
6 lemons, scrubbed and trimmed at both ends, and cut into sixths lengthwise
1/3 cup kosher salt
about 2 cups fresh lemon juice
Place the lemon pieces in a single layer in a large shallow baking dish, then toss them with the salt. Pour enough lemon juice over the lemons to almost cover them.
Cover the dish with foil, then place in a  pre-heated 200 degree oven, stirring a few times, for 3 hours.
Allow the lemons to cool, then transfer the lemons, covered with the brine, to a  sterile airtight jar or plastic container. The lemons last refrigerated indefinitely.