Kids at the Mardi Gras- a Few Sights and Sounds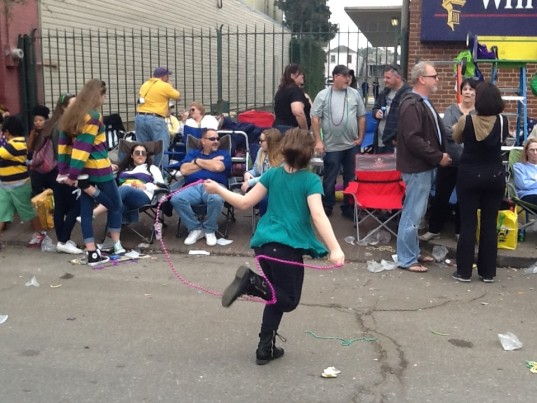 Going out to watch the Carnival parades in New Orleans is a long time – and much looked forward to – tradition. Some families stake out the same spot along a parade route year after year, and spend the time with several generations of their clan.
In my last post on the Mardi Gras parades, I mentioned that my friend, Deborah, expressed the wish that she could watch the parades with the wonder of a child. It struck me in thinking about the statement, that one of the best ways to watch them is by watching the kids.
The first parade I attended this year was the Krewe de Vieux – which I definitely do not recommend for kids, at least those of an age who can understand anything of what's marching before them. There were, however, parents out there carrying very young children. A few of us got to witness one young boy whose mother and uncle were marching, masked, of course. The uncle kept coming up to the boy, waving and handing him throws.  Even though his father, who was holding him,  told him it was his uncle, the child was extremely wary – until the uncle pulled up his mask revealing his face. The little boy's face broke into a huge and utterly delightful grin – unfortunately, I do not have a picture of him to show you. I did however take a few shots, in the following days, of the children – making ropes to jump with broken beads, playing an impromptu game of football with a plastic ball thrown from one of the revelers during the pauses. One just showing off his beads. And my favorite – the private moment caught of a young girl completely taken over by the rhythm of New Orleans in the video below.
Enjoy!