A St. Joseph's Day Celebration
In his book The Year Before the Flood: A Story of New Orleans
, Ned Sublette writes that it's common to hear people call New Orleans the northernmost point of the Caribbean. Sublette says that while that's patently untrue, he writes, "New Orleans is the northernmost edge of something… What New Orleans is at the northernmost edge of is what I call the Saints and Festivals belt."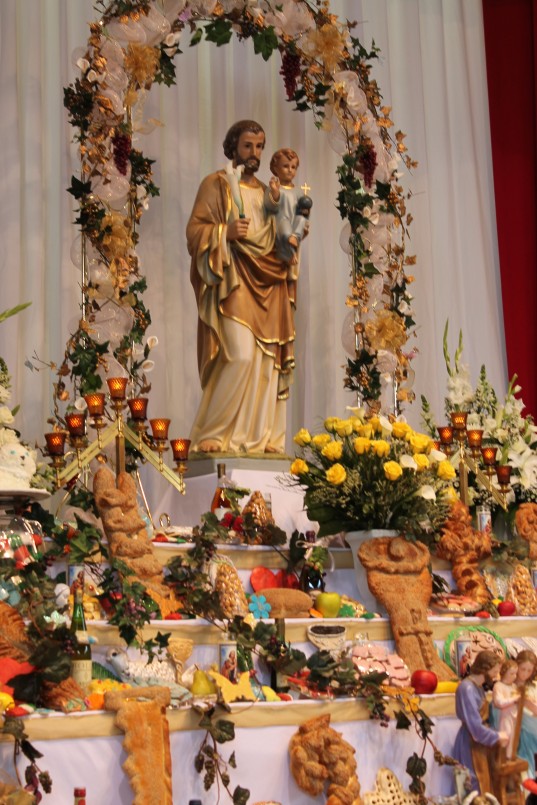 This week saw the festival celebrations of two saint days, an occasion for a partying, and a  break from the Lenten season in this party-obssessed city. The beginning of the week was taken up with St.Patrick's Day parties and parades (where cabbages were thrown from floats along with beads), while today marks St. Joseph's Day, celebrated initially by Sicilians, who came here in the mid to late 19th century, and was quickly adopted by the other citizens of this Catholic city. Then it wasn't long before the Mardi Gras Indians adopted  the evening of and Sunday nearest to St. Joseph's Day as their second largest time to pow wow, drum and march, after Mardi Gras.
I traveled just a couple of miles down the road to St. Joseph's Church in Gretna, LA this morning, to attend the Mass, see the altar and eat the mighty tasty lunch offered to any comers by the parishioner volunteers who have been baking hundreds of dozens of cookies for months, cooking and setting up the beautiful altar for days, and served the several thousand of us who showed up today.
The altar, a true labor of love, was quite amazing –  much larger than any of the few others I've seen, and filled with flowers, candles, decorative breads, fruit displays, cookies, even the seafood items we love here in South Louisiana. There were many cakes, decorated with portraits of various saints, popes, the current archbishop of New Orleans (who officiated at the Mass), even a portrayal of that ubiquitous guardian angel poster of Catholic children everywhere. Ah – yes, and an Easter-egg filled basket cake with a nod to Easter, coming soon.
And while the food, at first glance, may have looked like the typical church buffet of spaghetti with tomato sauce (sprinkled with breadcrumbs to symbolize sawdust – a nod to St. Joseph's profession of carpenter), I was pre-alerted that I must taste the delicious stuffed artichoke casserole. To my delight, I found, as I moved through the line, that it wasn't the only delicious casserole. There was a broccoli casserole, a fine rendition of the famous all-American green bean casserole, and one of my favorite traditional Creole specialities – Deviled Eggplant with Crabmeat. Oh yes – the plate was finished off with a couple of pieces of fried fish, which at that point, seemed superfluous.
Everyone was sent home with a bag of those Sicilian-style cookies – redolent of anise, figs and  sesame seeds, and – a "lucky bean"- a fava bean. The fava bean tradition dates back to a time of famine in Sicily, when people began eating them to survive the famine, while before they had only been fodder for cattle, hence the Sicilians considered themselves lucky to have them – or so the story goes. Now the legend says your cupboards or purses will never be empty as long as you carry a "lucky bean". The entire St. Joseph's feast and celebration grew out of the famine, as they credit their answered prayer and intercession to the saint for pulling them out of it.
Happy St. Joseph's Day.
Oh -BTW, please check out my previous post with a recipe for cucidatti, one of the cookies always served on St. Joseph's Day.