What's New in King Cakes?
A few years back, I did a post on King's Day and King Cakes, the Carnival season treat which begins showing up on January 6th, the Feast of the Epiphany aka Twelfth Night – and opening day of the season, at every home, office and social gathering throughout the city.  BTW, I included a recipe in that post, if you're interested in trying your hand at making the treat.
Since then, there's been a culinary renaissance happening in New Orleans, bringing with it an influx of chefs from all over the country. Those new chefs don't necessarily feel bound by local tradition, and the King Cake has seen a surge of innovation, ranging from the Elvis King Cake offered at Cochon Butcher filled with peanut butter, bananas and topped with marshmallow cream and bacon, to a Zulu King Cake, made with chocolate dough and filled with coconut cream, created to honor the original and most well known African- American Mardi Gras Krewe, and their famous and  highly coveted painted coconut Mardi Gras throws, to Chocolate Cream Cheese King Cakes to King Cakes filled with  custard, whipped cream and the famed Ponchatoula strawberry (a Louisiana local variety).
I'll  be speaking about all of this on the SoCal Restaurant Show on Saturday, February 14th, just before Mardi Gras, at AM 830 KLAA, Angels radio, airing from 10 A.M to noon, PST.
In the meantime, feast your eyes on some of the treats, that I, in my great dedication to researching for you, went out to sample 😉
The girl who sold me my slice at Cochon Butcher said people either hated or loved this one. The folks who love it, she said, keep coming back to the counter for more slices. I can't say I fell  fall into that category. Oh – instead of a baby tucked into this one as a trinket, there's a piglet.  See if you can spot him amidst all that bacon.
Sucre's  luster dust and glitter King Cake is said to be the first of the so called "21st century" King Cakes, available since 2008. Note the purple bay tucked in the center of this one.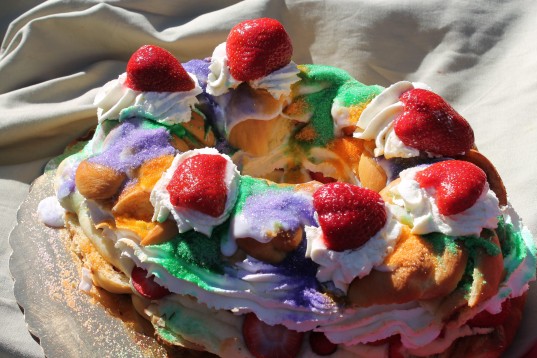 This  Ponchatoula Strawberry King Cake from Maurice's French Pastry, has been my favorite, so far. It's dangerous – I just couldn't stop eating it. I had been hearing about it, so ordered one from the bakery. When I got there to pick it up, I found out that they also have King Cakes filled with Chocolate Custard flavored with Kentucky Bourbon, Pecan and Whipped Cream Cakes, Bananas Foster, and Bavarian Praline Cream and Southern Comfort King Cakes. Wow! But as much as I'd like to, sadly, those will just have to wait for another year.
I also really liked this fairly recent arrival on the scene, Chocolate Cream Cheese King Cake from Bittersweet Confections.
This one created a big buzz when it arrived on the scene a couple of years back. Domenica's praline glazed and gold leaf finished King Cake filled with mascarpone, caramello, bananas, salted caramel and pecans.
Bon Appetit and Happy Mardi Gras, y'all!