Jerk Chicken with Mango Salsa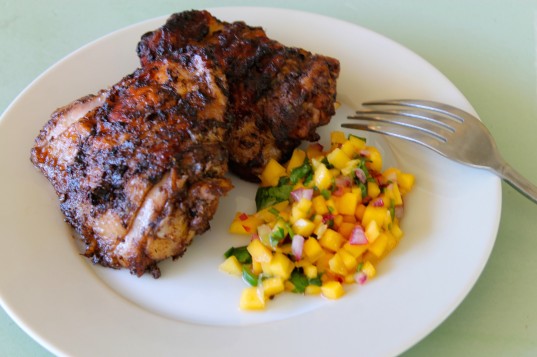 Because I was on a deadline, a lot of items had to be tossed when it came time to clear my two refrigerators and full freezer before I left on my vacation to Healdsburg– the little 2 weeks of break I treated myself to between the months of packing and completely moving out of my Los Angeles house of almost 18 years.
There were only a few preparations that made it into the ice chest I took with me. Among them,  a couple of pints of my Chunky Apple Compote, and some freezer Raspberry Jam I made in a first experiment, and a half container of my homemade Jerk marinade. Over the years, I often served Jerk Chicken Skewers (made with boneless, skinless thigh meat) as an hors d'oeuvre at parties I catered. I always made extra marinade for myself, and usually had a bit of it in my fridge.
So when my friends Beth and Keith invited me to barbecue with them on the 4th of July, I immediately announced that I would bring the chicken. "You don't have to bring anything", Beth said. "Ah, but I insist," I responded, knowing I had the Jerk Marinade with me.
And it just so happens that it's the first preparation made in the food processor in my new kitchen here in New Orleans (working on getting that together) for a few folks I've invited over this Labor Day weekend.
I usually accompanied it with a home made Tamarind Chutney for dipping when serving it skewer style. Unfortunately, no Tamarind Chutney made it into the ice chest, but the good news is, this quick and easy Mango Salsa makes a great accompaniment, too.
Jerk Chicken
Another great recipe clipped from the vintage pages of Gourmet Magazine. I use chicken thighs, as the extra fat in the thighs not only makes for a tastier piece of chicken than the breast, but is also very forgiving, staying moist on a hot grill.
For the marinade:
    2 cups finely chopped scallions
    2 Scotch Bonnet or Habañero chilies, seeded and minced (it helps to wear gloves when seeding them), or 1- 2 tablespoons Habanero Chile Sauce
    2 tablespoons soy sauce
    2 tablespoons fresh lime juice
    5 teaspoons ground allspice
    3 teaspoons English-style dry mustard
    2 bay leaves, center ribs discarded and the leaves crumbled
    2 garlic cloves, coarsely chopped
    2 tablespoons  kosher salt
    2 teaspoons sugar
    1 1/2 teaspoons dried thyme, crumbled
   1 teaspoon cinnamon
5-6 pounds chicken thighs
 Add all the marinade ingredients to a food processor and blend until smooth.
Coat the chicken thighs well with the marinade. I do this by layering thighs in a zip lock bag, spreading the marinade well over each layer. Seal the bag and marinate for 2 – 3 days in the refrigerator.
Remove the chicken from the refrigerator about 45 minutes before ready to grill, then prepare the coals for grilling.
When the coals are glowing hot, pour them in the middle of a grill. Place the thighs over the coals. Let the thighs brown and the skin blister a bit, then move them to the sides off the direct heat of the coals. Cover the grill and let them continue to cook until cooked through. Be careful not to let the skin burn. Serve the chicken with Mango Salsa.
Mango Salsa
Try to get hold of a mango that is ripe but still fairly firm. If it is too soft, the salsa takes on a mushy texture. If the mango is not quite at the sweetness of a fully ripe state, I will sometimes add an extra squeeze of orange juice, or a tiny touch of honey to the salsa.1 large mango, medium to fine dice
1 heaping teaspoon Jalapeno chile, fine dice
1 teaspoon garlic, minced
1/4 cup red onion, fine dice
2 tablespoons cilantro, chopped
Juice of 1 small lime
A pinch of kosher salt
A healthy squeeze of orange juice (optional)
a touch of honey (optional)
Gently mix all the ingredients in a bowl. Serve along side the chicken.