Crab and Goat Cheese Stuffed Chiles for Cinco De Mayo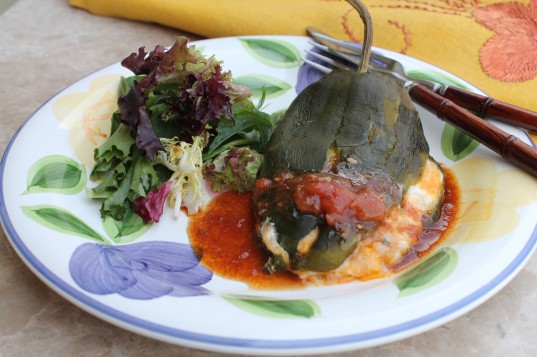 I am in the throes of clearing out, preparing and packing for my big move at the moment – not exactly a fun task.
It doesn't leave much time or energy for a Cinco de Mayo party, unfortunately, but since it is one of my favorite L.A. celebrations (I mean, how many of those are there, anyway?), I can't let it pass by without a little something. So I am sharing an old favorite dish, Crab Chiles Rellenos, one I haven't made in quite a few years, but which is certainly worth revisiting.
It's perfect for a light brunch or luncheon, and one I served few times years back, at events like bridal and baby showers.
It'd be great served with Fiesta Rice, and of course, some great Guacamole and chips, and a Margarita or two. Hope you'll enjoy it.
 Crab and Goat Cheese Stuffed Chiles
4 large Poblano chiles
5 ounces  crabmeat
5 ounces creamy goat cheese
3 ounces Colby Jack cheese, grated
1 tablespoon minced shallots, sautéed in 1 teaspoon of butter
1 tablespoon cilantro, chopped
A couple of chives, snipped
Roasted Tomato Vinaigrette (recipe below)
Roast the chiles and tomatoes on a foil lined sheet pan under a broiler, until the skins blister. Allow them to cool, then peel and seed the peppers carefully, so as not to tear them too much.
Gently mix the crabmeat, the two cheeses, the sautéed shallot and herbs in a  large mixing bowl. Divide the mixture into 4 equal portions and mold them into a sort of cone of cheese and crabmeat, to stuff into the roasted peppers – yes, you get to play with your food!
Place the stuffed peppers back on the baking sheets and warm in the oven until the cheese has melted. Turn off the oven, but leave the chiles in there while preparing the Roasted Tomato Vinaigrette.
Platter the stuffed chile with a bit of vinaigrette.
Roasted Tomato Vinaigrette
4 ripe Roma tomatoes
4 tablespoons extra virgin olive oil
1 roasted garlic clove
2 tablespoons Balsamic vinegar
A healthy pinch of coarse salt and freshly ground black pepper
Peel the tomatoes. Tear 3 of them slightly and place them in a food mill, peels and all. Process them to a puree in the food mill.
Place the processed tomatoes in a saucepan to heat and reduce slightly.
Pour the tomato puree into a medium bowl. Mash the roasted garlic clove into a paste, and add to the tomato puree. Whisk in the balsamic vinaigrette. Then slowly whisk in the olive oil, making an emulsion.
Peel and seed the remaining tomato and chop it coarsely, then add it to the vinaigrette.