Braised Lamb Shanks for Passover or Easter Week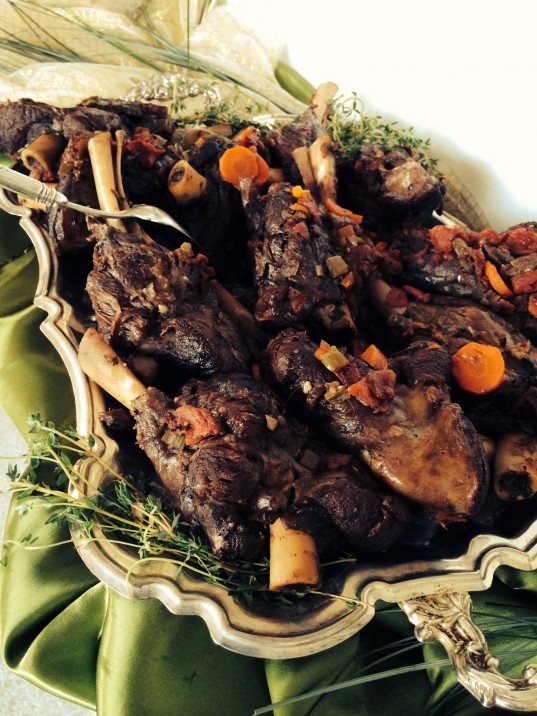 Why was last night different from all other nights?
I catered my last event in Los Angeles last night – a Passover seder for the client who was my first, 17 years ago. The Passover menu, over the years, has often included a slow braised brisket, sometimes salmon, and almost always, a roast leg of lamb. This year we broke with tradition a bit, and served these Braised Lamb Shanks.
The shanks looked a bit unwieldy on the plates. I think the 10 year or so old boys who I noticed grabbing them rather liked that- a kind of he-man/brontasaurus steak effect. But believe me, everyone quite enjoyed them.
The recipe is one I clipped from the pages of the New York Times many years ago, and carried with me through the years. Unfortunately, I don't make them very often, so when I do, it's a special occasion.  And accordingly, I saved a few of the shanks to braise for my Easter dinner, too.
Passover, Easter- whatever your special occasion, you'll want to give these a try.  They are great served with a White Bean Puree, or with Roasted Cauliflower Puree.
Next year in New Orleans…
Braised Lamb Shanks
6 lamb shanks
3-4 tablespoons olive oil
3 cloves garlic, crushed and peeled
1 medium onion, large dice
4 ribs celery, sliced
2 carrots , peeled and sliced
2 1/2 cups red wine
2 bay leaves
4 anchovy filets*, rinsed and minced
1 1/4 cups veal or beef stock
1 35 ounce can Italian style crushed tomatoes, strained
12 black peppercorns
Kosher salt, freshly ground black pepper
Season shanks with salt and pepper. Heat olive oil in a large saucepan. Brown shanks well, a few at a time, on all sides. Transfer the shanks to a large roasting pan. Repeat until all the shanks are brown, adding more oil, as needed.
Put the garlic, onion, celery and carrots in the pan. Cook 30 – 45 seconds. Add half the wine and deglaze the pan. Add the vegetable wine mixture to the roasting pan, then add the remaining ingredients.  Put the roasting pan on a burner and bring it to a simmer. Add water to almost cover the shanks, if needed. Cover with aluminum foil. Put the pan in the oven and bake until the meat is tender, about 2 1/2 hours.
Remove shanks from the liquid. Strain the liquid into a large saucepan (okay, I like to leave a bit of the tomato and carrots for presentation. Simmer to reduce the sauce until is thick enough to coat the back of a spoon. Add salt and pepper to taste.
6 servings
* Don't fear the anchovies. They add a depth of flavor to a braise as they melt into the sauce. And rinsing them first which I always do) takes away that salty greasiness that most people find so objectionable.