Pasta Jambalaya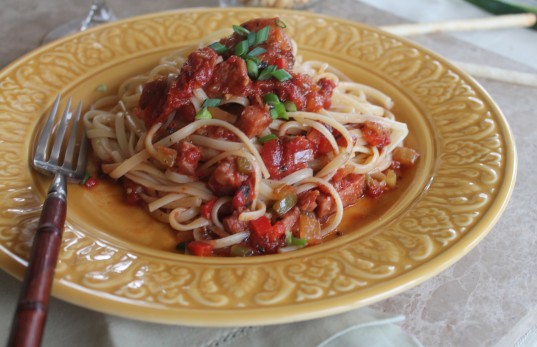 Last week I sent my brother, Ric, to join the brother already living in New Orleans, as well as several cousins,  off  to participate in the Mardi Gras festivities of this past week. I've been getting regular updates from Ric – there have been parties and several parades to attend every day – sigh. Oh well… Even though I had to stay behind this year, I decided to make myself a New Orleans dish this weekend. After all, we had the Oscars to celebrate here, right?
Since I was alone, I kept it fairly simple, settling on a Pasta Jambalaya. Pasta is not at all the traditional way to go for Jambalaya. Creole cuisine is a rice based cuisine, and Jambalaya its most iconic rice dish. But a couple of years back, when I interviewed Ti Adelaide Martin of Commander's Palace, she talked of the groundbreaking origins of Mr. B's Bistro, which her mother, Ella Brennan, and Paul Prudhomme opened in the 1970's.
Mr. B's  was originally conceived of as a pasta house, and Chef Prudhomme created Pasta Jambalaya for its first menu. Ever since then, I've been haunted by the idea, and have wanted to give it a whirl. Oh, and, by the way, even though it's not traditional, making a Jambalaya sauce to serve over pasta, is definitely easier to get right than the rice dish.
I served it with a Roasted Beet Salad using purple and golden beets, to  incorporate the traditional colors of the Mardi Gras – purple, green and gold.
Happy Mardi Gras, y'all. Next year, in New Orleans!
Pasta Jambalaya
1/4 pound smoked sausage
12 -16 small shrimp
3 ounces boneless skinless chicken breast or thigh meat
2 ounces ham, cubed (it would be great to use tasso, the Louisiana smoked ham, if you can get your hands on some)
@ 2 teaspoons vegetable oil
1/2 cup onions, medium dice
1/3 cup celery, medium dice
1/3 cup mixed green and red bell peppers, medium dice
1 clove garlic, minced
1 14.5 ounce can diced tomatoes (I used Fire Roasted)
1 cup tomato sauce (I used Spanish style)
1 tablespoon double strength tomato paste
1/2 teaspoon dried oregano
1/4 teaspoon white pepper
1/4 teaspoon cayenne
1/4 teaspoon paprika
Additional chicken or shrimp stock to thin the sauce, if desire
Additional black pepper and salt to taste
1 pound linguine
Parmesan cheese, optional
Scallions, snipped to garnish
Butter, optional, to swirl in at the end
Mix the spices together in a small bowl.
Heat the vegetable oil in a large saucepan, then add the smoked sausage and ham sautéing until the sausage is lightly browned. Set the sausage and ham aside in a bowl, leaving as much oil as possible in the pan. Add chicken and shrimp to the pan, sautéing quickly. Add the chicken and shrimp to the sausage and ham, again leaving as much oil as possible in the pan.
Add the onions, celery and bell peppers to the pan, and cook them over medium heat until the vegetables soften, then stir in the bay leaf and spices.  Cook for a couple more minutes until they are completely incorporated.
Add the diced tomatoes to the pan, smashing them with the back of a spoon or a potato masher. Add the tomato paste, stirring to incorporate, then add the tomato sauce. Simmer the sauce for at least 10 to 15 minutes, or longer, if desired.
Add the linguine to salted boiling water, and cook until al dente, then drain the pasta.
Add a few tablespoons of stock to the sauce if it needs thinning. Stir the sausage, ham, chicken and shrimp into the sauce, enough to warm them, but do not overcook the proteins. Lightly mix the sauce into the pasta ( you may swirl in a bit of butter, now if you like), and serve immediately, topped with Parmesan cheese, if desired, and snipped scallions.
Yield: 4 servings