Bread Pudding with Sautéed Peaches – or Pears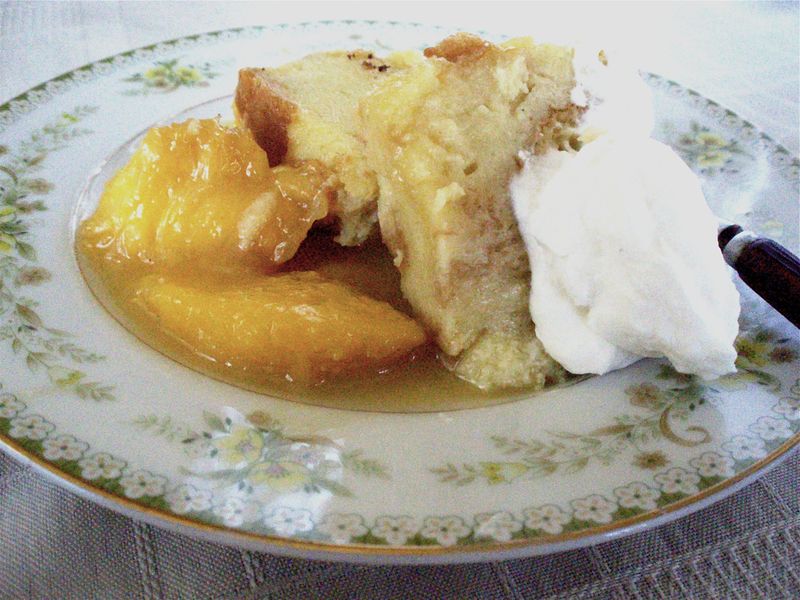 Bread Pudding with Sautéed Peaches
Bread Pudding sits at the top of the list of the limited dessert repertoire that developed in traditional New Orleans cuisine. Could have something to do with the hot and humid climate. Who would have wanted to turn on the oven to produce cakes and pies? And items like croquants or spun sugar didn't stand a chance in the humidity. But we do love Bread Pudding, and Lousiana's Creole cooks' thriftiness superceded their heat phobia – they hated to waste any of the French bread traditionally eaten with every meal. We indulge in it all year round.
At the end of summer, I hurry to pair it with the last of our peach crop, which here in L.A., will last for a couple more weeks. But not to worry, when our peaches are done, fall is nipping at summer's heels, and there will be pears to sauté with a brandy, or a tasty liqueur, to serve alongside my bread pudding.
Bread Pudding 
5 ounces stale croissants or brioche *, cut into small pieces

2 cups half and half

2 eggs

2 egg yolks

4 ounces sugar

1/3 cup golden raisins

1/3 cup sweetened shredded coconut

1/2 teaspoon vanilla

 

8

- 4 ounce ramekins, well buttered
Mix together the bread, raisins and coconut. Fill the ramekins loosely with the bread mixture. 

A

lternatively, the pudding may be baked in a small well buttered loaf pan, and sliced to serve.

 Scald the half and half.

 Blend together the eggs and sugar. Slowly whisk the scalded cream into the  egg/sugar mixture, then pour the mixture evenly into the molds. 

 Bake at 350 degrees until set, about 20 minutes.

 Allow the puddings to set before unmolding them onto a plate, or slicing. Serve napped with Sautéed Peaches or Pears (recipes below).
* New Orleanians traditionally make Bread Pudding with leftover staled French Bread (some are quite adamant about it), but leftover Brioche, Croissant or Danish pastry make a delicious, somewhat fluffier – and richer- bread pudding. 
Recipes continue on the next page…