Roasted Asparagus with Lemon Caper Mayonnaise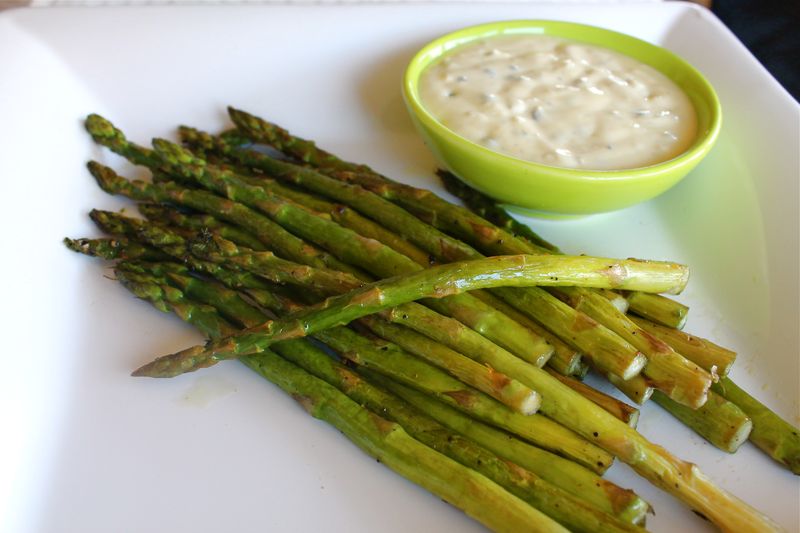 Melissa's Fresh Produce' s wonderful new cookbook, 50 Best Plants on the Planet: The Most Nutrient-Dense Fruits and Vegetables, in 150 Delicious Recipes
states that asparagus "is one of the most nutrient dense foods on the planet", calling it an excellent source of vitamins A, C and K, as well as a good source of dietary fiber and potassium, and an impressive source of minerals and the B complex vitamins, and flavonoids. Gosh- who knew? 
I mean, I knew I loved them – as, btw, does a majority of the American public according to recent Bon Appetit polls, but it sure is good to know they're so good for me, too.
I've come a long way from my 1950 and 60's childhood, where asparagus were of the canned gray green variety whose spears turned to mush in the mouth.
When I was in college in the early 70's I learned to lightly steam them. I remember one particular Easter Sunday afternoon when some classmates and I took some, along with a creamy local Montery Jack cheese, and freshly baked whole wheat bread, on an afternoon hike through a forest in Santa Cruz. One of my best Easter meals ever. I still enjoy them steamed on occasion, with a excellent quality blue cheese dressing.
A decade or so down the line, I learned to grill them, and then (even better), oven roast them, which is now a regular favorite side dish. Lightly tossed in some extra virgin olive oil, with a sprinkling of coarse salt and freshly ground black pepper, they don't really need anything more, but this luscious Lemon Caper Mayonnaise is the perfect sauce to accompany them on a special occasion – like say a Sunday afternoon hike through the forest.
Roasted Asparagus
1 pound asparagus spears, ends trimmed

2-3 tablespoons extra virgin olive oil

Kosher or sea salt and freshly ground black pepper 
Toss the asparagus with the olive oil, slat and pepper and roast at 375 degrees for about 10 minutes, until just tender. 
Lemon Caper Mayonnaise
This sauce is reminiscent of Hollandaise, which was often served with asparagus in classic cuisine, except that it's easier to make, and last longer. I added in a little of the juice of preserved lemons to kick up the flavor. BTW, as is the case with so many sauces, this one tastes much better the day after making, when the flavors have benn allowed to "marry".
1 egg

1 teaspoon of Dijon mustard

Juice of one lemon

1 tablespoon minced shallots

1-2 tablespoons capers, lightly chopped

1 cup lemon oil

1/3 – 1/2 cup extra virgin olive oil* 

Freshly ground white pepper and kosher or sea salt

Additional lemon juice, finely grated lemon zest or juice of preserved lemon to taste
 *Adding a larger amout of oil will result in a thicker mayonnaise.
Place the egg and the mustard in the bowl of a food processor. Pour the lemon juice over it, and let it sit for a minute.

Slowly drizzle in the Lemon Oil and then the extra virgin olive oil while running the processor.

Add the shallots and capers, and pulse just enough to mix in. 

Mix in salt, pepper, zest and  additional lemon juice to taste. I like to taste and correct the seasonings again the next day, too.