Double Kale Caesar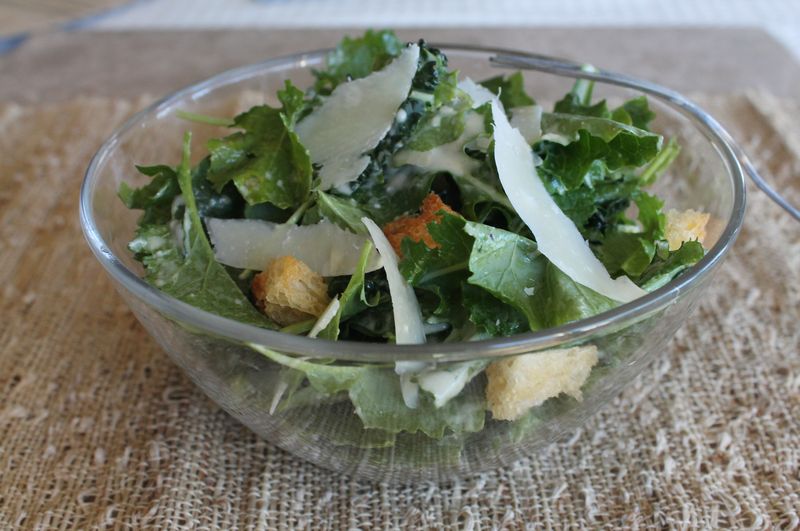 Double Kale Caesar
For years, I used kale only as a garnish, until one day one of my brothers asked with astonishment, as he watched me about to dump my garnish, "What are you doing?"
"It's just garnish", I said.
"Well, I'm going to eat your garnish."
Since that day, several years back, kale has become a much consumed food, and was, no doubt, the "it" food of this past year. Many varieties of kale are now available, showing up everywhere, in all sorts of applications. One of the most popular of those applications is a Kale Caesar (I like the punny word play aspect of it, myself). So when Iloveorganicgirl sent me a selection of their beautiful greens, including I heart baby kale (a mixture of baby kale, tango and baby spinach, chard, romaine and oakleaf lettuce), my thoughts went there first. 
For a little textural contrast, I've mixed their baby greens with a chiffonade of larger black kale aka cavolo nero or Tuscan kale (one of the most "it" of the "it" ingredients) leaves- a nice combination, as sometimes the larger kale leaves on their own can be a bit too toothsome, if you know what I mean.

Iloveorganicgirl will be running an "All Mixed Up" Trivia  contest beginning tomorrow (April1st) on its Facebook page.
By the way, back in January, I was invited to a holiday party at Melissa's Fresh Produce, where they were unveiling their new cookbook, 50 Best Plants on the Planet. And, yes, kale-a powerhouse source of vitamins- is definitely one of the 50. The cookbook is filled with encyclopedic information on the nutritional value of the top fruits and vegetables. Want to know what to eat to loweryour triglycerides, up your level of potassium consumption, protect and repair cells, or improve arthritis symptoms. You'll learn that and so much more from this book, with 150 quick and easy recipes developed by Cathy Thomas, along with less formal suggestions for adding these nutritional powerhouse foods to your diet. I'll be sharing more of the 50 best plants over the next few posts, so stay tuned.
Oh- and the hardcover book is available for purchase directly from Melisss'a website, or get a paperback version of 50 Best Plants on the Planet: The Most Nutrient-Dense Fruits and Vegetables, in 150 Delicious Recipes
from Amazon. And the simple recipe for the Double Kale Caesar follows on the next page…
Double Kale Caesar
Per each serving of the salad, mix together:
A healthy handful of I heart baby kale

2-3 leaves of Tuscan kale, cut into a chiffonade*

A full tablespoon, or more to taste, of Caesar Dressing

A handful of freshly made croutons

Several shavings of Parmesan

Freshly ground black pepper
* Roll up the leaves and slice into thin ribbons. You can remove the center stems if you choose.
Note- A sprinkling of toasted pepitas would be a nice addition, too, for another textural note.