Beignets- for Mardi Gras or Anytime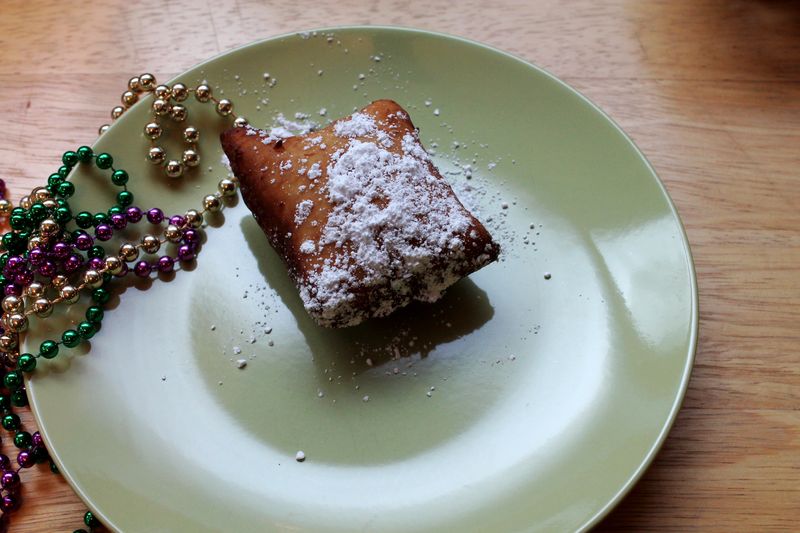 There are few treats more closely associated with New Orleans than beignets. So when my friend, Philip Dobard, mentioned a couple of weeks back, that his lovely wife, Tracey, was working on perfecting her recipe for beignets– and because it's Mardi Gras time and there is an old fashioned tradition of families taking home made fried dough of some sort, whether cake doughnuts, beignets or calás – wrapped in tea towels to keep them warm- along the parade routes on Mardi Gras morning, I e-mailed her immediately and asked if I could come watch her make a batch.
And believe me, I was well rewarded. Not only were Tracey, and Philip's mom, Olive, a delight to visit and reminisce with (over the beignets and cups of dark coffee) about our beloved home town, but these were the best beignets I have ever had. Tracey loves doughs (a woman after my own heart), and loves to tinker with recipes until she's completely satisfied with them.
She began making beignets when she and Philip were newlyweds and bought their first house on Laurel Street in uptown New Orleans.
"I had an old Chambers stove then, with those great chrome details. Those things were heavy- built like a bank vault. They had a griddle- with a broiler underneath, 3 burners, and a well. They cooked on retained heat. You could put a pot of red beans on in the morning, heat it up, and then turn it off. They'd slow cook all day."
Tracey includes lemon zest and mace in her recipe, which she thinks originally came from the The Times Picayune Cookbook. Her spicy additions are hugely tasty and fragrant. She also uses cake flour, making for a lighter, more finely textured dough than those you'll find at the French Quarter's Cafe du Monde, and in true New Orleans fashion, she uses evaporated milk in her dough which also makes for a slightly richer dough.
I'm sure you will love these, anytime of year.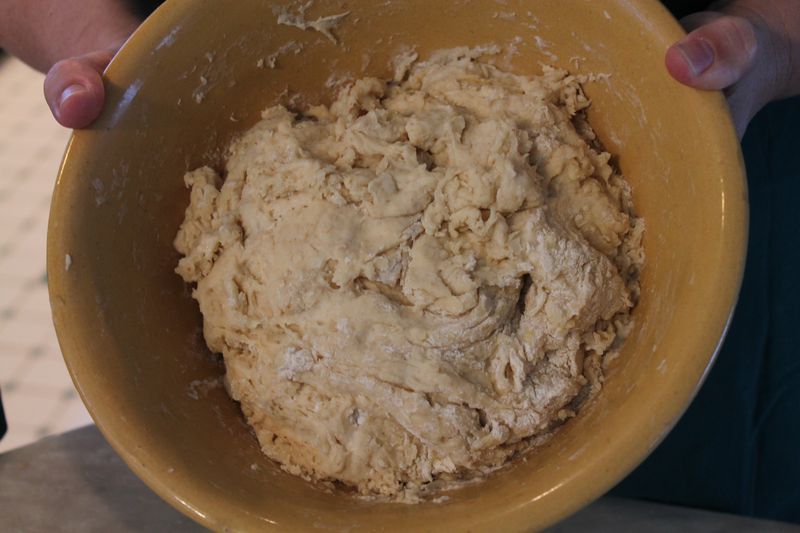 Beignets
Tracey emphasized repeatedly that the dough must be handled gently, in order to prevent the gluten from developing,which would result in a tough finished product. And  btw, you'll notice the recipe uses both baking powder and yeast. I found it odd, a couple of years back, when my mother's cousin used self-rising flour, as well as yeast, in his recipe for calás, and I changed it when I posted it here. I mentioned that to Tracey. "I know why he does that", she responded,"I think the baking soda give the dough its first little bump when rising." So there you go… what do I know. I'll have to revisit the calá recipe.
1 cup boiling water

1/2 cup sugar

1/4 cup solid shortening

1 teaspoon salt

1 cup evaporated milk

2 teaspoons vanilla

2 eggs, well beaten

1 package yeast

1/2 cup warm water

7 1/2 cups sifted cake flour (more may be needed to bring the dough together, if so, add in small amounts)

4 teaspoons baking powder

1 teaspoon mace

Zest of one lemon

Canola oil

Powdered sugar
1. Pour the water over shortening, sugar and salt. Add the milk and vanilla, and let the mixture stand until warm. 
 2. Dissolve the yeast in warm water, let it stand for 5 minutes until it begins to froth. Add to the milk mixture. Then add the eggs.  
3. Whisk the baking powder and mace into the flour, then add the lemon zest. Gently stir 4 cups of the flour into the wet mixture. Traci did this very gently, barely mixing. Add the rest of the flour, in several small additions, until the dough comes together in a sticky, soft ball. Do not over stir. It should be a lumpy, messy ball. Cover the bowl with a moistened towel and allow to rest for about 20-30 minutes.
4. Knead the dough gently about 4 to 5 turns to distribute the ingredients.  Roll dough to about 3/8 inch  and pat it into a rectangle. Cut 2 inch diamond shapes by cutting diagonally across dough from one side and then the other making a grid of diamond shapes.  
5. Fry 2 or 3 at a time in hot oil, enough to allow the beignet to float just free of the bottom of pan. They will brown quickly. Sprinkle with powdered sugar and eat while warm.  
Yield: @ 5 dozen