Winter Fruit Gratin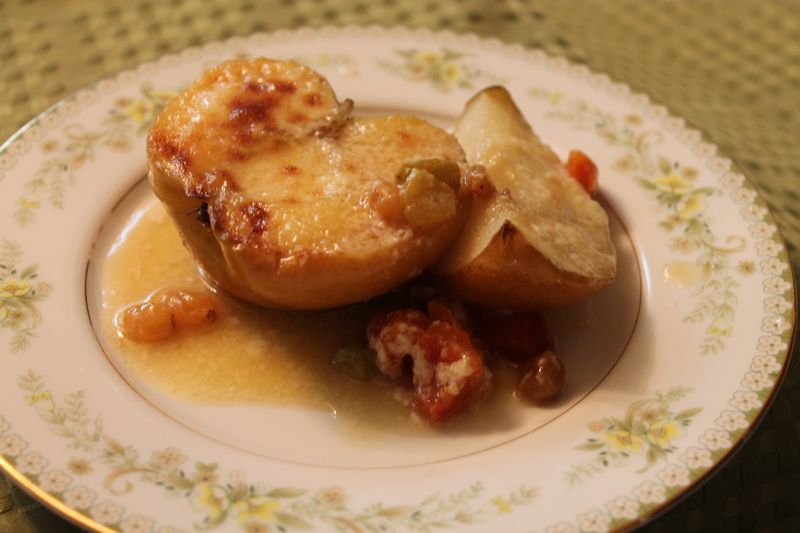 Winter Fruit Gratin
I'm a big fan of rich decadent desserts, especially cakes and tarts. But as my clientele, my family and I have grown older, I have come to see the wisdom – and sometimes necessity of a lighter dessert, especially after a big holiday meal. So for the past couple of years, I have sought out interesting non-pastry ways with fruit to end the meal.
For my family's Christmas dinner this year, I hit upon a delicious fruit gratin. Normally, I would make a zabaglione sauce to brulée for a fruit gratin, but again, with age, I appreciate scaling down the work load, too. So this fruit gratin which uses mascarpone (always wonderful with roasted pears) rather than a sauce that needs to be whipped up at the last minute, had another advantage. And on top of that, I had recently received a couple of sample bottles of an extraordinarily delicious Caramel Liquer from Lovoka. The liquer was great for sipping on its own (which we did with the fruit gratin), but I felt it also cried out for a luscious pear or apple dessert. Yes, I was happy to come across this Winter Fruit Gratin recipe in Gourmet, which I easily adapted.
Everyone's mouth watered as the aroma of the apples and pears cooked in the Lovoka Caramel Liquer wafted over them as I pulled the dish from the oven. I'm certain you will enjoy this dish as much as we all did.
Winter Fruit Gratin with Lovoka Caramel Liquer
6 Apples (I used Fujis, but Galas or Golden Delicious would be fine, too)

6 Pears  (I used Anjous, but again, others would work)

2 tablespoons unsalted butter

1/2 cup Lovoka Caramel Liquer

24 dried apricots cut in half (I use California Blenheims available at Trader Joe's)

1/2 cup golden raisins

4 tablespoons brown sugar, packed

A few strips of lemon zest

1 cup Mascarpone

2 tablespoons powdered sugar
Preheat oven to 400°F.
Halve the apples lengthwise, leaving the stem intact, and core the halves with a melon baller. Quarter the pears, coring as with the apples, then trim the root end.

Melt the butter in a large shallow baking or gratin dish in the oven.

Stir in the Lovoka Caramel Liquer, and 2 tablespoons of the brown sugar, then add the apples, pears, apricots, raisins and zest and turn gently to coat. 

Cover the dish tightly with foil and bake in the middle of the oven, gently turning the fruit and basting occasionally with the juices, until the apples and pears are tender but not falling apart, about 1 hour. Remove the dish from the oven. This step can be done up to 2 hours ahead. Allow it to cool uncovered, then reheat it before adding the Mascarpone and broiling.

Spoon 1/3 cup of the baking juices from the dish into a bowl and stir in the Mascarpone and the remaining 2 tablespoons brown sugar. Rearrange the fruit, cut sides up, in the baking dish to form an even layer, if necessary, and spoon Mascarpone mixture over fruit. Put powdered sugar in a fine mesh sieve and sift it over the fruit. Broil the gratin under a preheated broiler 3 inches from the heat until the powdered sugar is caramelized, about 1 to 2 minutes.
Yield: 12 servings 
Bon Appetit!