Another Stop on the Way to Wine Country- Bocanova and the Very Best Strawberry Scones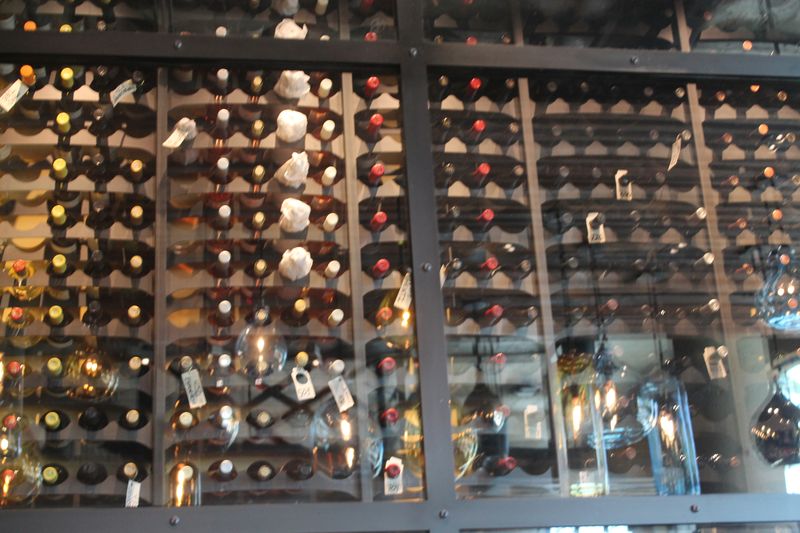 Boca Nova's Wine Room
"If you do decide to stay over, we could check out the Jack London Square farmers' market Sunday morning, with brunch at Bocanova" my longtime friend, David e-mailed. Sounded like a good idea to me. David has been sommelier and wine buyer at Bocanova for the past couple of years, where he's stocked their cellar with a wide variety of not so obvious wine choices from around the world. 
It was a wonderful afternoon, on a picture perfect day, sharing brunch with David and Susan, and my long time friend, former dance teacher, and amazing octagenarian, Frank Shawl (Susan and I, along with countless others, are alumni of the Shawl Anderson Dance Studio in Oakland), on the wide umbrella-covered patio of the restaurant situated on Jack London Square across the bay from San Francisco. We had a great view of the boats parked in the Marina, and not quite a hundred feet down the Square, the Sunday farmers' market.
So often, restaurants in marinas with great views, rely more on their settings than their food- not so at Bocanova (which literally translates to "new mouth" in Portuguese), Chef Rick Hackett's tribute to new world ingredients and cuisine. Hackett, like other chefs working in some of the finest French and Cal-Med restaurants (i.e. Roy Choi in L.A.) began to take note of the "fantastic" dishes his Latin American kitchen staff were cooking for their staff meal, and "realized that what we were eating in the kitchen was every bit as good as what we were preparing for our guests." This revelation led to a restaurant concept celebrating the contribution of Latino cooks to our culinary tapestry, while also staying true to California cuisine's commitment of utilizing local ingredients.
We dined on a Shrimp Ceviche with Avocados and Heirloom Cherry Tomatoes- and I might add, a real kick from a sprinkling of Habeñero peppers. David and Frank both ordered the Burrito "Mojado", with scrambled eggs, lamb chorizo, potatoes and avocados, and I ended my meal with  the best strawberry scones I have ever tasted, served with house made strawberry preserves.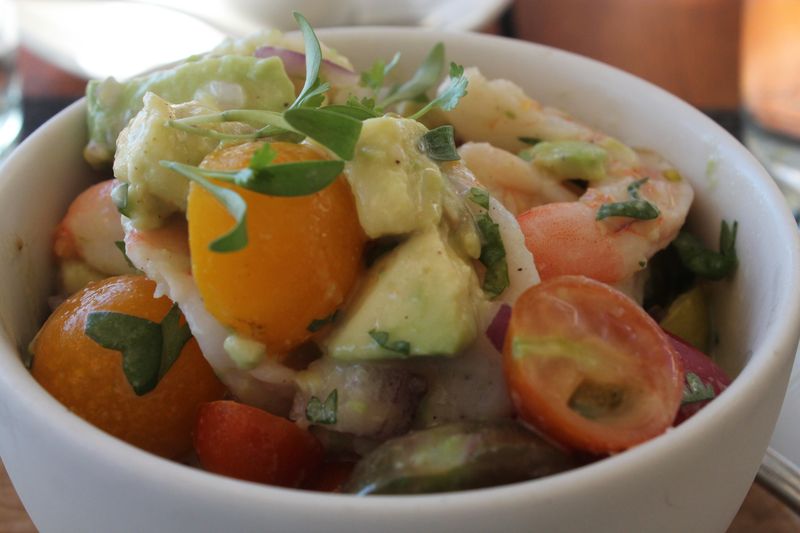 Shrimp Ceviche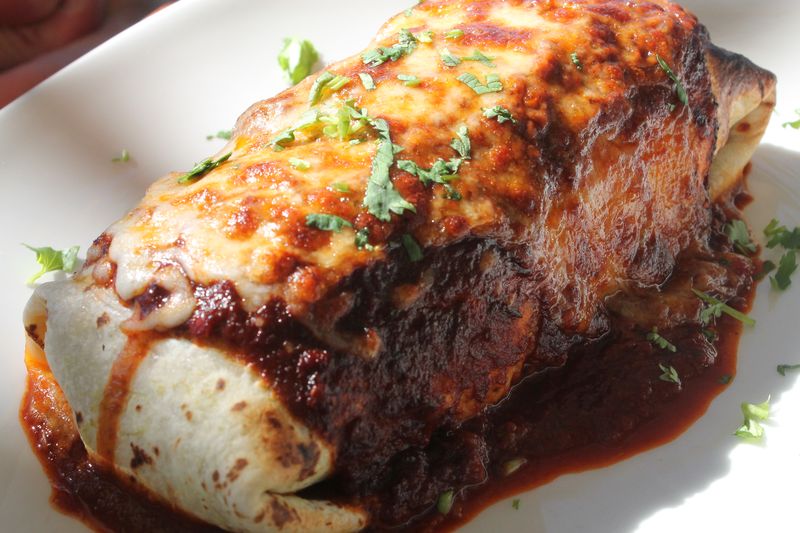 Burrito "Mojado"
Luckily for us, Bocanova has decided to share pastry chef Paul Conte's outstanding scone recipe (be sure to click through to the next page).
After a stroll through the farmers market, and a brief sight-seeing tour of the lakefront area of Oakland, it was time to say my goodbyes, and get on the road to one of my favorite places in the world, Sonoma County.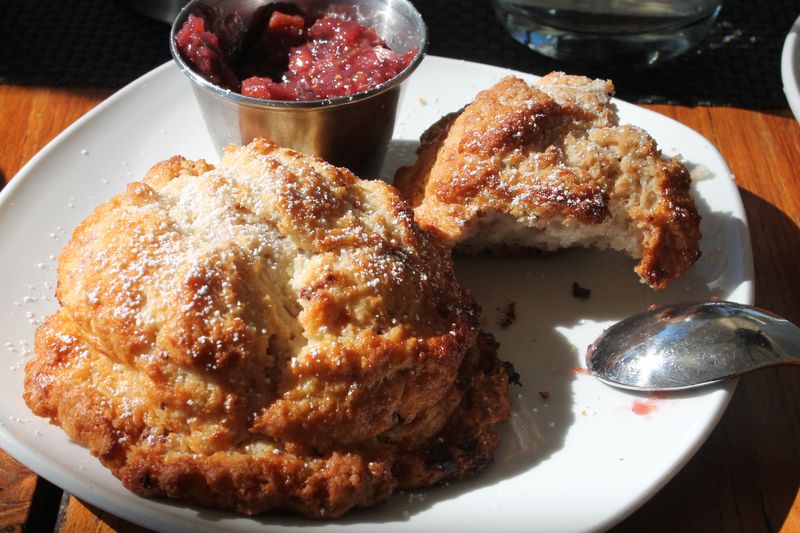 Strawberry Scones
Paul Conte's Strawberry Scones
Pulse together in the large bowl of a food processor until thoroughly mixed:
2 1/3 cup all purpose flour

1 cup cake flour

1/2 cup sugar

3 tablespoons baking powder

1/2 teaspoon salt

The scraped out seeds of 1 vanilla bean
Add to the processor bowl:
6 ounces very cold butter, diced

@ 8 -10 strawberries, halved
Pulse until the butter is about the size of tiny peas, being careful not to over process.
Pour the mixture into a large bowl and add:
Stir with your hands and/or a rubber spatula until the dough just comes together.
*A bit more or less cream maybe needed depending on how dry your flour is
Using a 2 ounce scoop, portion the dough on to a parchment lined baking sheet. 
Brush the tops of the scones with heavy cream and sugar.
Bake at 350 degrees in a convection oven. If you are baking in a conventional oven, you may adjust the temperature up slightly to @365- 375 degrees.
Yield: @ 24 scones
Paul freezes the scones and bakes them as needed.
Enjoy!