Lunch at Cochon Butcher-Again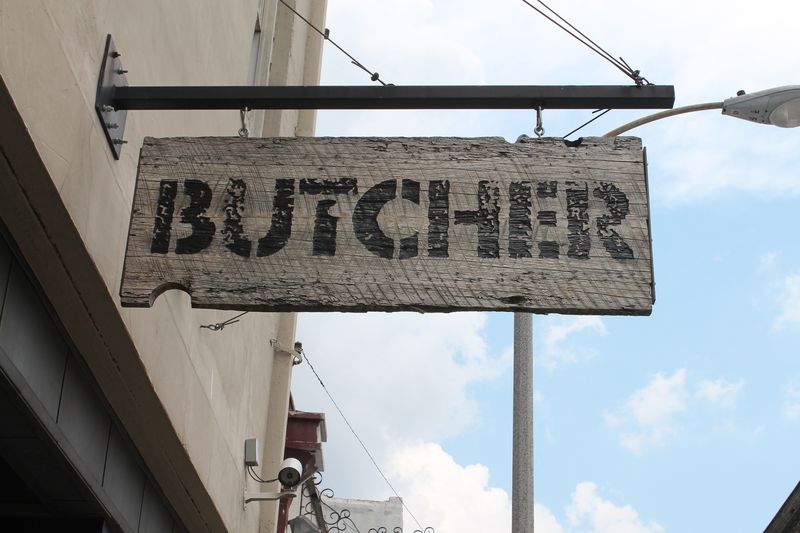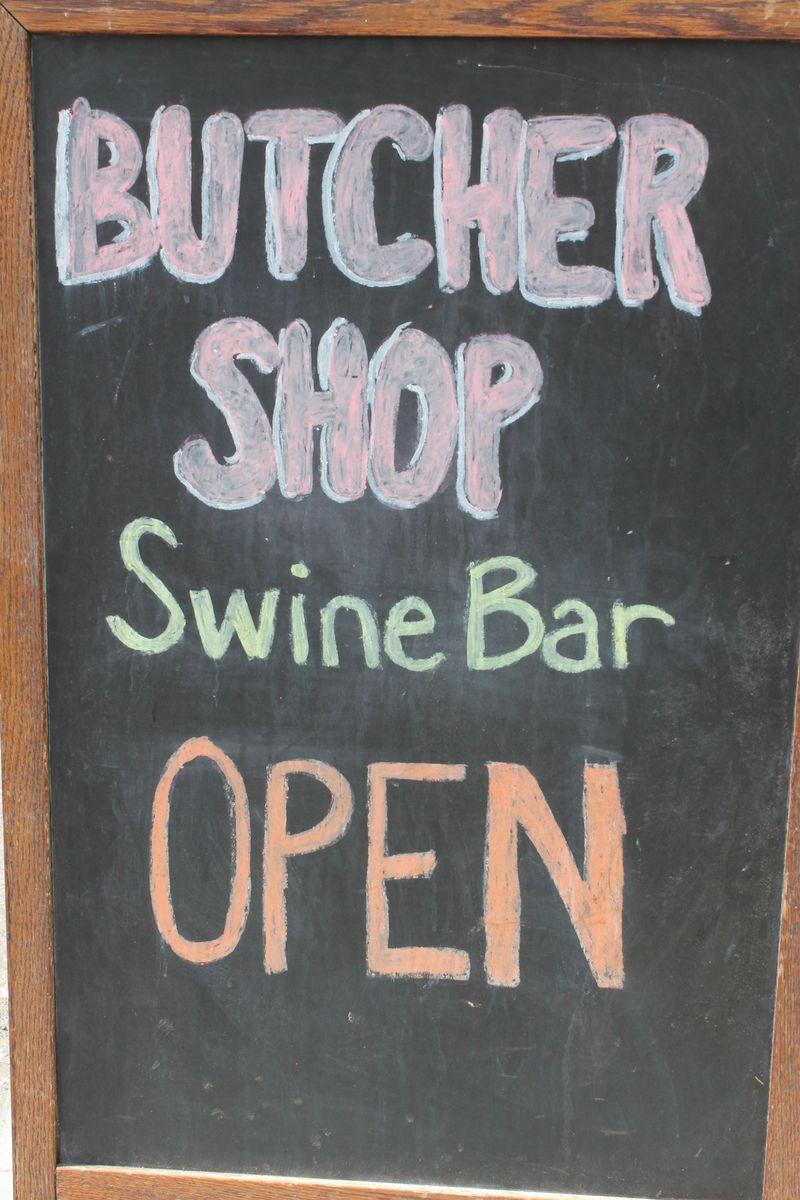 It seems that visits to New Orleans nowadays must include a trip to Cochon Butcher. 
I've been stopping in for lunch at Cochon Butcher since I was first introduced to the fabulous little deli/charcuterie- or as they call it Swine Bar- tucked away behind its grownup big brother of a restaurant Cochon, by my friend, Deborah Cotton during a visit in 2009, and every trip since then has included a stop by there.
You know you're not in So Cal anymore when the entire menu celebrates meat- and particularly pig meat, all of the wines are Spanish (not a Californian in the bunch and I can always get a great Rosé there), and the beers are mostly brewed within 50 miles of NOLA.
I had the excellent Bahn Mi on my first trip, and Deb and I shared some of their luscious caramelized onion dip to go with the home made potato chips that accompany most of the sandwiches. The Bahn Mi was so good, that I had to have it again when I was there last summer at IFBC NOLA. After the conference tied up on Sunday around noon, new blogger friends Lynn Stallworth of Another Marvelous Meal, Dani Mardayat of Romancing the Scone and I headed over for a hearty, swiney lunch. No surprise- we ran into fellow IFBC'ers Christen Mills Leatherman and her hubby, James Leatherman of Cooking with Christen there. Yep, Cochon Butcher is just that good. 
Lynn had a mighty fine looking Charcuterie plate that day, and Dani had the Pork Belly Sandwich. I, being a creature of habit- well, that, and the fact that it's just so damn good, had the Bahn Mi again.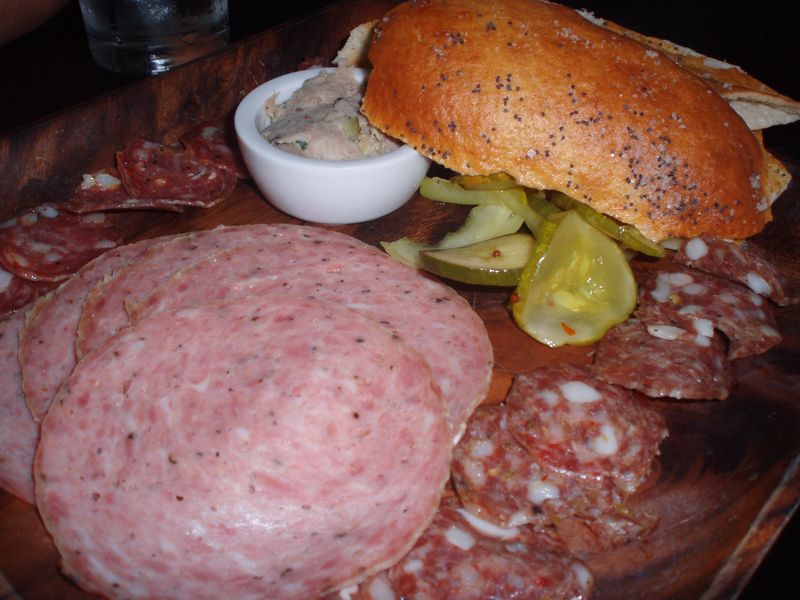 Charcuterie Plate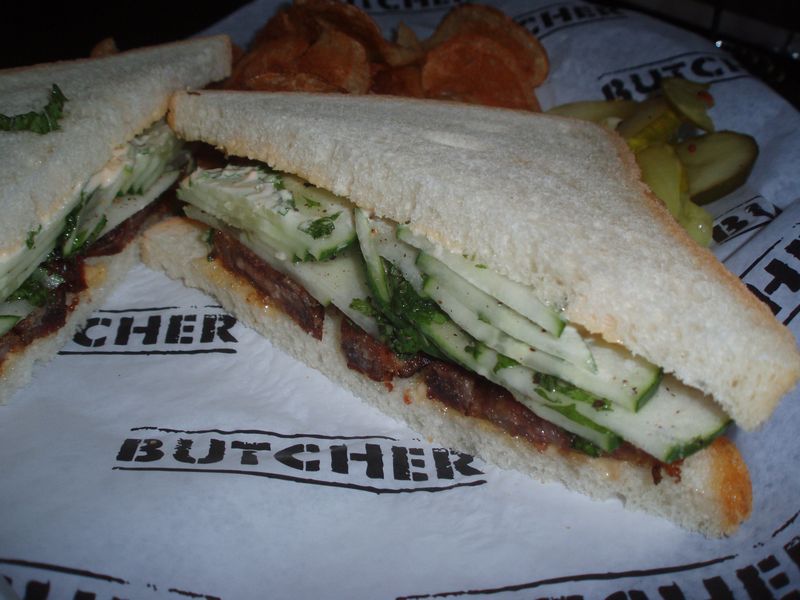 Pork Belly Sandwich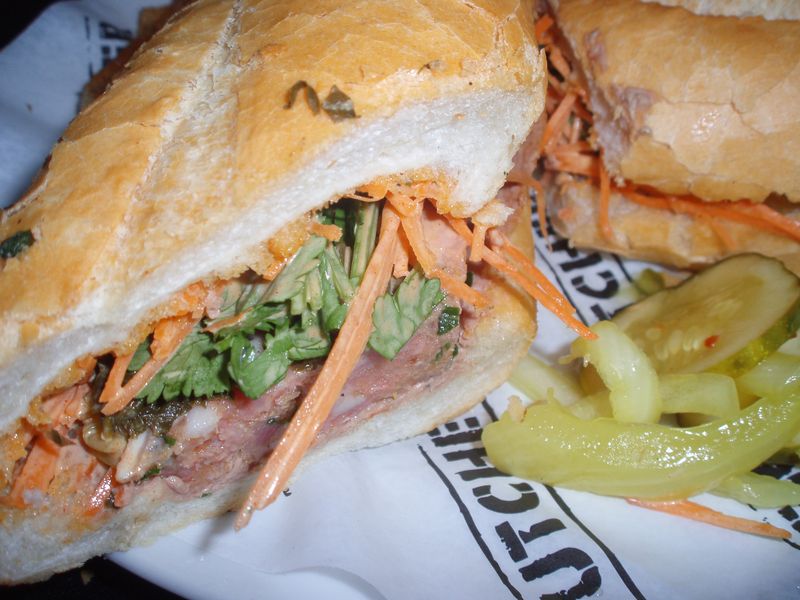 Bahn Mi
Fortunately-or unfortunately- depending on how you look at it, the Bahn Mi wasn't on the menu on my latest visit, so I had to give something else a try. This time it was the Cubano sandwich, and a few days later the Pulled Pork Sandwich- mostly because of the great looking Potato Salad that came with it.  Oh- and they do serve meats other than pork. I stopped by on the way to the airport and picked up a Roast Beef Sandwich with Arugula and lots of Horseradish Mayonnaise to fortify myself for the flight home.
While I waited for my order, I couldn't help but notice all those people dining on the Pancetta Mac and Cheese. Sigh… next time.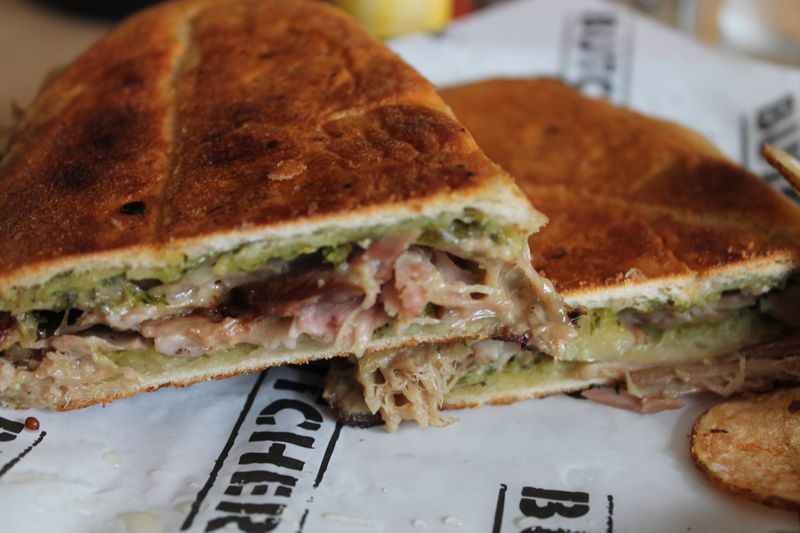 Cubano sandwich