Oysters Rockefeller, Escargots and Barefoot Wine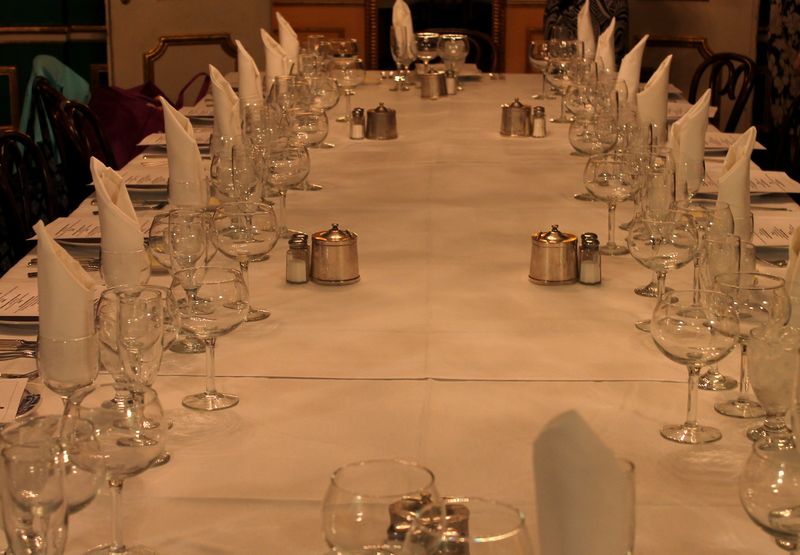 I had the pleasure, while in New Orleans for the New Orleans Wine and Food Experience, of dining at Antoine's, the nation's oldest continuously owned and operated restaurant in the country (run by the Alciatore family since 1840), as the guest of Barefoot Wine. 
Antoine's is quite large with 14 different dining rooms. We dined in the Rex Room, named for New Orleans most exclusive Mardi Gras Krewe, and where portraits of each King of Rex (who reigns over Mardi Gras Day) are displayed, along with other Krewe artifacts. My uncle told me the next day, that he was pretty sure Antoine's was the restaurant where my father worked as a waiter during his college days, so I had a lovely personal connection to the eatery, as well. 
Another interesting tidbit, Beth Ann of Cats in the Kitchen, who I met at Camp Blogaway a few weeks earlier, joined me for the luncheon. She e-mailed me later to say that after lunch, she sat at the bar to enjoy a couple of Sidecars, and chat with the bartender who regaled her with stories of families who have dined for generations at the restaurant- standing weekly reservations, same server, year after year. The reservation for one family was even willed to the oldest son's family upon the father's death, causing much anger for his sister who wanted the reservation.
"He wouldn't tell me the family name no matter how much I begged" Beth Ann told me, "and said that the sister was accommodated by having a reservation on the same day and time, but in a separate dining room than her brother. He swore up and down that it was the truth. I tend to believe that is one of those half-true tour guide stories, though." I don't know, this being New Orleans, I believe it quite possibly is true.
Our luncheon opened with Oysters Rockefeller, the classic dish created at Antoine's in 1889. The dish has been incorrectly copied (or perhaps I should say, reinterpreted) by many across the country. Pretty much everywhere else, the main ingredient of the sauce the oysters are baked is spinach, but not at Antoine's. The exact recipe for the sauce is kept secret by the family, but is said to contain parsley, celery and scallions, as well as an anise flavored liquer, according to many who have tried to analyze it. Tom Fitzmorris, author of Hungry Town (who was, btw, in attendance at this luncheon), offers a recipe for it in his book, which he reports, the fifth generation proprietor of Antoine's calls "embarrassingly close" to the real thing. I've included it at the end of this post.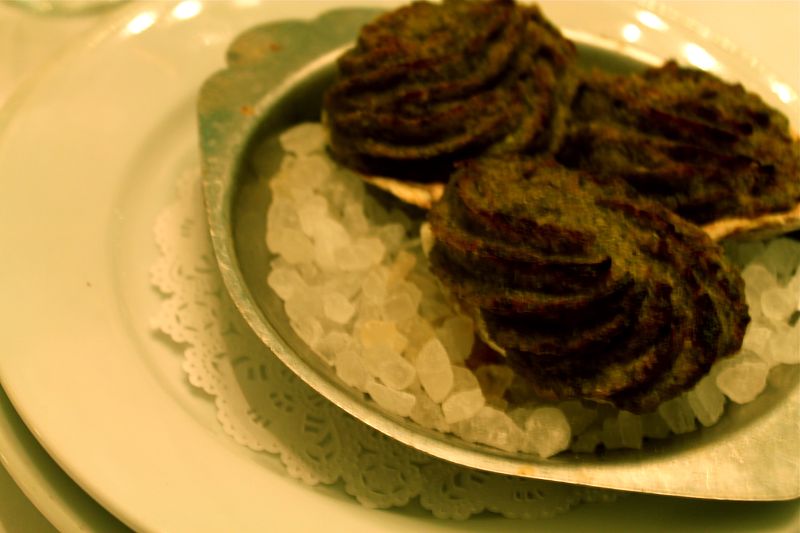 The oysters were followed by escargots. Okay, oysters I eat on rare occasions, but snails-never. But hey-I could hardly insult my hosts by not eating them, right? And you know what, those little things, bathed in a good amount of garlic, wine and cheese, were downright delicious, and I ate every last one of them. The main course was Filet of Beef with Sauce Vin de Marchand, accompanied by Creamed Spinach, with Peach Melba for dessert-a menu (along with decor) stuck in the 1950's, but still worth revisiting. In fact, ruminating on it later made me wish that more young chefs would conquer the flavor profiles of traditional dishes before setting out to push the envelope- but I digress.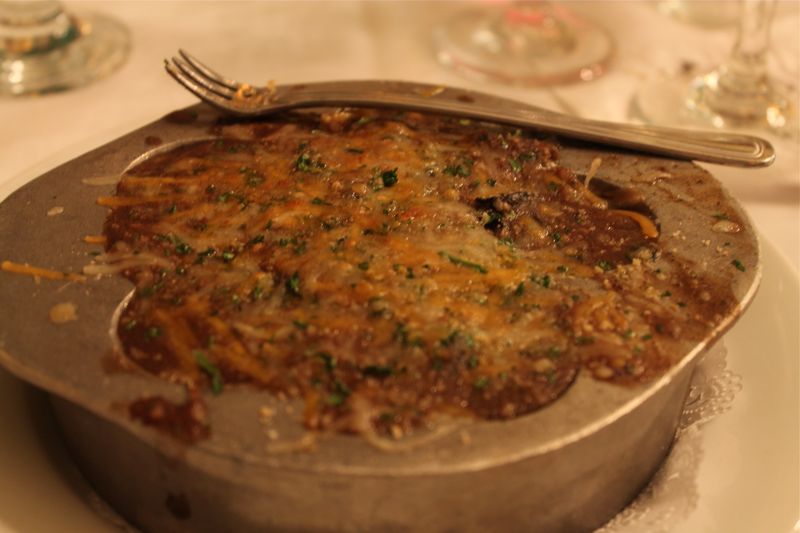 Each course was accompanied by a Barefoot Wine, starting with a Brut Cuvee, served with the oysters, straight on through a Bubbly Pink Moscato for Ms. Melba. Your LA2LAChef, who hasn't tried a Barefoot wine since Trader Joe's stopped carrying Barefoot Bubbly a few years back, was quite impressed with the wines, most notably the Pinot Noir which was paired with the Escargots.
Jen Wall, Barefoot's winemaker, started with a bit of the winery's history- originally named Barefoot as an homage to how wines were first made, but with new owners, Barefoot became more a reference to the casual lifestyle, and the fruit forward and food friendly wines they make to suit that lifestyle.
I asked Jen, just why it is that of all the varietals I drink, Pinot Noir seems to vary the most from bottle to bottle. I never seem to be able to get a bead on just exactly what it should taste like.
"It depends on what it's blended with. In California, 75.1% of Pinot Noir must contain the Pinot grape. Barefoot's Pinot is 77% Pinot Noir, and blended with Grenache and Tempranillo, grapes chosen to preserve the varietal characteristics of Pinot Noir." Good to know.
By the way, Barefoot spends nothing on traditional advertising, but rather does all its marketing through events (for which I am thankful, benefitting as I did from that policy), primarily for non-profits throughout the country. They are big supporters of the Surfrider Foundation, and other coastal cleanup and preservation organizations. They are partnering with several local Louisiana org's to sponsor a beach clean up at Elmer's Isle, this Sauturday, June 2nd, from 8 A.M. to noon (with a tasty celebration of all things Barefoot afterwards at the Bridgeside Marina,for lucky and good hearted participants) if you happen to be in southern Louisiana. Meet at the Barefoot tent at Grand Isle, LA, Contact is Blaine Rueber, brueber@hunterpr.com. Enjoy!
Oysters Rockefeller Recipe follows…