Good Luck for the New Year Italian Style-Cotechino and Warm Lentil Salad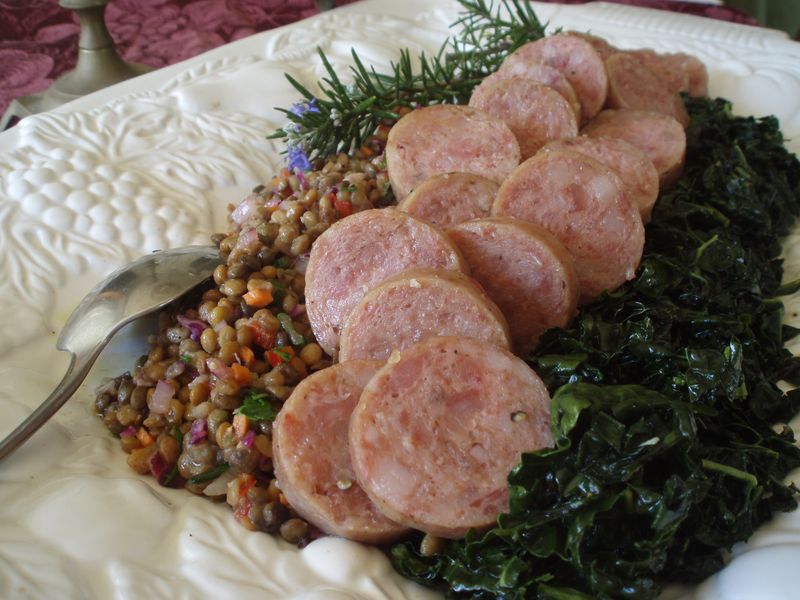 Cotechino and Lentils with Sautéed Tuscan Kale
Okay, I'm a Southerner by birth and in much of my food tastes, but to tell the truth, I have never much cared for black eyed peas, which are the traditional Southern dish, along with greens (greens for money, and the legumes for good luck), eaten for luck at New Year's.
So I was happy to learn from Creminelli Fine Meats that in regions of Italy, Lentils and Cotechino, a mouth-watering sausage, originating in the Modena region and spiced with clove and garlic, is the New Year's good luck tradition. I broke out a favorite recipe of mine, Lentil Salad, and warmed it up to serve with the Cotechino. In keeping with tradition, I've sautéed some Tuscan kale with garlic to add to the platter.
And lucky for you, Creminelli has generously offered to send a New Year's gift of Cotechino directly to one of you so that you can welcome 2012 properly, too. 
Just leave a comment here at this post, and then retweet the post (and send me a note or comment with tweet URL) for a second entry. But hurry, this contest ends soon, on the 29th at Midnight, PST. BTW, this is my very first contest, so please respond generously!
Bon Appetit and Good Luck!
Cotechino and Warm Lentil Salad
1 10 ounce Cotechino
1 17.6 ounce (500 gram) package of steamed lentils (a Melissa's product available in fine groceries)

 1 small red onion, @ 1/2- 2/3 cup, finely diced

 1/4 cup carrots, finely diced

 4 scallions, sliced

 2 tablespoons red bell pepper, finely diced

2 tablespoons celery, finely diced

2 tablespoons red cabbage, grated

3 large cloves of garlic, coarsely chopped, then mashed to a paste with coarse salt

1/2 cup extra virgin olive oil 

1/4 cup fresh squeezed lemon juice

2 tablespoons flat leaf parsley, chopped

A healthy amount of freshly ground black pepper, and coarse salt to taste.
  For the Cotechino:
Place the plastic pouch in boiling water for 20 minutes.

 Remove from the water and let cool for 3 minutes.

Cut open the pouch and remove the cotechino.
 Score the cotechino and remove the casing. Slice into medallions and serve.
For the Lentil Salad:
 Mix together the steamed lentils, red onion, carrots, bell pepper, scallions, celery and red cabbage in a large bowl. If you like, this may be done ahead a day ahead to allow the flavors to marry, then bring to room temperature again to mix in the dressing.

Heat the olive oil, lemon juice and and mashed garlic in a large sauté pan until it begins to simmer, then add the lentil salad to the dressing, and toss. Stir in the chopped parsley.
Serve the lentils, cotechino (and sautéed Tuscan kale, if desired) together on a large platter.
Yield:  @ 5-6 servings

P.S. Big thanks again, to both Creminelli's and Melissa's who  generously donated products to our summer Rosé Fest, too.