Rosé Fest 2011- Part 1 Hurray for Pink Wines!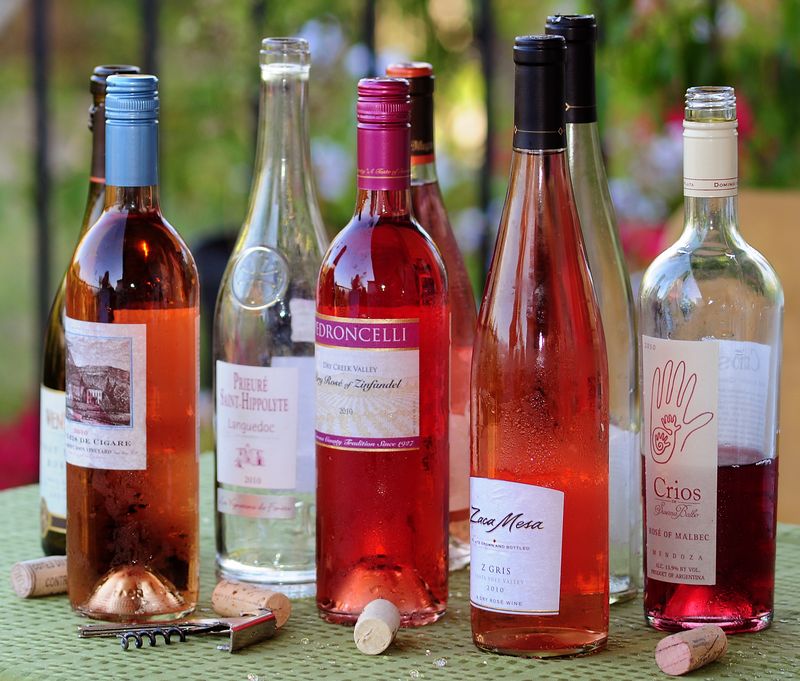 If you've been reading my Santa Barbara series, you've no doubt picked up by now that I have a thing for Rosé wines. I've been drinking then for almost as long as I've been drinking wine (don't ask!). And no, I wasn't introduced to them by Lancer's or Mateus-for those of you who can remember that far back, or White Zinfandel-if you happen to be a little younger. My first encounter with a pink wine was during a waitressing stint at a charming Provençal restaurant in New York City when I was in my twenties. (BTW, I was first introduced to Chevre there, too-lucky me-it was one of those first food encounters that you never forget.) But back to the wine-it was a Tavel de Triquevedel, the name alone was enough to captivate me, and then there was the enchanting dusky rose bordering on fuschia tone. Later that year, I wandered into a wine shop uptown and asked if they sold any Rosé wines. The shopkeeper told me they didn't carry those, and said something to the effect that they weren't worth drinking. "What about a Tavel", I asked. He conceded that it was the only one worth drinking, but they still didn't carry them. I can categorically say now that he was wrong on both accounts. They are absolutely worth drinking, and they are many (and more and more all the time).
It's an attitude I've encountered a lot over the years. People have looked at me like I was completely tasteless or nuts when I told them I liked Rosés. While they have gained wider acceptance, I even, just a couple of years back, had a waiter at a restaurant literally look down his nose at me when I asked if they had any Rosé wines on the menu. " Uh-they're passé," he sneered. Wrong again-some things are timeless.
Several years back, I had a friend in my social network-when that term was completely new-suggest we throw a wine tasting party at my home. He wanted every one to bring a wine in a paper bag, and we would do a blind tasting, trying to figure out what we were drinking. It just wasn't my entertaining style, so I came back with the idea of the Rosé tasting party, and an annual (mostly) tradition was born. The first one was held in 2000. In the past 3 years or so, the tradition got lost due to economic downturns and attrition in my wine and foodie group, but this year, I am happy to say, the tradition was reborn, and a very satisfied group of us enjoyed a healthy selection of pink wines, along with the rustic, summery foods they were made to accompany.
Over the next few posts, I will be sharing pics, recipes and thoughts from our Rosé Fest. I hope you will follow us on our adventure.
Huge thanks to all the wonderful wineries who shared samples of their wines with us for the tasting. They were greatly enjoyed. 
BTW, it always amazes me when people say they don't like Rosés. One of the things I love about them is that there is something for everyone. As you can see, they are from all over the world, and made from all different varietals.
  2009 Pinot Noir Vin Gris   El Jabali Vineyard  Santa Rita Hills

M. Chapoutier Belleruche 
  2010 Rosé  Côtes du Rhône
Les Vignerons de Fontès "Prieure Saint-Hippolyte"
  2010 Rosé Languedoc Syrah 70% Grenache 30%
          
Wente Vineyards 
  2010 Pinot Noir Rosé Arroyo Seco  Monterey County
  2010 Vin Gris de Cigare Grenache 71%  Rousanne 16% Grenache Blanc 11% Mourvedre 2%
  2010 Z Gris 96% Grenache  4% Mourvedre  Santa Ynez Valley
  2010 Grenache Rosé  Purisima Mountain Vineyard   Santa Ynez Valley
  2010 Rosé  Garnacha 60% Viura 30%  Tempranillo 10% Montes Obarenas Rioja Alta
  2010 Rosé Malbec
  2010 Dry Rosé of Zinfandel Dry Creek Valley  Sonoma County
A Bon Santé