Fiesta Olive Cheesy Spoon Bread – a New Take on a Comfort Food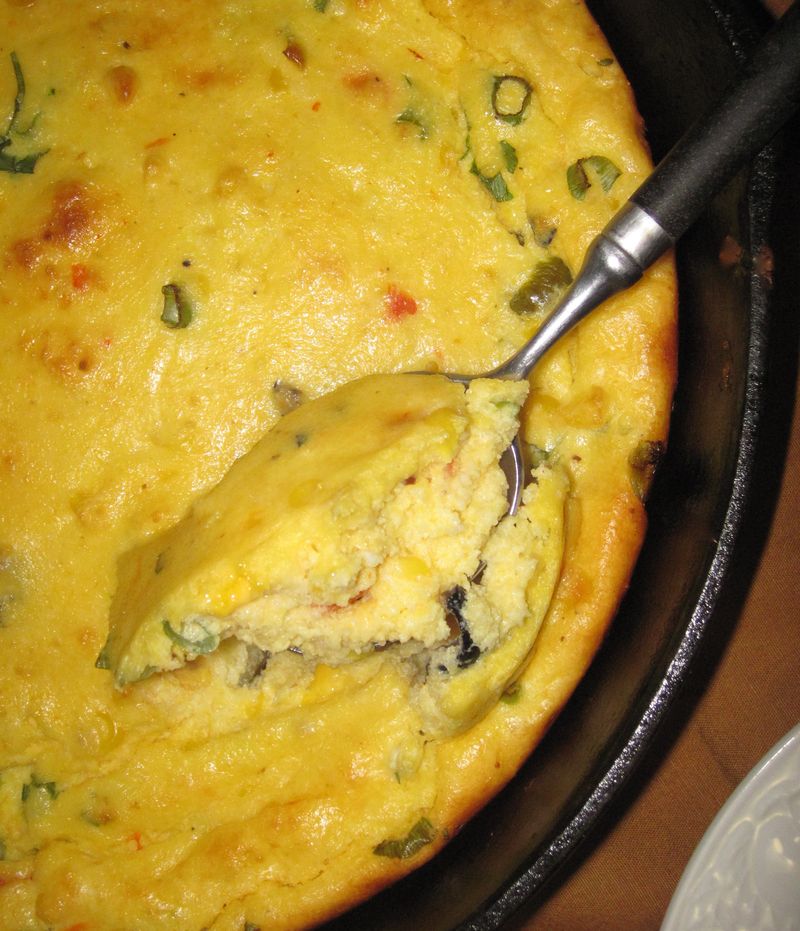 Olive Cheese Spoonbread
My family is going through a difficult time just about right now. So when one of my brothers opted to hold a small low key gathering for his birthday this weekend, I decided we needed some comfort food (and yes, it's always my instinct to feed people in difficult times- as veteran New Orleans chef, Leah Chase says, "We believe that when we give you food, we are doing something special for you."). So I was thinking cornbread, and since I have a stash of olives from my Camp Blogaway sponsors, Lindsay Olives, thinking that staple from a 60's childhood, tamale pie. It's not often I see tamale pie any more in trendy So Cal-and really, it's not that I'm nostalgic for it, but the idea of olives and a comforting, homey corn dough, with a healthy amount of Cheddar/Jack cheese thrown in, kept drifting around the back of my brain. And so this Fiesta Spoon Bread-a sort of hybrid corn pudding/baked polenta (hey- puddings and polenta are comforting) was born. So grab your spoons.
Fiesta Olive Cheesy Spoon Bread
2 1/2 cup milk

1/2 cup sour cream

1 cup cornmeal

5 ounces Colby/Jack cheese

3/4 cup sauteed corn kernels

1 cup olives (I used Lindsay Black Olives and Green Naturals)

1/4 cup roasted red peppers

2-3 scallions, sliced


1-2 tablespoons butter

5 eggs, at warm room temperature

@ 1/2 teaspoon salt

                                                                                                              
 Heat milk in a large saucepan until it's at a low boil. Whisk in the cornmeal, pouring it in at a steady slow stream. Continue whisking it until it is smooth has thickened.

Remove from the heat and stir in the corn, cheese, olives, peppers, scallions, butter and salt. Cover with plastic wrap while beating eggs.

Beat eggs until fluffy, and doubled in size.

Fold the eggs into the corn mixture.

Pour into a well buttered cast iron skillet, and place in 375 degree oven. Bake for 35- 40 minutes. The spoonbread will be slightly puffed, and a knife point or toothpick inserted in the center should come out dry.
Yield : 6-8 servings
Save
Save