Fish Friday- Blackened Salmon with Caesar Salad
Last weekend and the early part of this week's schedule was very full.There was an extremely overgrown garden to clear, a birthday cake to make with the subsequent big birthday party to attend. Then two afternoons of accompanying a client in from New York, as she caught up with a couple of hot new connections in the food world (including a tour to the fabulous Rosenthal Malibu Estate– there are some advantages to living in southern California, after all). By the time I settled back in midweek there was a lot of catching up to do, and I just wanted something quick and easy for a late lunch. Quick and easy, but still exciting to expectant taste buds, especially since I happened to have been gifted, in my wanderings, with a couple bottles of Rosenthal's Chardonnay that needed sampling.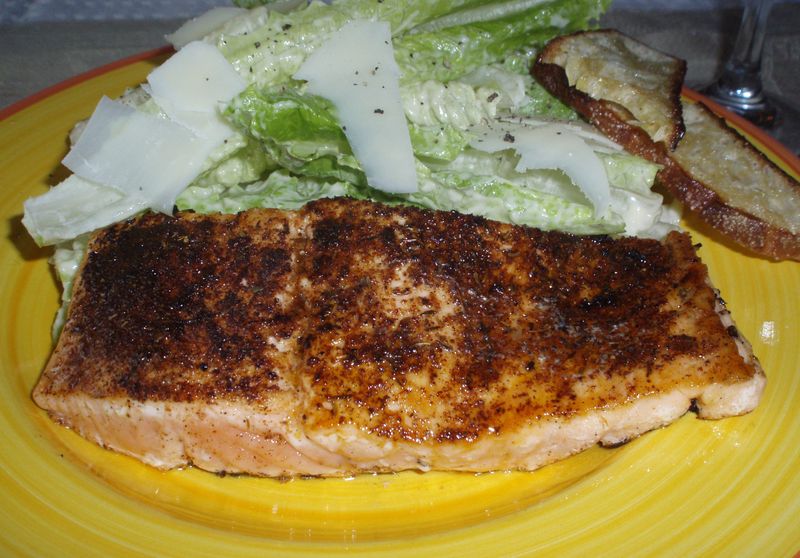 The answer- Blackened Salmon with Caesar Salad, the perfect LA to L.A. meal, with the wonderfully crisp and complex Rosenthal Surfrider 2009 Central Coast Chardonnay as an excellent accompaniment.
Blackened fish- yes, I've heard the joke thousands of times- Paul Prudhomme burned a piece of fish one day, and voilá- a legendary new dish was born through a happy accident. Okay, I've never had the chance to chat with Prudhomme about this face to face, but I really doubt it. As I see it, it's the very embodiment of Prudhomme's philosophical style of building in layers of spice, and bottom of the pot flavors.
Blackened Redfish, introduced to America in the groundbreaking cookbook, Chef Paul Prudhomme's Louisiana Kitchen
in the 1980's, was the original recipe that swept across the restaurant world, and led to the endangered status of the poor redfish. Since then we've seen all kinds of things blackened- steak, prime rib, yellow tail, ahi, chicken, but salmon, IMHO, happens to be one of the best things one can blacken. Because salmon is a fatty fish, it can be seared (on a well seasoned cast iron pan) at the very high temperature blackening requires without added butter, and because it has a strong flavor it stands up excellently to the spice.
Caesar Salad happens to be another legendary dish-created in haste by Chef Caesar Cardini when an unexpected rush of guests arrived at his restaurant and he threw together what he had on hand, the legend goes- and the quintessential So Cal salad inspiring a lot of debate. Whole leaves or torn? To anchovy or not to anchovy? Raw egg or not. Garlic, well, the arguments go on and on. I guess the answer is everyone has their favorite version. Mine tends to be heavy on anchovy (I love that savory umami note it adds) and light on garlic, except for the croutons, which by the way, I like to be somewhat hand torn and slightly chewy rather than super crispy. And I like the inner leaves of the romaine to remain whole (I like to pick them up with my fingers-primal eating), but cut roughly the larger outer leaves (they're just too big to eat delicately).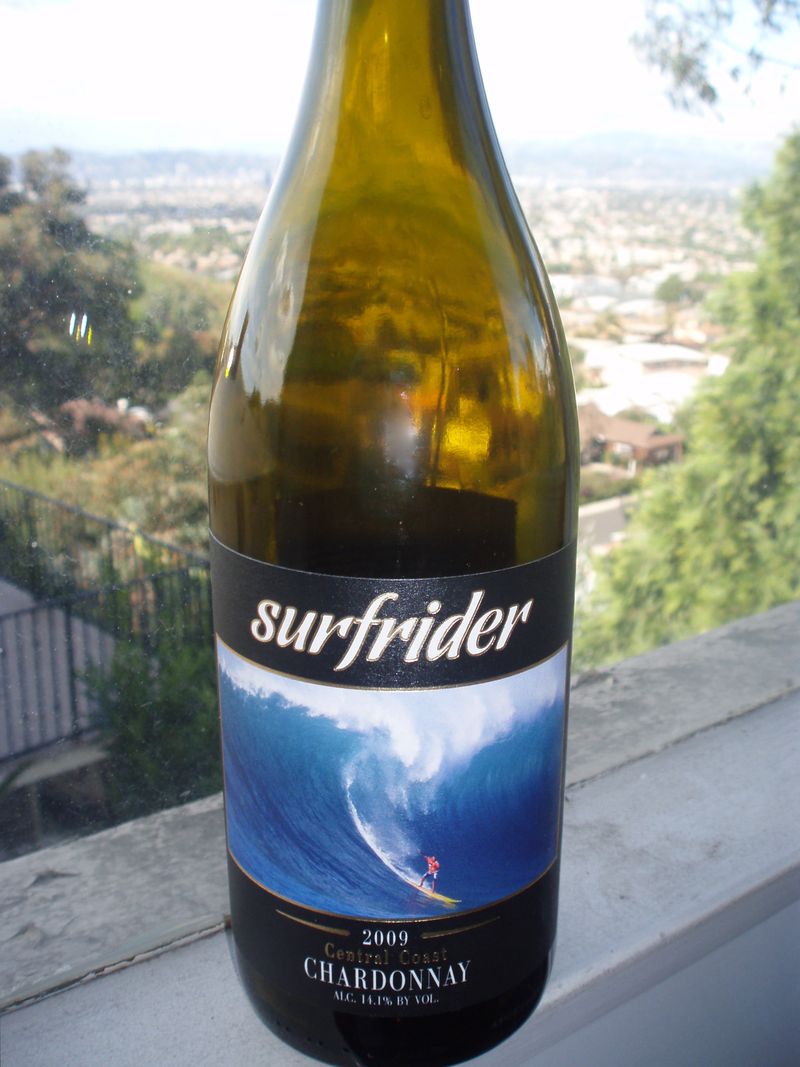 And the Rosenthal Chardonnay-well, it was absolutely marvelous with my LA to L.A. lunch.

Blackened Salmon
2- 6 ounce filets of salmon
1 tablespoon sweet paprika
2 1/2 teaspoons salt
1 teaspoon onion powder
1 teaspoon garlic powder
1 teaspoon ground cayenne
3/4 teaspoon white pepper
3/4 teaspoon black pepper
1/2 teaspoon dried thyme leaves
1/2 teaspoon dried oregano leaves
or for a short cut use Chef Paul Prudhomme's Magic Seasoning Blends ~ Seafood Magic
Sprinkle a healthy amount of the seasoning onto a plate, and dip each side of the salmon filets into the seasoning.
Heat a well seasoned cast iron pan until it's white hot. It should be so hot, the fish should almost jump off the pan when it hits it. Sear salmon for about 1 1/2- 2 minutes on one side, then flip it over and sear it on the other. I like to pull it off while there's still a thin stripe of raw in the middle of the filet. The residual heat will make it just right.
Caesar Salad
1 head of romaine lettuce (plus, I like to throw in a few leaves of arugula as a spicy counterpoint if I have them)
1 egg, at room temperature
Juice of 1 lemon
1 teaspoon of Dijon mustard
3-4 anchovy filets, rinsed well dried and minced
1 cup or so Parmesan cheese, grated, plus more for shaving over the finished salad
3/4 cup vegetable oil
1/4 cup Lemon Oil
1 tablespoon of French Dressing (optional)
A heathy sprinkling of freshly ground black pepper
Break the egg into the bowl of a food processor. Pour the lemon juice over it, and let it sit for about 1 minute.
Add the mustard, cheese and minced anchovies to the egg and lemon juice, and blend to a paste.
Pour the vegetable oil in a steady stream into the mixture as the food processor runs. Then add the lemon oil, and French dressing if using.
If the dressing is too thick, it can be thinned with additional lemon juice or a little water.
Dress Romaine leaves with a few tablespoons of the Caesar dressing. Add the croutons, and using a vegetable peeler shave Parmesan over the salad. Sprinkle with frehsly ground black pepper.
Lemon Oil
(from The Food of Campanile: Recipes from the Famed Los Angeles Restaurant
– a great condiment to have on hand for salad dressings and fresh sauces)
1 quart vegetable oil
2 lemons, cut in half
1 bay leaf
1/4 teaspoon whole black peppercorns
1 small dried red chile pepper
Combine the oil, lemon halves, bay leaf, peppercorns and chile in a medium saucepan, over medium heat, and heat just until the lemons begin to produce small bubbles in the oil. It's important that the oil doesn't become too hot-never above a low simmer- or the lemons will produce a bitter flavor in the oil.
Remove the pan from the heat, and allow the oil to cool for about an hour. Refrigerate, covered for at least 12 hours.
Strain through a fine mesh strainer into a clean container with a tight fitting lid. Discard the lemons and herbs. Store the oil in the refrigerator. It lasts a couple of months.
Croutons
@ 1/4  pound Sourdough Boule or Rosemary Bread, cubed or hand torn
1 large clove garlic, minced
@ 2-3 tablespoons Extra Virgin Olive Oil
Kosher Salt
Cube or tear the bread into @ 1/2- 3/4 inch pieces. Sprinkle the kosher salt over the minced garlic and mash to a paste with the side of a knife.
Toss the bread with the garlic paste and olive oil, then pour them onto a baking sheet and toast in a 375 degree oven until the croutons are toasty on the edges, but still slightly chewy.
Serves two.