Suzanne Goin and I Chat on the Fine Art of Menu Planning
A while back I submitted a beautiful (IMHO) photo to one of those food porn sites (all of you who read food blogs know who they are). The post was rejected for publication at their site, not because the picture was unacceptable (presumably), but because in their words there was "not enough additional info" in the accompanying blog post.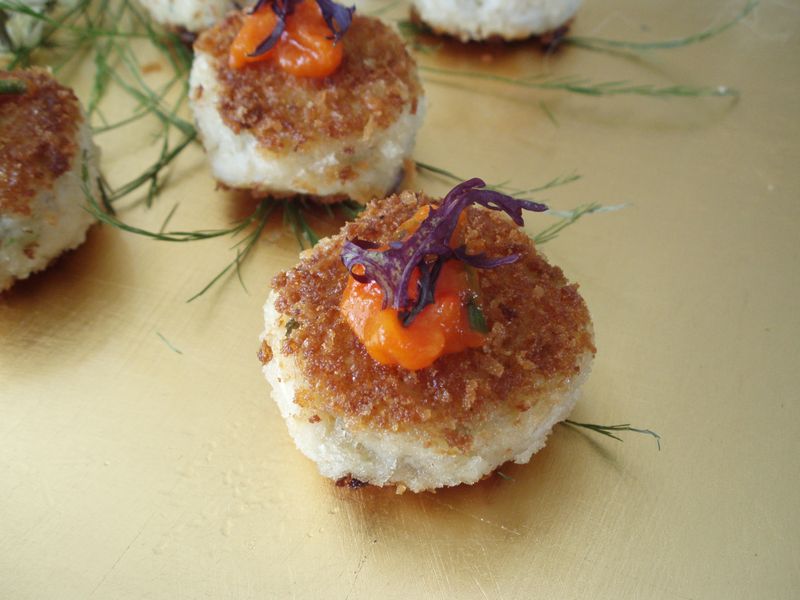 Nice pic of Crab Cakes- don't you think?
I had to shake my head in wonder.  Hmmph! I muttered self-righteously, don't they realize how important menu planning is, what an art it is?
You see, while I didn't post a recipe, I did post the complete party menu, with some info on the specific parameters the client provided re: the menu for this particular event.
Planning a well balanced menu is a very specific skill. In fact, it traditionally rates as a defined topic of study for culinary students, even down to correctly balancing  hors d'ouevre selections, cheese platters, and dessert buffets. It's a vital aspect to catering, and party planning.
As a caterer, I labor over cocktail party menu proposals to ensure that they have a proper balance of vegetarian, seafood, poultry and/or meat selections- that there is a proper balance of bread or dough based bites to skewered items, for example, hot to cold, fried to grilled, roasted to braised etc.  I want to make sure, if an entire dinner is being served, that flavors build from light to heavier- i.e. no tomato sauce laden lasagna served as a first course followed by a delicate fish entrée.
So I very happily felt vindicated when I recently had the opportunity to chat with Suzanne Goin, on the menu selection process.
The occasion was the feeding of 1,250 hungry actors and their guests at the Screen Actor's Guild Awards show, which Ms. Goin, of renown Los Angeles restaurants Lucques, AOC and Tavern, was catering.
Goin had been given some specific parameters by the SAG committee in charge of the event (i.e. the client), which was fine with her. As she said, "I actually like it when clients give me a good amount of direction. It helps me to focus me and to be able to give them what they want."  Something with which I heartily agree. In this case, the food couldn't be too rich because there were nervous nominated actors who may have to give a speech after eating. It couldn't be too messy because of the dressed up finery of the guests (i.e. no drippy, or slurpy food). It needed to be served at room temperature, and the whole meal needed to be served as one tasting plate.
"The process is intuitive" Goin said, "usually with one dish coming first." From there it's a dialogue with herself, i.e. " if I have an item like olives in the first course, I should add something else later as an alternative, or to complement." I admit that I, also, find the process to be very intuitive, and in fact, will often literally sleep on the suggested parameters given me by the client. It's a sort of puzzle solving exercise.
Another consideration for Goin-all the menu items have to work well together, but be different enough to stand to on their own. In the case of the SAG Awards menu she started with a fresh, bright tasting blood orange salad, so she felt, "something heartier and more savory, something in the grain or legume category to act as a satisfying counterpart" was required.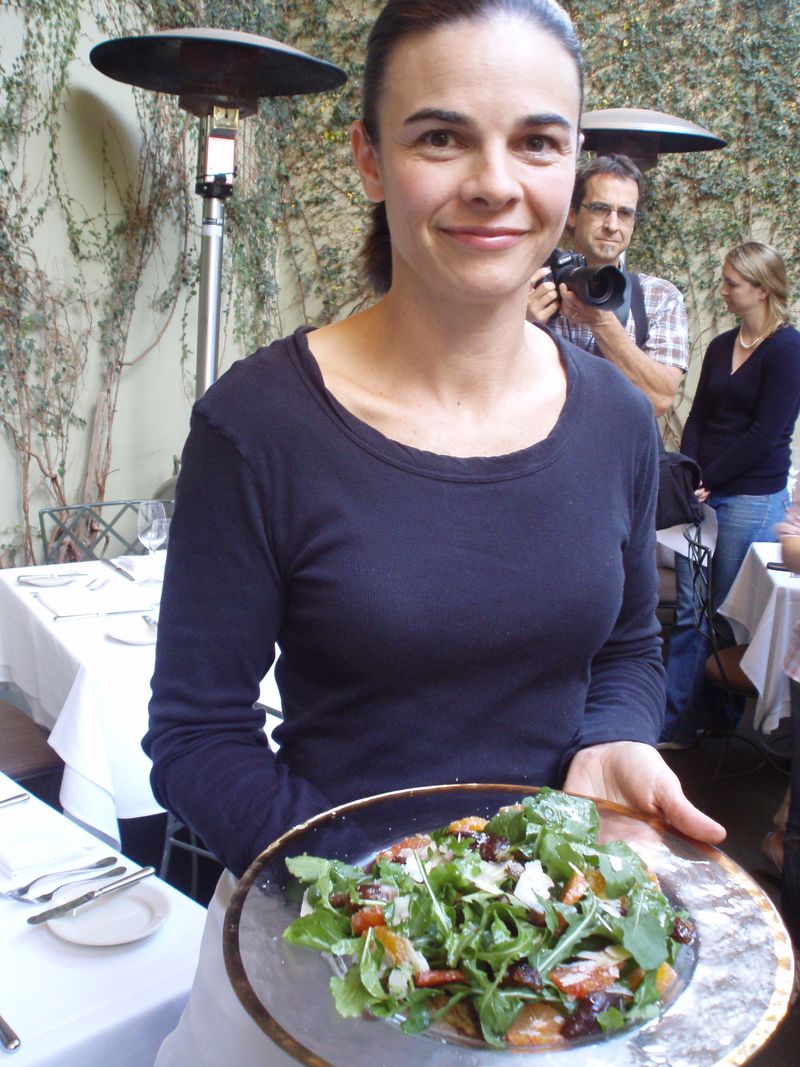 So, as you can see, a well balanced party menu, and the process used to plan it,  is very valuable info indeed. So take that food porn sites…
Bon Appetit!
Gisele
P.S. For a few insights into how small pleasures has worked with clients to create menus please visit the Menus section of our Website.