Candied Yams- Part 3 in a Series on Sweet Potatoes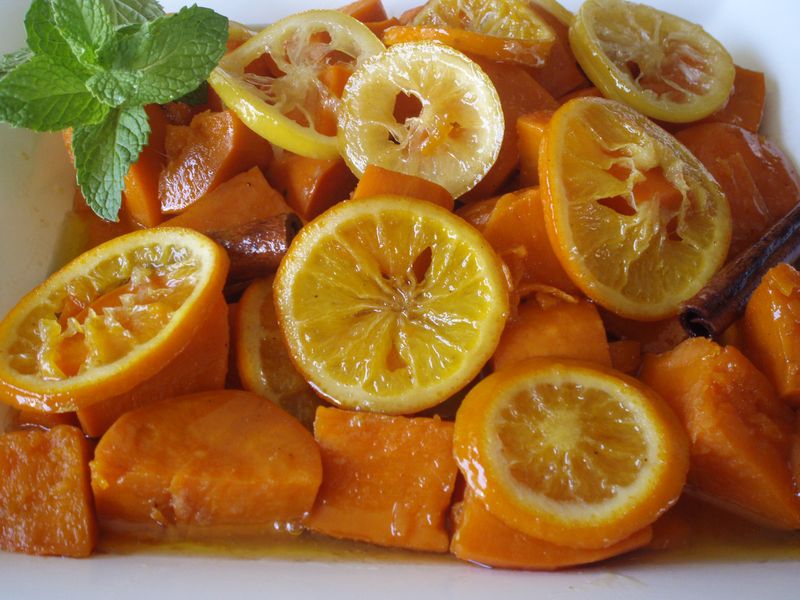 Candied Yams
My Aunt Eura was the best cook I knew as a child, although she was never much of an eater herself. She ate the tiniest of portions, maintained a model's figure all her life, and my cousin, Pauley, spent a lot of energy coaxing her to eat at all in the last years of her life.
I spent many an afternoon in the home of Aunt Eura and Uncle Paul. I would walk there after school with Pauley and his sister, Allyson, where one of my parents would pick me up when they got off work, often not until after dinner, which was fine with me. She always served a great dinner- beef stew with home made biscuits, something she called "hobo" stew, which was filled with chunks of ham, sausage and hot dogs. I've never seen or heard of it anywhere else, and many years later her niece, Sylvia, told me it was kind of a family specialty dish of theirs. At her funeral, my Uncle Reiss, although he had been a pesco-vegetarian for many years at that point, spoke longingly of her pork chops. Holidays brought her outstanding gumbo, and her perfectly made fudge, a treat that seems so tricky to accomplish for me- and many others- today. And I remember her candied yams being the best I've ever had.
For years I kept away from candied yams in the kitchen, mostly because my few attempts at making them didn't produce results anywhere near Aunt Eura's. I once asked Allyson if she could make them like her mother. She, too, got that dreamy look in her eyes.
"They were good, weren't they?" At that point, I concluded they were lost to me forever.
 So when I hit upon the recipe for Sweet Potato Puree with Pecan Praline Topping, I was pleased enough with it to abandon the idea of candied yams altogether. I was forced to revisit them, though, as a client of mine still seemed to prefer candied yams (imagine!).
With some help from Paul Prudhomme, I've learned to make very acceptable candied yams, although I still don't regard them as highly as Aunt Eura's. Oh well, maybe some childhood taste memories are best left as just that, memories. Recipe follows…