Ground Beef and Oyster Dressing- a Tradition Worth Revisting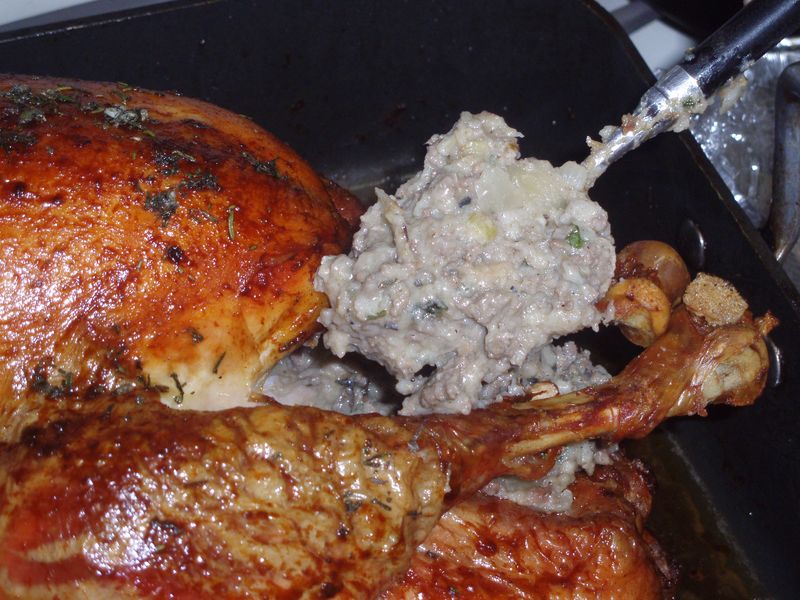 Turkey Stuffed with New Orleans Style Ground Beef and Oyster Dressing
Over the years, we've tried dressings other than our traditional New Orleans ground beef and oyster, for our holiday turkeys (yes, we call it dressing, we like it wet, and yes, we love the much maligned turkey- it's always on the menu for the holidays in our family).
There was the year in my childhood when my young mother, newly arrived in Los Angeles, and apparently feeling loosed from traditions, decided to make a chestnut dressing. We all (including Mom) promptly pronounced it "nasty" and refused to eat it. When she returned to the ground beef and oyster, she one year made it with West Coast (and more strongly flavored) oysters- again, judged "nasty."
"Those oysters ruined my dressing" Mom declared, and we returned to our holiday trips to Jefferson Avenue where a New Orleans fish market imported P&J Oysters from the Gulf Coast. Sadly, P&J was forced to shut its doors after 134 years of selling Gulf oysters because of this year's BP oil spill.
My father took over the responsibility for cooking holiday meals in later years. Dad was the keeper of the traditional cooking flame in the family, and he never strayed dressing-wise. After Dad died, I became mostly responsible for holiday dinners, and like my mother before me, bravely ventured into various new turkey dressings and stuffings. There was an apple and nut variety (judgement-mezza mezza), an apple and sausage one my brother cooked up one year (better), a cornbread and prosciutto, a 3- mushroom, and a mushroom and oyster- yes, we liked those well enough, but still favored our ground beef and oyster.
So for the past couple of years, if we have enough people around the table to cook a whole turkey, it's usually our old stand by. By the way, we had a pretty good sized group for Christmas dinner this year. We cooked a small turkey and a crown roast of pork, both stuffed with our favorite dressing.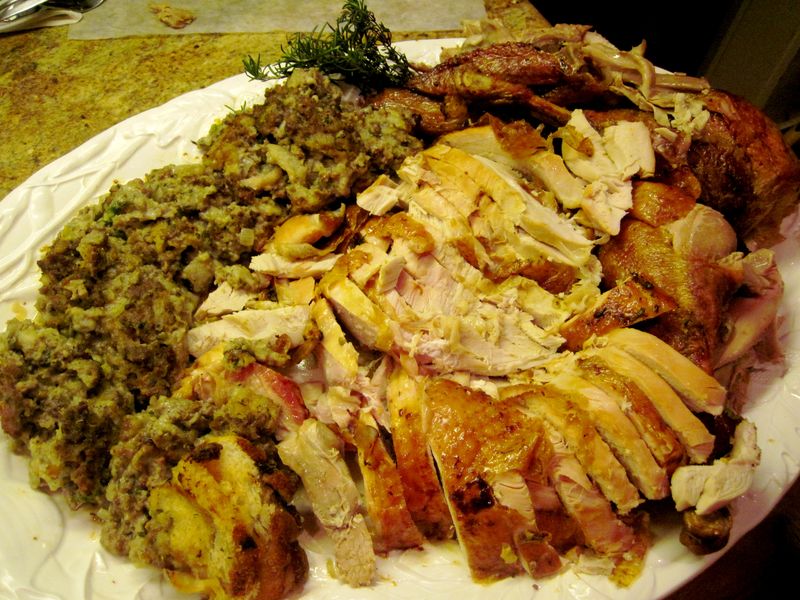 Roast Turkey with Ground Beef and Oyster Stuffing
Ground Beef and Oyster Dressing
2 1/2 pounds ground beef
2 1/2 cups onions, diced
3 large stalks celery (@ 1 plus cup), diced
2 teaspoons dried thyme
1/2 teaspoon dried sage
1/2 cup parsley (I use flat leaf, although Dad used curly)
8 cups dried French bread, cubed
3- 8 ounce containers Eastern oysters, minced, and their liquid (I use Chesapeake Bay or Gulf oysters)
1/4 cup Campbell's Cream of Mushroom condensed soup (yep! that's what my Dad used, so it's what I use)
@ 1 1/2 cup chicken broth or water, or combination of both
Freshly ground black pepper, to taste
Brown the beef in a little bit of oil- there used to be enough fat in the beef to brown both the meat and the onions without it, but not so today.
Remove the beef from the pan, add a little more oil if needed, then add the onions and celery, cooking them until soft, stirring in the thyme, sage and parsley when softened.
Add the beef back in the pan, then the cubed bread (do this in two stages if your pan is not big enough).
Add the Cream of Mushroom soup, along with the broth and/or water, oysters, and cook, stirring until the bread absorbs the liquid.
Add pepper to taste.
I don't salt the dressing, as I dry salt brine the turkey (the chicken broth and soup also contain salt), and then cook as much of the dressing in the turkey's cavity as I can fit. The salt from the brined turkey flesh soaks into the dressing as the turkey roasts, but feel free to add salt if you like. When the turkey comes out of the oven, I remove the dressing cooked in the turkey and mix it with the remainder of the dressing, then heat all of it in the oven.