Dessert and Coffee Bar Party- Another Economical Way to Entertain
Can't quite swing the big dinner with open bar party? A dessert buffet and coffee bar is a lovely way to entertain, still allowing a host or hostess to present an abundant spread on a limited budget.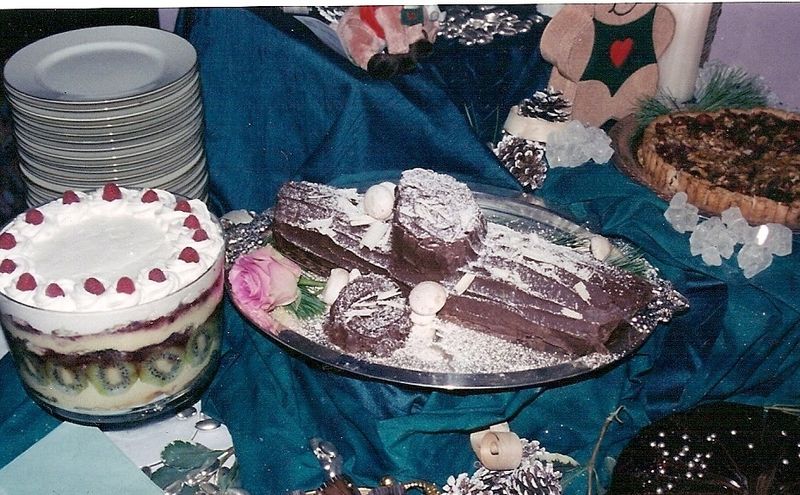 Dessert Buffet with Buche de Noel
Offer a bountiful buffet filled with fruit (add a mild creamy cheese if you want something more substantial), and a selection of cakes and tarts, as well as pick up treats like cookies and brownies. Add a holiday specialty dessert, like a Buche de Noel, or Croquembouche, as your centerpiece, and decorate the buffet with tiny lady apples, Forelle pears and nuts nestled in pine boughs and sprinkled with powdered sugar "snow". The selection should include the darker flavors- chocolate (of course!) coffee or caramel, and the lighter ones- like fruit and lemon, too, and keep the desserts easy to serve.
While alcohol may be offered (think champagne, a dessert wine and/or brandy, a spiked punch or eggnog) a savvy hostess will save money and still appear opulent by offering a coffee bar with flavored coffees, espresso, cappucino, and hot chocolate, as well as a regular brew. Dress the bar up with beautiful silver samovars, and an eclectic selection of elegant cups.
Added bonuses-Ken Cohen, owner of Cappuccino Connection, offers this perspective "Social drinking is an issue in our culture-people like to hold something when they are socializing, but some are seeking a moderating alternative to alcohol for events. Guests don't have to be concerned how much alcohol they've consumed, or about designating a driver."
So have your cake and eat it, too. Offering this sweet treat of a party, makes the smart host look like a million bucks on a very wise budget.
Happy Holidays!
Gisele