A Bruschetta Bar (with Fig and Onion Marmalade Recipe)-an Economical Party Menu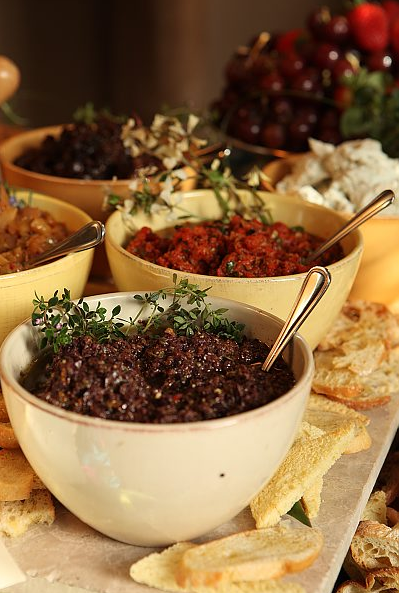 A Bruschetta Bar served with an assortment of crostini and flatbreads is an elegant yet economical menu when your holiday budget is tight. It offers a selection of varied tastes. It's also a fun and interactive menu for your guests with the bar acting as a focal point where guests gather to assemble their own combinations of bruschetta bites. 
I like to include Tapenade, Sicilian Caponata or a similar eggplant preparation, a Sun Dried Tomato and Roasted Pepper Pesto, an Herbed Cannellini Bean Puree, as basics, all served in beautiful Tuscan style bowls. Further offerings may include a cheese spread or two, and you can dress up the bar a bit further with added toppings like baby arugula leaves or thin slices of prosciutto.
Still want more filling out? Offering one big centerpiece cheese like a wheel of Brie – either baked in Puff Pastry or on its own, or a quarter wheel, or so, of Manchego, is a nice touch. Finish with some fruit, and  spiced roasted nuts, and you have a full buffet. All you need is a couple of great wines, and maybe a signature cocktail or two for a great little party.
One of my favorite new bruschetta bar offerings is a delicious Fig and Onion Marmalade, paired with  creamy Gorgozola (use Gorgonzola Dolce Latte if you can find it) softened with a bit of cream cheese and butter to make a spread.  Fig and Onion Marmalade recipe follows: