Five years after Katrina-New Orleans Night at the Hollywood Bowl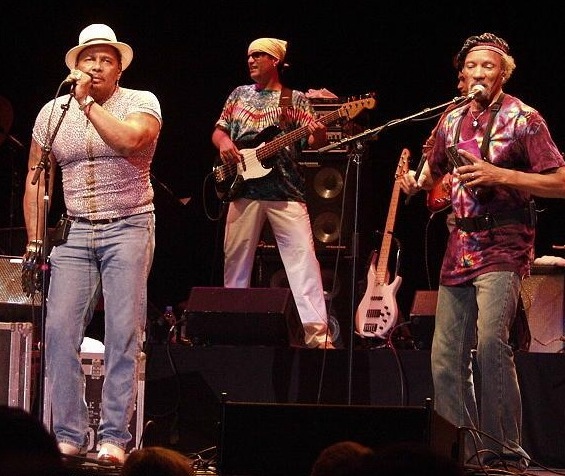 The Neville Brothers
A friend and fellow blogger wrote last night asking if I would be writing anything to mark the 5th anniversary of Katrina. Looking over the last 5 years, there's no doubt that the two main engines fueling the restoration of New Orleans post-Katrina, are the food and the music (and be assured, there will be more about the food in the next few posts).
A little over a week ago I attended what seems to be growing into an annual event at The Hollywood Bowl- New Orleans Night. The line up- The Dirty Dozen Brass Band, The Preservation Hall Band (with The Trey McIntyre Project dancing to their accompaniment) and The Neville Brothers.
The next morning I was rushing around, as a busy weekend lay ahead of me. I finished baking cakes, packed my car and drove up to the Bay Area to cater a wedding reception for my longtime friend Keith's daughter, Alison. Over the weekend, as I spoke to several old and new friends there about the performance, I noticed repeatedly emotion rising within me, and creeping into my voice. So as I began to mull over what I would write, I knew I had to write about this concert.
A caveat- as I wrote, I was aware of the eloquence and economy of music and dance as a means of expressing feelings and thoughts that words are sometimes a bit clumsy conveying. Having said that, here it is- I hope I have communicated my feelings in a manner that's of interest to others.
The concert opened with the Dirty Dozen Brass Band. For the uninitiated, New Orleans brass bands are a  century-plus long tradition.The music has progressed over the decades to incorporate newer sounds (like funk and rap), but the basics remain the same. As my brother Ric and I settled into our seats, I whispered to him, you know you're seeing a New Orleans band when there's a sousaphone player bobbing along with the band.
As I listened, I felt so proud to be in the blood line of this New Orleans tradition. I held in my heart my great-uncle, Manuel Perez, a seminal jazz musician, and early influence on Louis Armstrong, my father's cousins, Leo and Harold Dejan, veterans of Olympia Brass Band and the Moonlight Serenaders among others, my mother's cousin's husband, Manuel Crusto, a former member of the Preservation Hall Band.
The Preservation Hall Band played a short set, and then were joined by The Trey McIntyre Project, a modern dance company costumed as all the archetypal characters of New Orleans- the skeleton, the pirate, the harlequin and the bar girls.
The Nevilles- their music- they're so completely comfortable with it at this point in their lives, I thought as I watched these men who are old now- these men who I have been listening to since I was a teenager. The rhythm is still strong and unmistakeable, if a bit more laid back now.
I listened, aware of their loss- their homes, Aaron's wife (a victim officially of lung cancer, but we all knew she died, like so many others, of post-Katrina stress), and their anger (Cyril said he would never return to New Orleans).
I remember being in New Orleans, in January, of 2007, when Aaron returned to bury his beloved wife, Joel. It was the first time he had retuned to the city from his exile in Nashville, after the flood. I remember seeing the photos in the Times Picayune of his hulking frame exiting Our Lady Star of the Sea Church walking before the casket bearing her body, and reading of their great love affair of so many years. "We've been together since we were kids" he said. "I met her when I was 16."
When asked if he would ever move back to New Orleans, Neville responded, "I've got a memory, and I'll leave it at that. It's a packet of memories. But the New Orleans I know is not there anymore."
And being in New Orleans again, in the spring of 2009, when he had just announced that he was remarrying (a younger woman everyone was buzzing), and returning to live in Covington, LA., a city on the north shore of Lake Ponchartrain.
The Neville Brothers had always closed out the New Orleans Jazz and Heritage Fest before Katrina. I remember feeling the excitement when in 2008, I heard they would,  once again, be returning to close out the festival, a special marker to New Orleanians, in the recovery process.
To see the creativity grow and expand- the arc of creativity-was, well- awesome. Okay- you have to know that "awesome" is just not a word you'll hear me use. As I leaned over to Ric that evening, while watching the Trey Mc Intyre Project dance to the beat of the Preservation Hall Band and used it, he said "Wait till I tell Ayana (our young cousin) you said that."
Awesome- I usually cringe at hearing it fall so easily from the lips of 20-somethings as they bite into a decadent dessert, a slice of pizza, or even after something as mundane as completing favorable plans with friends. When I started hearing it several years back, I used to think, nooo- "awesome" is a word reserved to describe God. But as I witnessed those dancers move to the strains of the Preservation Hall Band, and listened to the older and weathered Nevilles, run through the rhythms of Africa, Cuba, the New Orleans Indians, I thought- yes, this arc of creativity, running through the loss, the pain, and the restoration is of God- and it is awesome.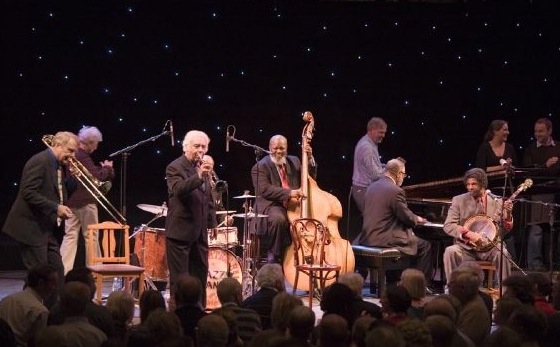 The  Preservation Hall Jazz Band